I wanted to do a breakdown of some of the players on the roster bubble. I thought a lot of these players played really well tonight and made a strong case to be with the Eagles this season. My criteria here are players that have a good chance of being on the 53-man roster or practice squad and that stood out in tonight's game.
Paul Turner
I have to start with the future Na Brown Award winner, Paul Turner. Turner has consistently shown up for this offense, not just in this game, but all preseason. He finished the game with 6 catches for 66 yards and 4 punt returns for 100 yards, one of which was a 71 yard return for a touchdown. It was also pointed out during the game that Turner is the Eagles leading receiver during the preseason. Obviously the starters play very limited snaps so his main competition but other undrafted rookies, but it's still impressive that he was able to stand out, making 17 completions for 165 yards.
One thing that has impressed me with Turner is his ability to immediately turn (no pun intended) up field and pick up extra yards after the catch. Watching some other rookies in tonight's game such as Marcus Johnson, that wasn't the case.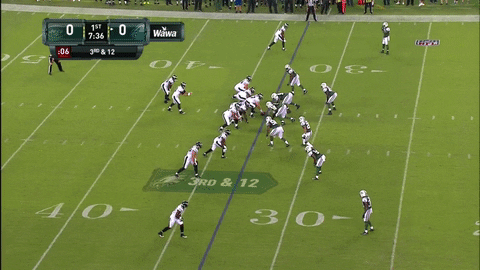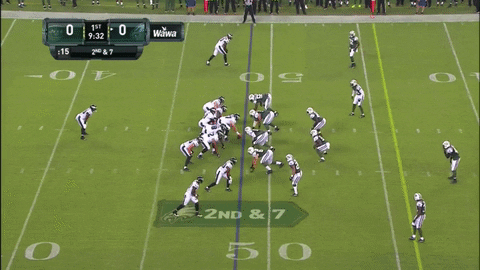 (Thank you, Haan, for the gif)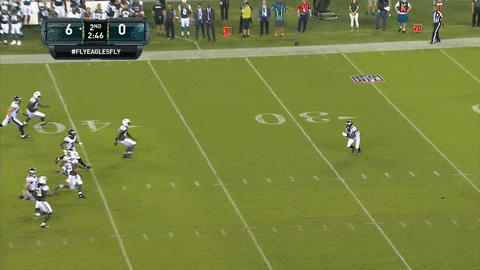 Marcus Smith
It's time for me to start admitting to myself that Marcus Smith will be on this football team this year. Smith missed part of the preseason due to injury and has had to make up for lost time these last couple of preseason games, and he has done just that. Smith needed to have a good night to convince the coaches that he deserves one more year or perhaps deserves to be here more than Steven Means. I think Smith can work on being more consistent but he has made some nice plays this preseason, finishing with 7 tackles (2 against the Jets) and 1 sack.
Steven Means
Enter the competition. Means has been a point of consistency this preseason and has pushed Smith to fight for his job. Means was absolutely disruptive when he was on the field. He is quick and athletic making if difficult for big lineman to get in front of him and for QBs to run away from him.
Means does a great job of reading this play quick enough that Hackenberg never had a chance and is forced to try and throw it away but isn't able to get it passed the line of scrimmage, drawing an intentional grounding penalty.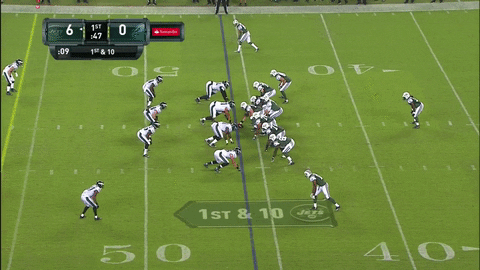 Here Means blows passed a left tackle like he's not even there and gets a hand up and is able to tip the pass. Aziz Shittu
Both Vaeao and Shittu are fighting for a possible spot on the 53 man roster and a definite spot on the practice squad (if they don't get snatched up first). I was surprised how quick Shittu is able to get off the ball at times. I did notice that it's not consistent but at times he shows great burst.
Shittu pushes the guard aside and eats up the running back in the backfield. He's so quick that he is in the guard's face before the guard can take a step.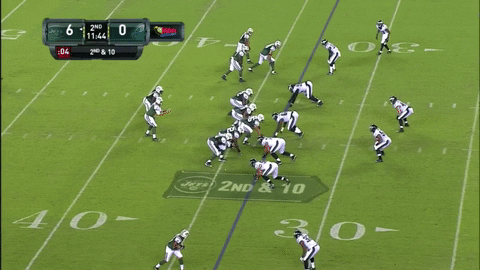 Ed Reynolds
One thing that I've noticed about Ed Reynolds is that he always seems to be around the ball. He does great tracking the ball down. Even when he's not in on the tackle he's usually one of the first people around. I think everyone has noticed that he likes to hit as well. Sometimes this gets him into trouble, he drops his head and misses the tackle, which happened on several occasions tonight. While I don't think that Reynolds will make our roster I wouldn't be surprised to see him get on somewhere else in the league.
Great pressure by Braman. Honorable Mentions:
Eric Rowe - Overall Rowe has done good this preseason but keeps having little stupid mistakes that keep him from doing great. Tonight's example was the face guarding penalty. He had great coverage but never turned his freaking head around. Other times that Rowe's receiver was thrown too the coverage was tight. He needs to eliminate these mistakes if he wants to see the field this year.
CJ Smith - I don't think that Smith will make the roster at this point (don't stone me). If we keep 6 CBs then I think he makes it in but I'm not sure that we keep 6. In the article that Spuds posted yesterday, he has the team only keeping 5 CBs (does he know something we don't?). We are deep in other positions that I think the team tries to put Smith or Grymes on the practice squad (yes, I know Grymes was already released). Smith play this preseason has been good but far from great. I've noticed in several games that he does a great job keeping receivers in front of him so that he can make the tackle after the ball is thrown, but his coverage is inconsistent. Sometimes he's on he guy's hip, sometimes he's 5 yards off. I'm sure that some of this is due to the type of coverage being run but he has been targeted frequently this preseason for a reason. He is a pretty good tackler as well. Nothing flashy but I haven't seen him miss too many tackles.
Chris Pantale - 3 drops tonight. Please drop him. I know Pederson wants 4 TE so he can run his 3 TE sets without worry, but Pantale has not earned that 4th TE spot at all. I'd rather use a big wide receiver or running back to fill the 3rd TE role in those sets if we had to then waste a roster spot on Pantale when we have talent in other places that deserves to be on the team.
Last but not least, Fletcher Cox, tonight's MVP. That's right, you read that correctly. For providing several brief moments of entertainment in an otherwise slow and boring game, the MVP award for the 4th preseason game goes to Fletcher Cox!
Here is one of those many moments (again credit to Haan for the gif):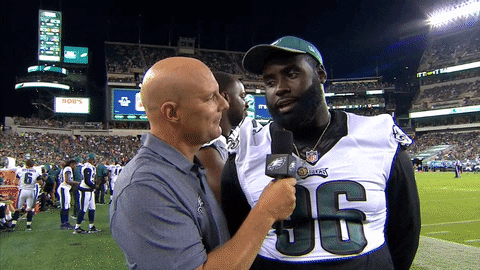 LONG LIVE FLETCHER COX!
So let me know what you think (be gentle)! If enough people like the article then I may continue to do similar breakdowns during the season.