Carson Wentz, QB, North Dakota State
Yup, you guessed it. With the 2016 number two overall pick the Cleveland Browns select Mr. Carson Wentz. But didn't the Cleveland Browns just sign former #2 pick Robert Griffith III? Of course but I'm pretty sure Hue Jackson is not fully willing to hedge his bets on RG3's durability. The Browns have a question mark at the quarterback position, and they will explore every option. Carson Wentz might be the safest pick the Browns can make because this would increase their chances of finding a starting quality quarterback. This will allow them to create a competition between 2 highly motivated young men. Furthermore, RG3 may not be the best fit for Hue Jackson's offense. RG3 who wants to prove he's a legit talent and Carson Wentz who wants and believes he should start.
Carson Wentz is legit. Many analysts are split when it comes to Carson. Allow me to argue why Carson can be a franchise quarterback for the next decade. First thing I hear about Carson Wentz is he went to a smaller school and faced weaker competition. But so did Blake Bortles, Joe Flacco, Ben Roethlisberger, Alex Smith, Steve Mcnair and even Chad Pennington. This is not a perfect list but they were all good pros. When judging talent on this level it can be difficult but still rewarding if it's the right guy. I believe Carson Wentz can be the right guy for the Browns.
Why he could be a franchise QB?
He's extremely athletic: His spider graph is a thing of beauty. He has played both safety and outside linebacker in his pre-college career. He can throw on the run, and execute the play action very well. He is not your typical spread offense gimmick quarterback. A good amount of his snaps have come from under center and he consistently executes pro-style read concepts like high to low and left to right progressions. In this pro-style offense he was in charge of protections, he audibled in and out of plays and even run checks. He performs well under pressure and is hard to bring down. He is highly intelligent and maintains a strong work ethic. He will not hesitate to leave the pocket if wide receivers cannot create separation but still has the patience to wait before he runs. When the pocket collapses he will simultaneously progress through his reads, dodge a defender and decide whether to run or pass. He keeps his eyes high and forward under duress.
When he runs he can be dangerous.
He will be difficult to defend because he can extend plays and will grab a 1st down with his legs if necessary. He averaged 4.8 yards per carry throughout his college career.
When it comes to arm strength, mechanics, accuracy Wentz arguably is the best in every category in this draft. He can and has consistently hit short, intermediate and deep throws.
He is very aware of how he his perceived and is playing with a chip on his shoulder. That chip has a lot to do with his great performances at the senior bowl, NFL combine and pro day. He showed in those moments that he could make every throw.
Why he fits with the Browns and Hue Jackson
The Browns need a quarterback that can execute Hue's offense. Hue Jackson like every other head coach wants a sure thing. By drafting Wentz and having him compete with RG3 Hue will increase the likelihood of finding his franchise QB. Hue runs mostly pro style concepts for his offense. Hue's main focus is the run game coupled with deep passing. In his offense the quarterback usually throw 30-35 times a game while the run game averages about 25-30 carries. He believes in maintaining a strong run game to take pressure off the quarterback, which would help a rookie quarterback a great deal.
As an Offensive Coordinator and Head Coach these were his offensive rushing rankings.
- 2010 OC - 2nd in Rushing
- 2011 HC - 7th in Rushing
- 2014 OC - 6th in Rushing
- 2015 OC - 13th in Rushing
He was also a running backs coach in 2013 before being promoted to offensive coordinator in 2014.
Hue's offense requires the quarterback to consistently and frequently rotate shift alignments before the play begins.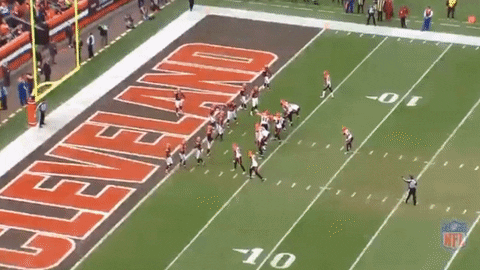 Pre-snap reading is essential in every NFL offense. Carson was given significant pre-snap responsibility while at North Dakota State. He can check in and out of plays by reading defenses and maintaining knowledge of their coverage's. Carson Wentz has been very successful against zone defenses and the Hue's shift alignments should help the quarterback to better understand defensive coverages. This past year the Bengals had 63 completions over 20 yards. Carson can throw the deep ball but still needs to get better. The new Browns offense has the potential to be a great fit for both Hue and Carson. The Cleveland Browns could go from having no quarterback for decades to potentially having 2 starting quality quarterbacks.
...
2016 BGN Mock Draft Order
1) Titans (ablesser88) - Laremy Tunsil, OT, Ole Miss - [Explanation]
2) Browns (EaglesGenius) - Carson Wentz, QB, North Dakota State - [Explanation]
3) Chargers (StoneColeKiller58) -
4) Cowboys (kamjam) -
5) Jaguars (drc242) -
6) Ravens (rohan915) -
7) 49ers (LAOJoe) -
8) Eagles (slickpablovick) -
9) Buccaneers (OneBucFan47) -
10) Giants (Paulie97) -
11) Bears (Kiko's Delivery Service) -
12) Saints (kylebruneault) -
13) Dolphins (wildcatlh) -
14) Raiders (Luxury_Used_Vehicles_By_Braman) -
15) Rams (NowWhat?) -
16) Lions (bri g) -
17) Falcons (thealien2696) -
18) Colts (ei78) -
19) Bills (naderg43) -
20) Jets (Quacking_Eagle) -
21) Washington (TheCoxishere) -
22) Texans (jeppsforst) -
23) Vikings (WScott151) -
24) Bengals (burkhart_b) -
25) Steelers (theaction) -
26) Seahawks (tfrank9811) -
27) Packers (3Trace) -
28) Chiefs (jawmo) -
N/A) Patriots - Cheaters
29) Cardinals (big DUB) - 
30) Panthers (zatch2k) -
31) Broncos (JALupowitz) -