Mackensie Alexander, CB, Clemson
The Player
The Arizona Cardinals were one game away from Super Bowl 50. That reality got smashed fairly quick as the Carolina Panthers sacked Carson Palmer three times and picked him off four times. While that alone may be enough reason for them to lose the game, if you flip to the other side of the ball, the Cardinals gave up 335 yards through the air on 19 completed passes to, quite possibly, the worst group of wide receivers in the NFL. Insert Mackensie Alexander. Alexander was a 5-Star recruit and rated as the second best cornerback prospect coming out of high school. He looked on track to start at Clemson as a freshman but an injury forced him to redshirt. There seems to be two specific knocks against him when it comes to his draft stock. First, and most obviously, his size. Alexander is listed at 5-10/190, which isn't the preferred size for an NFL corner. He makes up for his size with good speed and excellent man to man coverage.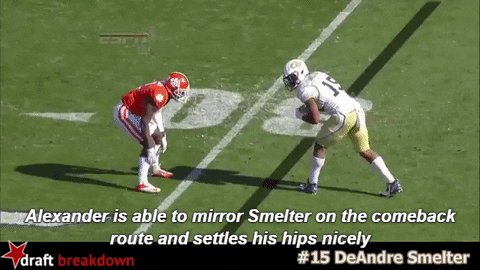 While he may not posses the size that Bruce Arians wants in a corner, he doesn't let his size affect his ability to tackle and attack the ball.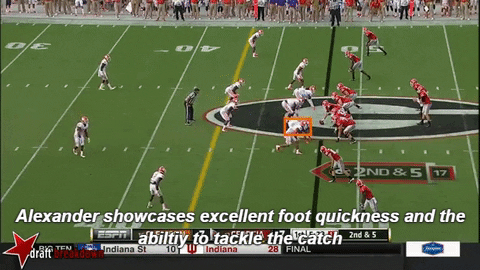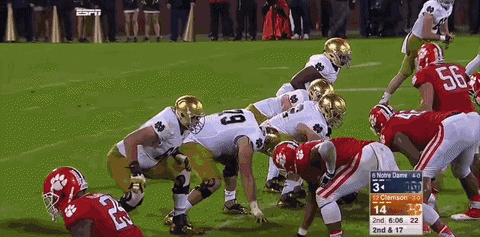 Secondly, is his lack of stats or the fact that he never got an interception in college. Well it's pretty hard to put up stats when nobody throws your way. (The following stats are from his freshman year) According to Tim Bourret, opponents threw 374 times out of his team leading 766 snaps. Only 57 were directed at Alexander's man. (15.2% of attempts). Those 57 passes resulted in 20 completions for 280 yards and two touchdowns. (He slipped at FSU and allowed a 74 yard TD, take that away and it's 206 and 1 TD) He allowed 29% and zero touchdowns this year.
Why It Makes Sense
The Cardinals are in this unique situation where they don't have very many "needs". They could get younger at a few positions but I think they will wait till the later rounds to address that. They need someone who has a high floor and can make an immediate impact. I think Alexander is just that. The Cardinals had the second ranked defense in football last year. They ranked 3rd against #1 receivers yet they were 12th against #2 receivers. (Nobody in the top 5 ranked worse than 7th.) Alexander doesn't have to come in and be a #1 corner. This is why I think he can succeed if he falls this far in the draft. He has the chance to come in and have an immediate impact playing opposite of Patrick Peterson. He can also transition to the slot if he needs to because he has the intangibles.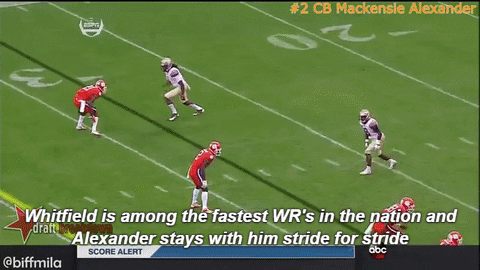 Conclusion
The Cardinals and Bruce Arians get a great prospect despite his size because he has all the tendencies and skill to be a great or potentially elite NFL cornerback. I highly recommend you read the "All-22" on Alexander as it really helped me in choosing him. He exudes confidence and football acumen. The Panthers are on the clock. (I hope they make their pick before Von Miller beats them to the podium.)
...
2016 BGN Mock Draft Order
1) Titans (ablesser88) - Laremy Tunsil, OT, Ole Miss - [Explanation]
2) Browns (EaglesGenius) - Carson Wentz, QB, North Dakota State - [Explanation]
3) Chargers (StoneColeKiller58) - Jared Goff, QB, Cal - [Explanation]
4) Cowboys (kamjam) - Ezekiel Elliott, RB, Ohio State - [Explanation]
5) Jaguars (drc242) - Jalen Ramsey, DB, Florida State - [Explanation]
6) Ravens (rohan915) - DeForest Buckner, DE, Oregon - [Explanation]
7) 49ers (LAOJoe) - Myles Jack, LB, UCLA - [Explanation]
8) Eagles (slickpablovick) - Ronnie Stanley, OT, Notre Dame - [Explanation]
9) Buccaneers (OneBucFan47) - Noah Spence, DE, Eastern Kentucky - [Explanation]
10) Giants (Paulie97) - Vernon Hargreaves, CB, Florida - [Explanation]
11) Bears (Kiko's Delivery Service) - Joey Bosa, DE, Ohio State - [Explanation]
12) Saints (kylebruneault) - Shaq Lawson, DE, Clemson - [Explanation]
13) Dolphins (wildcatlh) - Eli Apple, CB, Ohio State - [Explanation]
14) Raiders (Luxury_Used_Vehicles_By_Braman) - Jack Conklin, OT, Michigan State - [Explanation]
15) Rams (NowWhat?) - Paxton Lynch, QB, Memphis - [Explanation]
16) Lions (bri g) - Jason Sprigs, OT, Indiana - [Explanation]
17) Falcons (thealien2696) - Darron Lee, LB, Ohio State - [Explanation]
18) Colts (ei78) - Jaylon Smith, LB, Notre Dame - [Explanation]
19) Bills (naderg43) - Sheldon Rankins, DT, Louisville - [Explanation]
20) Jets (Quacking_Eagle) - Leonard Floyd, OLB, Georgia - [Explanation]
21) Washington (TheCoxishere) - Ryan Kelly, C, Alabama - [Explanation]
22) Texans (jeppsforst) - Josh Doctson, WR, TCU - [Explanation]
23) Vikings (WScott151) - Laquon Treadwell, WR, Ole Miss - [Explanation]
24) Bengals (burkhart_b) - Corey Coleman, WR, Baylor - [Explanation]
25) Steelers (theaction) - Karl Joseph, S, West Virginia - [Explanation]
26) Seahawks (tfrank9811) - Le'Raven Clark, OT, Texas Tech - [Explanation]
27) Packers (sports00fan00) - Reggie Ragland, LB, Alabama - [Explanation]
28) Chiefs (jawmo) - William Jackson III, CB, Houston - [Explanation]
N/A) Patriots - Cheaters
29) Cardinals (big DUB) - Mackensie Alexander, CB, Clemson - [Explanation]
30) Panthers (zatch2k) -
31) Broncos (JALupowitz) -