William Jackson III, CB, Houston
The nice thing about drafting this late is that your team must be pretty good already. Kansas City finished 11-5 last season, despite losing Jamaal Charles midway through the season. Andy Reid has some roster holes, sure, but no more than other teams and fewer than most. And if you do your homework you'll still get a quality player who can contribute immediately. The not-so-nice thing is that your QB is still Alex Smith, and Paxton Lynch is long gone in this mock. It also means that BGN will be completely draft fatigued at this point, so I fully expect this exhaustively researched, sparkling analysis to be ignored altogether.
But this is not the time for bitter recriminations, nor for overwrought creative writing exercises. No: Today we sing the praises of William Jackson III -- not only the BPA but a great fit for a defense that lost starting CB Sean Smith to Oakland -- leaving a major vacuum opposite second-year sensation Marcus Peters -- and may be without OLB Justin Houston for the season.
..........
Who is this kid?
William Jackson is the kind of long (6'0", 190 lbs.), fast corner that makes defensive coordinators drool. He led the nation with 28 passes defended, and returned two of his five INTs for scores. Pro Football Focus says Jackson "may be the best CB in the draft."
Though he toiled in relative anonymity at the U. of Houson, Jackson came up big against top 20 competition. He broke up 7 passes against Temple in the American Athletic Conference title game, which Houson won 24-13. He followed up with a sensational game against defending champion Florida State in the Peach Bowl. His two INTs and 10 tackles earned him defensive MVP honors for the game. The Cougars won, 38-24, to finish the year 13-1.
Jackson's stock really shot up at the combine. He ran a 4.37 40-yard dash and flashed the ball skills, footwork and aggressiveness that had NFL Network's Mike Mayock raving:
"William Jackson is going to climb. His tape is good and now he's a sub 4.4 (40) guy. He had seven passes broken up versus Temple and also had five interceptions on the year. So, you want to talk about ball production and being around and making plays, this kid did it."
Jackson is also an easy kid to root for. After a mostly misspent youth and poor high school attendance, Jackson got his act together and played two solid years at junior college. He arrived at Houston fully formed. Whatever his personal red flags, they seem to be in the rear view.
Sounds great - why isn't he projected higher?
For all his productivity at the college level, there are elements to Jackson's game that need refinement. He sometimes plays too aggressively, and goes for the kill shot rather than the form tackle. He drew a lot of flags his senior year (7 times for 73 yards). More fast than quick, Jackson displayed the stiff hips of many taller CBs and took time to reach top speed. He could count on that top speed to escape disaster at the college level, but he needs to develop better press technique to succeed in the NFL. Moreover, Jackson managed just 10 bench reps at the combine and needs to bulk up if he's to play outside.
A rail thin guy who plays with Jackson's abandon always raises injury concerns. Jackson suffered a minor knee injury against Memphis, which he tweaked in the Peach Bowl win over Florida St. He missed the Senior Bowl but obviously recovered to post one of the fastest 40 times of this year's combine. Then there's Jackson's habit of lowering his head and launching into tackles, which will cost him money in the NFL and risk concussion -- or worse.
Jackson in Action!
This clip of Jackson against Florida St. shows both the bad and the good in his game. Bad technique, good recovery, great high-point leap for the INT.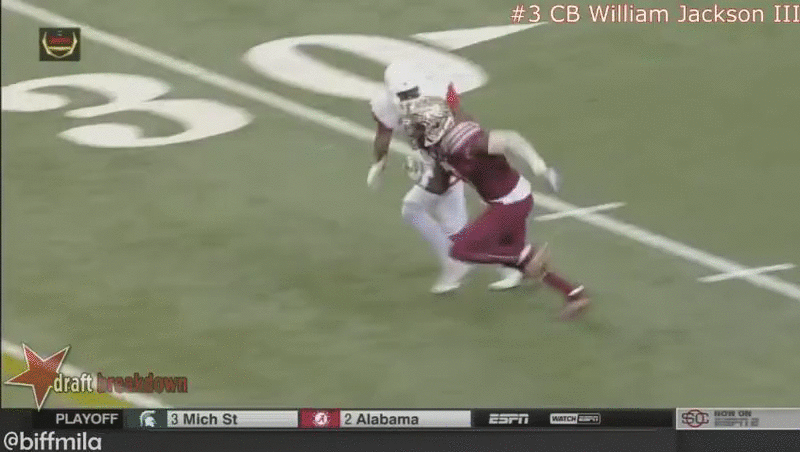 He's looking into the backfield for too long, and the WR gets way behind him. A decent pass and this is a jog-in TD. But the lollipop throw allows Jackson to flash his quicks. He tracks the ball while maintaining speed and comes down with the first of two picks.
Later in the game we see Jackson's aggressiveness get the better of him.
D'oh! Those stiff hips will be an issue at the next level. Again his over-aggressive play is a double-edged sword. This time he left laundry on the carpet, but this next play is why you have to like Jackson's balls-out style.
Eyes in the backfield, but this time he knows where the ball is going. A perfectly timed hit results in an incomplete pass. This is NFL technique my friends.
Finally, the second INT against Florida St. that put the fork in the defending champs.
Obviously this is a passing down, with no time for anything but deep balls. Jackson comes off his man for the clean pick. They won't be this easy in the NFL, but this dude makes plays.
With the 28th pick...
The Chiefs have options here. Questions about Houston's health (and Dontari Poe's expiring contract) could have Reid looking DT. A'Shawn Robinson is still available and would instantly improve the run defense. Freak of nature and head case Robert Nkemdiche of Ole Miss is still on the board, and Big Red might be the ideal coach for him at the next level. The Chiefs also got thin at OG with the release of Ben Grubbs, so Cody Whitehair of nearby Kansas State would be tempting, or Andy might try converting Notre Dame OT Taylor Decker.
The draft is always a roll of dice, but I believe Jackson can start right away at nickel; these are nearly as valuable as outside corners these days. Yes, Andy, you 're still rolling with Alex Smith, who in 10 seasons has thrown more than 20 TDs exactly once. But you also have Jamaal Charles, and Travis Kelce, and Jeremy Maclin. In the AFC West, that should be good enough to contend again. With two young studs at CB, you could reach another Super Bowl. Maybe even win one.
So do you take William Jackson III and lock up the CB position for the rest of the decade?
Time's yours.
...
2016 BGN Mock Draft Order
1) Titans (ablesser88) - Laremy Tunsil, OT, Ole Miss - [Explanation]
2) Browns (EaglesGenius) - Carson Wentz, QB, North Dakota State - [Explanation]
3) Chargers (StoneColeKiller58) - Jared Goff, QB, Cal - [Explanation]
4) Cowboys (kamjam) - Ezekiel Elliott, RB, Ohio State - [Explanation]
5) Jaguars (drc242) - Jalen Ramsey, DB, Florida State - [Explanation]
6) Ravens (rohan915) - DeForest Buckner, DE, Oregon - [Explanation]
7) 49ers (LAOJoe) - Myles Jack, LB, UCLA - [Explanation]
8) Eagles (slickpablovick) - Ronnie Stanley, OT, Notre Dame - [Explanation]
9) Buccaneers (OneBucFan47) - Noah Spence, DE, Eastern Kentucky - [Explanation]
10) Giants (Paulie97) - Vernon Hargreaves, CB, Florida - [Explanation]
11) Bears (Kiko's Delivery Service) - Joey Bosa, DE, Ohio State - [Explanation]
12) Saints (kylebruneault) - Shaq Lawson, DE, Clemson - [Explanation]
13) Dolphins (wildcatlh) - Eli Apple, CB, Ohio State - [Explanation]
14) Raiders (Luxury_Used_Vehicles_By_Braman) - Jack Conklin, OT, Michigan State - [Explanation]
15) Rams (NowWhat?) - Paxton Lynch, QB, Memphis - [Explanation]
16) Lions (bri g) - Jason Sprigs, OT, Indiana - [Explanation]
17) Falcons (thealien2696) - Darron Lee, LB, Ohio State - [Explanation]
18) Colts (ei78) - Jaylon Smith, LB, Notre Dame - [Explanation]
19) Bills (naderg43) - Sheldon Rankins, DT, Louisville - [Explanation]
20) Jets (Quacking_Eagle) - Leonard Floyd, OLB, Georgia - [Explanation]
21) Washington (TheCoxishere) - Ryan Kelly, C, Alabama - [Explanation]
22) Texans (jeppsforst) - Josh Doctson, WR, TCU - [Explanation]
23) Vikings (WScott151) - Laquon Treadwell, WR, Ole Miss - [Explanation]
24) Bengals (burkhart_b) - Corey Coleman, WR, Baylor - [Explanation]
25) Steelers (theaction) - Karl Joseph, S, West Virginia - [Explanation]
26) Seahawks (tfrank9811) - Le'Raven Clark, OT, Texas Tech - [Explanation]
27) Packers (sports00fan00) - Reggie Ragland, LB, Alabama - [Explanation]
28) Chiefs (jawmo) - William Jackson III, CB, Houston - [Explanation]
N/A) Patriots - Cheaters
29) Cardinals (big DUB) - 
30) Panthers (zatch2k) -
31) Broncos (JALupowitz) -