Football is back.
FIRST QUARTER
Eagles win the opening toss but defer to receive. Opening kickoff goes for a touchback via rookie kicker Cody Parkey.
Jaguars 1st drive: Punt
Three-and-out. Philadelphia comes up big with a stop on 3rd and 1.
Eagles 1st drive: Turnover
Ugly first pass from Nick Foles, but a big pass to second-year tight end Zach Ertz moves the chains. Foles fumbles on a Chris Clemons sack and the Jaguars recover. Looked like Jason Peters got beat. Yikes.
Jaguars 2nd drive: Touchdown (7-0, Jaguars)
The Jaguars take over with good field position and capitalize. Chad Henne play-action pass to Allen Hurns 34-yards goes for a touchdown over the top of the defense. Well, then. Jaguars take the lead.
Eagles 2nd drive: Turnover
Eagles fumble the ball AGAIN. Foles fumbles for the second straight drive and the Jaguars take over with good field position. Foles had Jeremy Maclin wide open down the field but he held onto the ball for too long.
Jaguars 3rd drive: Touchdown (14-0, Jaguars)
Jacksonville takes over with good field position and makes the most of it. Another touchdown for rookie wide receiver Hurns.
Eagles 3rd drive: Punt
Foles misses an open Jordan Matthews down the field by throwing behind him. Still holding onto the ball for too long. Eagles have to punt.
Jaguars 4th drive: Punt
Brandon Graham sack pushes the Jaguars back before a Nate Allen strip-sack on the next play forces Jacksonville to punt. Really impressive play by Allen. That's his fourth career sack.
Eagles 4th drive: Punt

Foles completes a pass for a first down! That's new. Then the Eagles have to punt. Again.
Jaguars 5th drive:

Philadelphia pins Jacksonville deep in their own territory thanks to a great punt from Donnie Jones that was downed by Brandon Boykin. It doesn't matter though because the Jaguars hit a big gain on the first play of the drive.
SECOND QUARTER
Jaguars 5th drive: Field goal (17-0, Jaguars)
Jacksonville moves into field goal range and kicker Josh Scobee drills a field goal from 49 yards out. Credit to Connor Barwin for forcing the fourth down via a batted pass. Barwin had 7 of those in 2013.
Eagles 5th drive: Punt

Eagles three and out. Foles is just missing wide open receivers and looking terrible. The protection hasn't been good at all either.
Jaguars 6th drive: Missed field goal
Scobee's kick is wide-left after the Eagles force a stop.
Eagles 6th drive: Interception

Jordan Matthews 30-yard catch is the biggest play of the day. Life! Or not. Foles throws an interception in the end-zone. Awful, awful throw. I don't even know what to say. This is WORSE than the first Eagles-Cowboys game last season.
Jaguars 7th drive: Blocked field goal

Cornerback Nolan Carroll II is in for Bradley Fletcher, non-injury related. Jaguars drive into scoring position but the field goal is blocked. At least Philadelphia's special teams unit came to play.
Eagles 7th drive: Punt

Evan Mathis has to be helped off of the field. Not looking good. Andrew Gardner replaces Mathis at left guard. Eagles drive down the field a bit but not before having to punt. It looked like Jeremy Maclin was interfered with on a deep pass in the end-zone but no call.
Jaguars 8th drive: Punt
Jaguars played it conservative, ran some clock, and punted.
Eagles 8th drive: Time expired
The Eagles tried for a hail mary but it was unsuccessful.
THIRD QUARTER
Eagles 9th drive: Touchdown (17-7, Jaguars)

Foles missed Maclin wide-open and then threw behind Jordan Matthews to start the drive. Darren Sproles saved the day by running 49 yards for a touchdown on 4th and 1. Life! That's Sproles' longest run of his career, by the way.
Jaguars 9th drive: Punt
Eagles forced the Jaguars to punt. The Jaguars are now 0-7 on third down at this point. That's obviously an area where the Eagles struggled in 2013.
Eagles 10th drive: (17-14, Jaguars)
Foles misses a wide open Brent Celek for a would-be touchdown and checks down instead. Next play, Foles finds Ertz over the middle of the field for a touchdown. That's better.
Jaguars 10th drive: Punt
Another three-and-out for the Jaguars. 0-8 on third down. How about this Eagles defense?
Eagles 11th drive: Punt
Eagles have to punt after a Foles pass goes through Riley Cooper's hands on 3rd and 8. Cooper should have had that one.
Jaguars 11th drive: Punt
Jaguars 0-9 on third down. Incredible.
Eagles 12th drive: Punt
Foles misses Maclin wide open down the field on the same play he missed Maclin earlier in the quarter but completes a pass to Cooper anyway. Eagles end up having to punt.
Jaguars 12th drive: Punt
Jaguars finally convert a third down, but it's short-lived as Jacksonville is forced to punt after Barwin bats a Henne pass down.
FOURTH QUARTER
Eagles 13th drive: (17-17, Tie game)

Eagles drive into scoring position. 51-yard attempt for Cody Parkey. Lots of pressure, and he makes it! Wow. Tie game.
Jaguars 13th drive: Punt
Earl Wolff subbing in for Nate Allen, appears to be non-injury related. Jenkins forces a fumble on Hurns but it's ruled an incomplete pass. Close. Jaguars end up having to punt.
Eagles 14th drive: (24-17, Eagles)
First play of the drive... Foles finds a WIDE OPEN Maclin down the field for a deep touchdown. Wow. 68-yards. Eagles lead for the first time, and that's 24 unanswered points.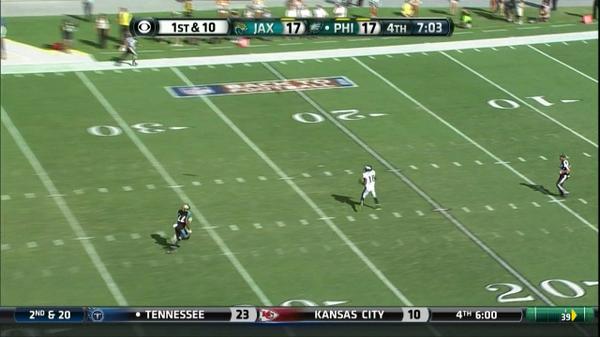 Jaguars 14th drive: Turnover on downs
The Jaguars go for it on 4th-and-1 but Henne's pass falls incomplete.
Eagles 15th drive: Field Goal (27-17, Eagles)

Eagles move into easy field goal range and run some clock. Parkey hits a short kick to make it a two-possession game with less than two minutes to play.
Jaguars 15th drive: Fumble returned for Eagles touchdown (34-17, Eagles)

Trent Cole strip sacks Henne and Fletcher Cox recovers for a touchdown. And the 10.5 point cover!
Jaguars 16th drive: Time expires
Game over. Eagles win.
FINAL SCORE: 34-17, Eagles
(Guess who called this score prediction, by the way?)