In a longstanding annual tradition, the Philadelphia Eagles took on the New York Jets in the preseason finale. The starters didn't play, so the Eagles had a chance to evaluate the depth on their roster.
The crowd in NY was sparse (h/t Jimmy Kemspki)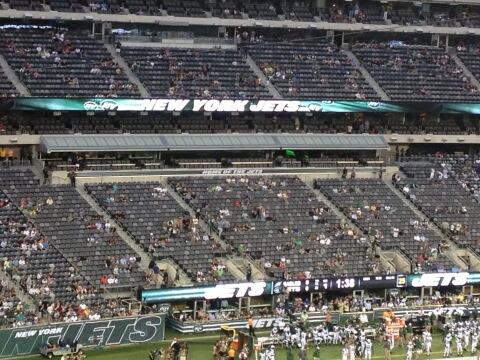 1st quarter:
Great opening series for the Eagles defense. OLB Chris McCoy almost had a pick 6 on the first play of the game, but he dropped it. Shortly after he made up for it by sacking Jets QB Matt Simms. On the next play, Brandon Graham forced an intentional grounding (it was very close to being a sack) on Simms in the endzone which caused a safety. Graham against the Jets backup OL is a huge mismatch. 2-0, Eagles.
Nick Foles took over for the offense and got sacked which caused him to fumble on the first play. His protection wasn't great but it's ultimately still Foles' fault for losing the ball. That was Foles third turnover in the preseason: 2 fumbles and 1 interception.
The Jets got the ball back in good field position and put a scoring drive together thanks to some bad tackling from the Eagles defense (surprise!). Old friend and former Eagles OC Marty Mornhinweg clearly had it out for the Eagles. Revenge! 7-2, Jets.
Chris McCoy notched another sack which also caused a fumble. He was absolutely feasting on the Jets backups. He's going to make the final roster. The Eagles defense forced the Jets to kick a FG, 10-2, Jets.
The Eagles offense looked sluggish under a OL that continued to look shaky in pass protection. Foles didn't look comfortable. Zach Ertz and Clay Harbor each dropped some catches. Drops have been an issue with Ertz in training camp.
Foles finished the 1Q with a stat line of 0-6, 1 fumble.
2nd quarter:
Bryce Brown had some nice runs. He suffered an ankle injury earlier in practice this week but it didn't show tonight.
The Eagles defense stepped it up again in the 2nd. Jake Knott looked to be in on a number of tackles. Knott also forced a fumble that was recovered by S David Sims. CB Jordan Poyer was also in on the play.
Emmanuel Acho also looked great. He forced a fumbled that would be recovered by Colt Anderson.
Despite the Eagles defensive performance, the offense continued to stall. Alex Henery hit a 38 FG. 10-5, Jets.
Everette Brown forced a fumble (Jets recovered) to end the half. Everette looked good but probably won't catch on here. Someone else may pick him up after his effort tonight.
Foles finished the night with an ugly stat line of 6/17 (35%) for 63 yards and a fumble. That's 3.7 yards pet attempt. Gross.
3rd quarter:
Matt Barkley started the second half for the Eagles.
CB Trevard Lindley suffered an injury and had to leave the game. That doesn't bode well for the Eagles depth at CB, which was already looking weak coming into tonight's game. Kurt Coleman was taking reps at CB.
Barkley led the Eagles on a 16 play, 80 yard drive that was capped off by a 3 yard TD run by Matthew Tucker, which made the game 13-11. A successful two-point conversion attempt by another run from Tucker up the middle tied the game. Tied, 13-13.
4th quarter:
The Eagles defense surrendered a TD to the Jets on a Kahlil Bell short TD run. 20-13, Jets.
Barkley threw a pick-6 late in the game. It was a short route and the CB read the pass all the way. The good news is that this meant no overtime! 27-13, Jets.
A muffed punt return by the Jets late in the game gave the Eagles one last opportunity in scoring position! Oh, the drama! The Eagles capitalized with a Matthew Tucker TD run. 27-20, Jets.
The final score was 27-20, in favor of the Jets. So the Eagles finish with a 2-2 preseason record.
The Eagles will open the regular season at the Washington Redskins on September 9th in the Monday Night Football opener. Get excited!
Final Thoughts:
That was a typical preseason finale. They call it "scrubfest" for a reason and it sure was ugly. Lots of sloppy play.
Nick Foles didn't look good tonight. It wasn't all his fault, but he definitely does deserve some of the blame. The OL didn't offer him great pass protection and his receivers dropped too many passes. Still, Foles held onto the ball for too long at times. Foles finished the 2013 preseason with 27/42 (64.3%), 446 yards (8.1 YPA), 0 TD, 1 rush TD, 3 turnovers (1 INT, 2 fumbles).
Once again, Chris McCoy has absolutely earned a job on this roster. ILBs Emmanuel Acho and Jake Knott also look like locks. Conversely, Casey Matthews was looking like he was having a good preseason but didn't do so well tonight.
Tonight's game was the last chance for some depth players to show they deserve a spot on an NFL roster. Some jobs may have been won or lost tonight. The Eagles have some tough decisions to make before they cut down the roster to 53 on Saturday by 5 PM EST.
We'll have even more in-depth coverage of tonight's Eagles-Jets game on BGN tomorrow morning. Stay tuned.
Don't forget to check out the Eagles-Jets StoryStream for full coverage of the game.
Injury Notes:
• Left game and did not return: TE James Casey (hamstring), CB Trevard Lindley (ankle sprain)