BobQ and I are both here at camp today.  It was sloppy out there today.  Let's just get right to it...
8:24 - Samuel and Maclin in shorts today, but out on the field.
8:31 - Interesting... Dallas Reynolds getting reps at C in drills.
8:33 - Good to see DeSean Jackson back out there in pads.
8:35 - Mike McGlynn is out there with the 1's.  Shipley running with the 2's, Dallas Reynolds with the 3's.  No sign of Nick Cole.
8:39 - Clay Harbor appears to have leapfrogged Cornelius Ingram.  He's running with the 2's, Ingram with the 3's.
8:45 - Kolb with a nice read on a Quintin Mikell blitz, hits a wide open DeSean across the middle with Big Stew in tow.
8:47 - It appears Brandon Graham is getting more time with the 1's today than Juqua Parker, although they're rotating in and out. 
8:49 - Graham and Parker are also rotating in and out with the 2's, with Parker getting more time there.
8:51 - Kurt Coleman gets up and bats down a pass from Kolb on a blitz.  Coleman has some hops.
8:54 - Kolb misfires on a pass.  A fan from the crowd yells, "C'mon Kevin, you look like Donovan out there!"  JoeD, was that you?
8:59 - Interesting drill here.  It's one-on-one coverage drills with the LB's and safeties against the TE's and RB's.  With our well documented problems covering TE's, my attention is peaked...
8:59 - Charles Scott, perhaps the worst route runner of the skill position players on the team beats Tracy White.
9:01 - Clay Harbor smokes Moise Fokou deep.
9:01 - Leonard Weaver beats Akeem Jordan on an out .
9:02 - McCoy easily beats White on a square in.
9:03 - Celek almost breaks Mikell's ankles on a great corner route.
9:04 - Finally! Jamar Chaney breaks up a pass intended for Charles Scott.  Scott, as mentioned above, is NOT a good route runner.
9:05 - Ingram beats Sims on an out.
9:06 - Hey, wait a second, just noticing now I don't see my favorite rookie, Keenan Clayton.  (Sheil Kapadia of philly.com will later inform me that he's out for "personal reasons" - was out yesterday, too).  Uh oh.  I'll be keeping my eye on this development for sure.
9:07 - Onto the next drill - Not what I wanted to see from our linebackers in the one-on-one drill.  Granted, it's not an easy drill from them - They have to cover the Eagles' talented RB's and TE's for a good 5 seconds or so with no pressure on the QB.  But still, the RB's and TE's dominate.
9:08 - BobQ mentions he saw Nick Cole walk off on his own power earlier, but was a little gimpy.
9:08 - We're in red zone drills now.
9:12 - Trevor Laws and Jeff Owens are flat out dominating the 2nd team interior OL.  They're both in the backfield on 2 consecutive plays, and are doing whatever they want.
9:14 - BobQ suggests our starting center Week 1 may not currently be on the team.  I want to disagree, but I can't.  Paging Kevin Mawae... Kevin Mawae... You have a telephone call at the front desk.
9:18 - Mike Kafka with a gorgeous ball down the seam to Kelley Washington for a TD.
9:20 - Good coverage in the red zone.  Kolb is forced to pull it down and run.
9:21 - Charles Scott with a drop.  Did I mention he's not a threat whatsoever in the passing game?  If not, well... He's not a threat whatsoever in the passing game.
9:22 - Red zone offense not crisp.  Coverage sacks on 2 consecutive plays.  Parker and Darryl Tapp are the ones that clean up.
9:23 - Another coverage sack by the 3's.
9:26 - Really ugly shovel pass from Kolb to McCoy goes incomplete.
9:27 - Ernie Sims wraps up McCoy in the backfield for loss.  The D is absolutely dominant right now.
9:28 - The D continues to frustrate the offense.  Sack by Trent Cole.
9:29 - Are you kidding me?  Another coverage sack!  The secondary is playing great, although the offense looks terrible today.
8:37 - Drop by Ingram on a high ball from Vick.
8:39 - There we go... Nice back-shoulder pass from Kolb to Avant across the middle in the end zone.  Really accurate pass there.  Kolb put the ball behind Avant a tad so Avant could shield the defender in front of him.  Great pass.
9:41 - DeSean with a catch on a drag route in the red zone.  They have Jackson running a ton of drag routes across the middle.  I think Mornhinweg and Reid are looking to get him matched up against linebackers in the underneath game this season.
9:43 - Kurt Coleman with a nice little pop on an Eldra Buckley reception.
9:45 - Ingram is getting a lot of red zone looks.  He brings in a TD catch from Kafka.
9:46 - Trevard Lindley is having a really good morning.  I haven't seen him beaten once yet today.
9:49 - On a morning in which the secondary has had a great practice, Quintin Mikell provides perhaps the highlight of the day.  He reads a short 7-8 yard hitch by the TE (I think it was Celek), and came flying up from his safety position, leaping in front of the receiver for a really nice pick.
9:52 - Kelley Washington with a nice grab over the middle on a low ball from Vick.
9:53 - Vick looks down field for an eternity, but nobody is open (there's no pass rush, mind you).  I'll say it again - The secondary is having a great, great day.
9:56 - Pass rushers back in.  Kolb sacked by Parker.  He throws a deep ball to Jackson anyway, but it's broken up nicely by Ellis Hobbs.  Mikell is fired up with the D's play.  He encourages the crowd to make noise.
9:58 - WR screen to Jackson.  We need to run more of that this season.  It's a cheap, easy way to get the ball in the hands of your best player in space.
10:00 - D brings a heavy blitz.  Nice chance to see Nate Allen in one-on-one coverage against Baskett here.  His shuts Hank down, and the ball is thrown to Jackson on the other side of the field.
10:01 - Washington with another nice grab on an out route.  Washington is looking more and more like he'll be an Eagle this season, and this is based on his WR play so far.  We haven't even really seen him in action playing special teams yet, which is his specialty.
10:03 - Laws with a sack of Vick.
10:07 - Dmitri Patterson picks off Kolb.  The great secondary play continues.
10:11 - Laws gets Vick again.  It's also the 2nd time he has accidentally knocked Vick down today.  Easy, big fella.  Laws, by the way, is having a stellar day.
10:12 - Vick with a gorgeous deep ball down the sideline to Dobson Collins.
10:13 - Tapp with a sack this time, on a nice inside spin move, beating Austin Howard.
10:14 - That's it.  Done for the morning.
10:22 - Cobb'd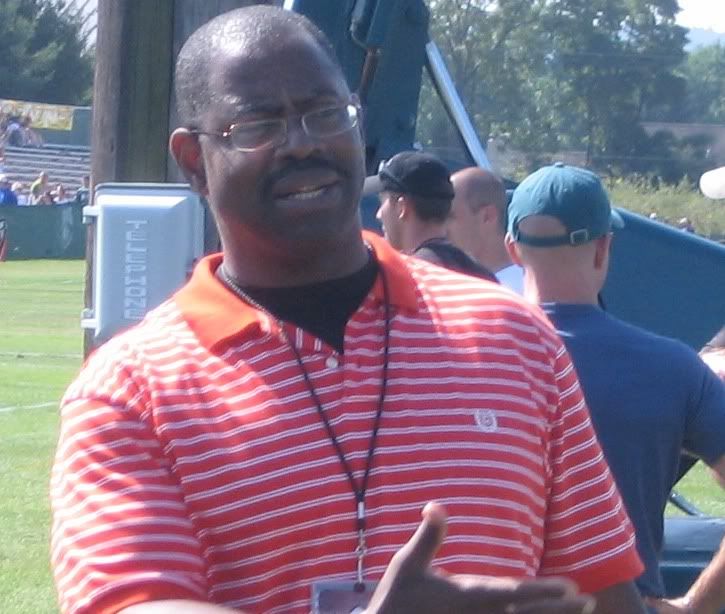 10:27 - Out of nowhere, an Eagles employee approaches BobQ as if BobQ was a coach or something, and asks him if he'll answer a few question for him about Bleeding Green Nation.  He explains that the Eagles' website will be featuring in an upcoming piece on PE.com.  I always knew BobQ was a rock star!  The Eagles employee turns on the tape recorder and starts firing questions.  You know the scene in "Airplane!" in which Ted Striker is trying to land the plane, and buckets of sweat are pouring down his face?  Well, that's what BobQ looked like being interviewed.  High comedy... for me at least.  Anyway, BobQ gave some good answers, especially being put on the spot like that...
And finally, my MVP of the day... Everyone in the secondary, and Trevor Laws.  Enjoy that breather, Trevor... Nice job today, big guy.