I overheard some wiley old beat writers discussing the upcoming day's practice this morning, and they were saying that this is really good day to see some guys separate themselves from the pack. Guys are tired and sore, and you can start to see which guys really want to go out and play some football.  Let's just get right to it.
8:03 - I learn that there will be no DeSean Jackson or Stewart Bradley today
8:05 - LeSean McCoy yells out in the direction of Nick Cole and Max Jean-Gilles, "C'mon Big Meat!"  Not sure which one he was referring to (I asked him later)... to be continued.
8:07 - First sighting of J.J. Arrington.  He looks a lot bigger than I remember him coming out of college.  I recall he had big, thick Barry Sanders-like legs (and he still has those), but now he's also a little top heavy.  One of the photographers remarks to me that he looks more like a FB.  I agree.  Probably not a good thing.
8:12 - I make my way over to where they're practicing kick returns.  Bobby April is absolutely non-stop.  I'm 33 years old, and this guy has more energy in his little fingernail than I have in my entire body.  Chad Hall, Macho Harris, and Ellis Hobbs are working as the returners.  No J.J. Arrington yet.
8:34 - First hint of wildcat activity - The QB's and RB's are working on an option drill.
8:38 - There goes the camera crane, which means hitting time is close.
8:54 - Nice pass breakup by Nate Allen gets a rise out of the crowd.
8:55 - New WR Kelley Washington with a catch over the middle during one-on-one drills.  Not sure if he's simply motivation for our other WR's or if he really has a legitimate shot of making the team, but I'll say this... He has wheels.
8:57 - Kafka with a weak ball down the sideline, easily picked by Asante Samuel.
8:58 - Trevard Lindley swats away a pass intended for Washington.  Nice closing speed.  Lindley had a great day today.  I have some quotes from Lindley coming up soon.
9:00 - Asante Samuel tries to jam Avant at the line, but Avant jukes the crap out of him, throws Samuel aside for good measure, and gets wide open for an easy pitch and catch.  Avant may not have the raw ability that DeSean Jackson and Jeremy Maclin have, but he is by far and away the most polished WR on the team.  You want to talk about "leadership?"  Look no further than Jason Avant.
9:02 - Asante Samuel at Jason Avant: "Hey Jason, I'm mad about that.  I'm mad about that, Jason.  That's on my mind now.  I'll see you again."  To which Avant retorts, "You better put on some more weight."  I'll repeat what I wrote in the last diary - Samuel is constantly running his mouth.  I'm becoming a much bigger fan.
9:03 - Maclin runs a fly route against Lindley one-on-one.  Lindley stays with Maclin all the way and has a really nice pass breakup.  The other corners, all lined up on the sideline, give a collective "OOOOOH!"  Lindley looks a player.
9:05 - Vick and Washington connect on a deep ball.  I won't be the first to say this, nor the last, but it's really something to see the way Vick just flicks his wrist so effortlessly, and the ball just jumps out of his hand.  Vick throws 50 yard bombs with the same ease as I do tossing a crumbled up piece of paper in the garbage.  It's really something to see in person.  Then again, I'm not sure he always knows where the ball is going, but I digress.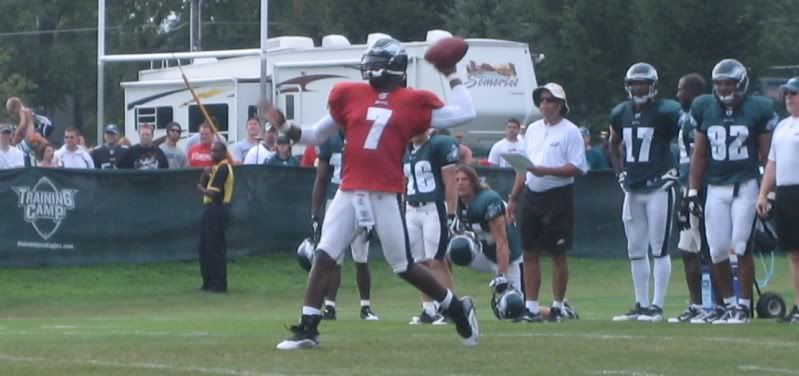 9:06 - Air horn!  We're going live!
9:07 - On the very first play, McCoy goes for 25 yards on a run off right tackle.  McCoy is easily the MVP of the day today.  He looks comfortable and confident with his role as the starting RB, which is great to see.
9:08 - McCoy again for 5 more.  In the 2 days I've been here, the Eagles have been running the ball a ton during the live 11 on 11 full-contact game situation sessions.
9:11 - Vick scrambles for 25.  Just FYI - Vick looks fast.
9:12 - Mike Bell with a hard run for 5.  The ground game trend continues.
9:13 - High comedy here.  There's a kid working the clock at the far end zone (about 60 yards away), and Andy Reid is trying to yell to the kid to put 2:34 on the clock.  He yells it about 4-5 times, and kid can't hear him.  So an assistant starts walking closer to the kid and is yelling "Two thirty-four!"  The kid puts 4:00 on the clock.  "No, two thirty-four!"  The kid puts 2:00 on the clock.  "Two thirty-four!"  The kid puts 2:04 on the clock.  "TWO THIRTY-FOUR!!!"  Finally, the kid puts 2:34 on the clock.  Big ovation from the crowd.  Great stuff.
9:14 - Juqua Parker with a "sack" to end a drive.
9:16 - Charles Scott with a hard run.  Keenan Clayton on the tackle.  I continue to see this guy everywhere.
9:17 - Charles Scott again.  This kid is a load.  I'm really looking forward to watching Scott in the preseason.  Take this to the bank - The Eagles are going to give him a ton of preseason carries.
9:18 - It's the 1's (O) vs the 2's (D)
9:20 - Nice catch by Baskett along the sidelines, who then turns upfield for some additional yardage.  Every time Hank touches the football, somebody yells "Kendra," which is getting annoying.
9:21 - Trevor Laws on a tackle.  Laws looks good so far, and Sean McDermott had some good things to say about him.  We'll get to that later.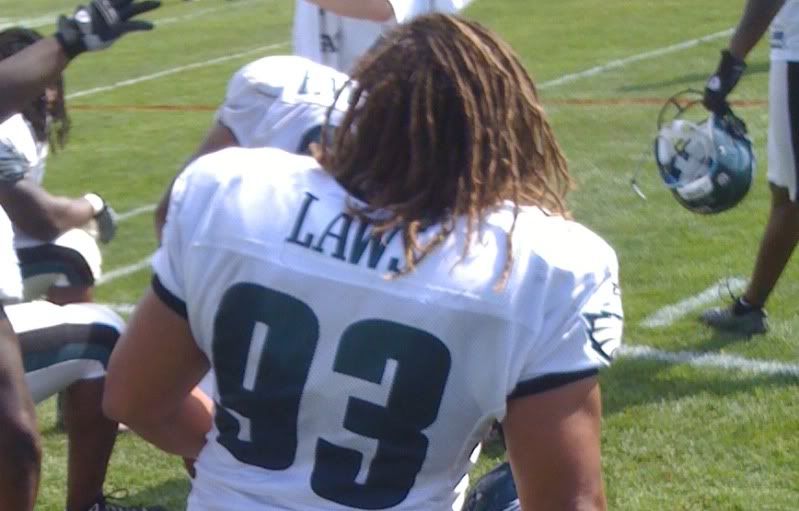 9:22 - On a well-executed play action pass, Moise Fokou stays with Brent Celek on a pass in the flat.  Celek makes the catch but is immediately planted by Fokou for a minimal gain.
9:23 - Kolb misses an open Avant a little high down the seam.
9:24 - 3's vs 3's.  Too many rookies on the field to count right now.
9:27 - Nice 15 yard gain by Buckley.  Buckley had a good day today, after a not-so-great day yesterday.  Competition (i.e. J.J. Arrington) is a great thing.
9:28 - Daniel Te'o Nesheim breaks up a run in the backfield.  Keenan Clayton is right there again as well.
9:29 - Buckley for 4.  Did I mention the Eagles are running the crap out of the ball so far?  Well, they still are.
9:31 - Hurry-up FG time.  Akers kicks a succession of FG's, ranging from about 35 to 52 yards.  Drills them all with ease.
9:34 - They also do a hurry up drill, in which they run a play in where the defense purposely allows Jason Avant to catch a ball the middle of the field, and the offense has to run down and clock the ball.  The FG team then runs out as assistant coaches yell "This is for the win!"  Akers drills it again.  Really fun drill.  On a side note, Sav Rocca walked right past me at one point.  I go about 6'3, 205, and Rocca dwarfed me.  Rocca is a large human being.
9:56 - 7 on 7's
9:57 - Consecutive completions to Avant, Maclin, and Baskett.  Baskett's catch is another nice one over the middle from Vick.  Vick seems to look for Baskett a lot.
9:42 - Vick bomb for Kelley Washington broken up by Macho.  Macho looks pretty good so far as well.  I've been impressed with the way Macho is jamming the bigger receivers (Baskett, Cooper) at the line.  He may not have the quicks to keep up with some of the smaller, speedy guys, but he's very physical and if he can get his hands on the bigger guys at the line he can be an effective corner.  I can envision Macho matching up nicely against guys like Roy Williams, Hakeem Nicks, or even a smaller TE like Fred Davis of the Redskins.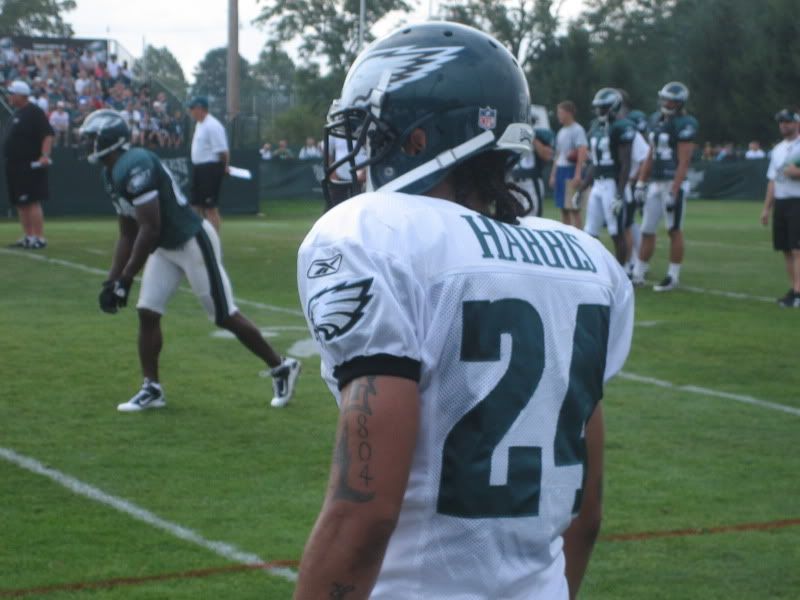 9:45 - Another Baskett catch.  This time from Kolb.  Baskett is making the team by the way.  He just is.
QUICK OBSERVATION - I've been watching to see how Nick Cole looks snapping the ball in shotgun situations.  It's not good.  You don't want your center firing fastballs back to the QB, but you do want a crisp snap that the QB gets in his hands quickly so he can maximize his time to look downfield and read the defense.  Every fraction of a second counts.  Cole's snaps in the shotgun are not crisp.  Kolb is often having to reach for them slightly, which is not ideal, and is eating up those all-important fractions of a second.  I could certainly be wrong here, but it does not appear to me that this is something Cole has worked on in the offseason.
9:50 - We're live, full-contact,  game action again! 1's (O) vs 2's (D)
9:51 - It's the Eagles' patented shovel play.  McCoy for about 8.
9:53 - McCoy beats a blitz for a 20-yard run.  Did I already mention McCoy looks great?  Well, he does.
9:54 - Kolb misses a wide open Jason Avant down the seam in the endzone from about the 40.  Overthrows him by a smidge, and Avant almost makes a gorgeous one-handed grab, but it's incomplete.
9:55 - Draw to McCoy for 4.  The ground game continues.
9:56 - Sideline pass to Riley Cooper.  I'm about 4 yards away and can clearly see that Cooper's foot is barely out of bounds, but the coaching staff disagrees.  Complete catch.  Cooper was a little quieter this morning, but he's still dreamy.
9:57 - Shady up the middle again.  Clayton there again.
9:58 - Noticing that Winston Justice is really doing a nice job in pass protection against Brandon Graham.
9:59 - Kolb feels some pressure in his face, but makes a quick decision and unloads the ball across the middle to McCoy.  McCoy scampers 25 yards for the TD.  McCoy right now looks like the fastest player on the field.  If you watch him, it's fairly obvious that he's ready.
10:00 - 2's (O) vs. 1's (D)
10:01 - Bell violently blows up a blitzing defender.  Outstanding block.
10:02 - PLAY OF THE DAY - 4th and 1 situation - Quintin Mikell, Brodrick Bunkley, and Omar Gaither blow up Mike Bell in the backfield.  The D is fired up.  You'd think it was Week 14.
10:04 - Nice run again by Buckley.  Again, he's having a good day.
QUICK OBSERVATION - Keenan Clayton is getting time with both the 2's and the 3's.  Lots and lots of reps for this kid.  The Eagles want him on the field, and I think they're trying to find the best way to use him.
10:05 - Just as I notice Clayton again, Buckley runs right through a Clayton arm tackle.  C'mon Keenan!  Don't make me take you off the Na Brown Award candidate list!
QUICK OBSERVATION - Daniel Te'o Nesheim has a reputation for being quiet and reserved off the field, but plays about 3 seconds past the whistle on pretty much every play.  My over/under on the number of fights he'll be in during this camp - 3.5.  He already has one.
10:06 - Clay Harbor nice catch and run.  Harbor is clearly ahead of Martin Rucker on the depth chart.  I don't see Rucker getting very many reps at all.
10:07 -Harbor again over the middle, and he drags the pile for an additional 3 yards.  He's looking good.
10:08 - Kafka finds a wide open Chad Hall, who is slammed by David Pender.
10:09 - Two J.J. Arrington runs go nowhere.  My first impression is that he looks slow, and that Denver's 6th round pick is in our near future.
AIR HORN!  That's it.  Some other drills and stretches and they're done for the morning.
Update: Some quotes from camp...
Sean McDermott on whether he wanted Trevor Laws to get bigger this offseason...
I think Trevor has come out and attacked the offseason the right way.  He got into the weight room with a strength and conditioning program, and he's come out with an aggressive attitude, and that's what I wanted to see.
McDermott on the big 4th and 1 stop in the morning session...
We really haven't put short yardage defense in, so coach (Andy Reid) asked if we wanted to be out there in that situation.  That's gut-check time for the defense... I was proud of how they responded.
Quintin Mikell on the 4th and 1 play
Coach Reid was joking about the offense going for it, so we said 'Let them go for it." We re-lined it up, and just shot through the gap.
Mikell on that situation being the first time they ran short yardage...
That was really our first time running that type of stuff.  It's only our second day in, so today's the first day we had that.
On who was in on that play...
Me, Bunk... OG (Omar Gaither) was in there too.
LeSean McCoy on whether he feels more comfortable in the offense this year.
Yeah, a lot more.  I know what to look at, know when to expect a hole to (open)... so I feel different, confident... I'd say more confident... I can tell a big difference from last year to this year.
 Last year, I was trying to find something dancing.  Here you just gotta hit it.  You get in the open field, then make your move... Just learning and feeling more comfortable, feel more comfortable than ever.
McCoy who "Big Meat" is...
Oh, (laughs), that's from a song, that's the O Line.
So it's not any particular line? It's all of them?
It's all of them.
I'll have some thoughts on the guys that impressed/disappointed...