Sometime around 7:30-ish - Got my press pass.  Woot woot!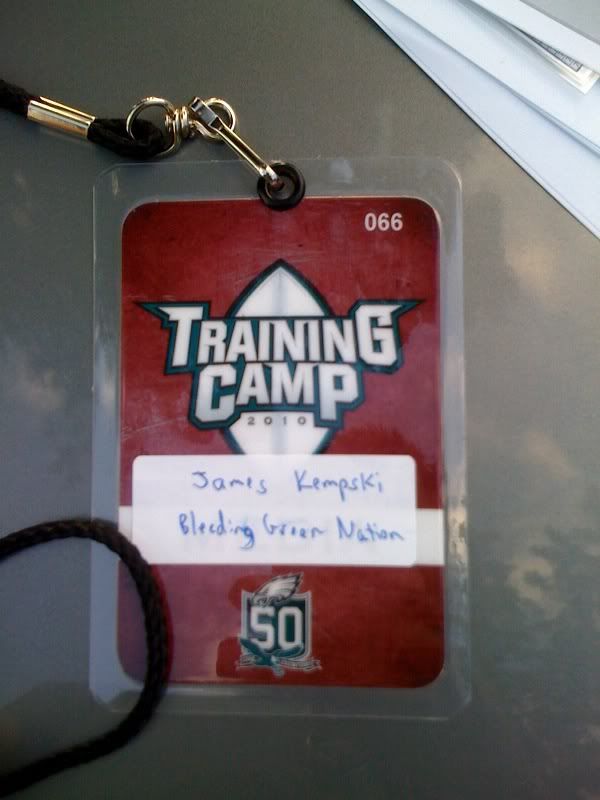 8:00 - I arrive at the field, and the very first thing I notice... Lehigh University has goalposts that are older than dirt.  The Eagles have to use their own makeshift version.  C'mon Lehigh, it's not 1922.
8:02-ish - And here they come...
Much more after the jump...
8:08 - I start off watching our punt returners field punts.  Participants are DeSean Jackson, Jeremy Maclin, Chad Hall, and a bit of a surprise, Ellis Hobbs.  (Hobbs has zero career punt return attempts).
8:12 - The D Linemen are doing a funny drill.  They line up in front of mats that are stacked about 2 and a half feet high, and they try to jump over them from a 3-point stance.  Mike Patterson looks awkward jumping over, but clears it.  The crowd cheers and Patterson pumps his fist.  High comedy.
8:16 - One-on-one WR vs. corner - Asante Samuel runs his mouth constantly - Funny stuff.  After a play where Avant is hustling his ass off, Samuel yells at Avant that he needs to stop being complacent now that he got his money.  Great stuff.  Here he is running his mouth as I take his picture...
8:24 - Bad rookie mistake by me.  I'm the only idiot with a bookbag, that includes a computer (useless on the field), camcorder (not allowed), water (also not allowed), and other stuff.  It's heavy, and I'm not allowed to leave it anywhere.  I bite the bullet and make the trek back to my car to drop it off.  D'oh!  Asante Samuel taunts me as I walk off (kidding).
8:51 - The O is running a passing drill with no defense.  Hank Baskett drops a quick slant, the crowd groans loudly.
9:02 - Some fans have VIP access, and Andy Reid yells at one of them for being critical of an Eagles receiver.  He threatens to send him to the common mass audience.  Also high comedy.
9:14 - Now we're talking! 11 on 11's, with the 1's against the 1's!
9:15 - First team D - Parker, Cole, Bunk, Patterson, Fokou, Big Stew, Sims, Samuel, Hobbs, Mikell, Allen.
9:16 - Gorgeous deep ball from Kolb to Jackson.  Perfect throw, good catch.  He beat Asante Samuel down the sideline.
9:18 - 2nd team D in... It's Graham, Tapp, Laws, Dixon, Jordan, Gaither, Clayton, Hanson, Macho, Demps, Coleman.
9:23 - Stewart Bradley interception.  Really nice play by Big Stew - He steps in front of Maclin for a pick and picks up some nice yardage on the return. Let me stop right here for a second - Stewart Bradley looks fantastic.  If he's at all slowed up by his knee, I don't see.  He's all over the place.
9:40 - Ding ding ding - Our first fight!  It's Riley Cooper vs. Ellis Hobbs.  Hobbs went after Cooper first, and Cooper was starting to gain an advantage, when out of nowhere, Big Stew protects his smaller defensive teammate, hitting Cooper and removing his helmet from his head in the process.  Cooper got plenty of attention afterward from the media for his role in the fight.  And might I add for a second - Riley Cooper is dreamy.
9:45 - Really sharp ball from Vick to Cooper on a quick out.  Cooper is a big, strong target, and looks good.  He can play - I expect him to contribute this season.
9:47 - Eldra Buckley drops a routine screen pass.  Gotta make that play, Buckley.  With Arrington now also in the fold, that's a play he can't afford to miss.
9:50 - Jason Avant absorbs a big pop from Ernie Sims and makes an impressive catch across the middle.  Sims is sent off by Reid for the big hit, but he gets high 5's from his defensive teammates.  Keenan Clayton in.
9:51 - Kolb misses Celek on an easy out pattern.  Bad pass - Kolb yells at himself in disgust.
9:52 - Pass interference on Samuel against Baskett, but Baskett lays out and makes a really nice catch anyway.
9:53 - Noticing that Keenan Clayton always seems to be around the ball, and he's getting a ton of reps, both with the 1's and 2's.  They clearly like him.
9:59 - Nice run by Mike Bell, as well as a nice open field tackle by Nate Allen.
10:03 - Kolb scrambles, gets 10, and gives Kurt Coleman a stiff arm to his facemask as he runs out of bounds, which is especially funny since Coleman isn't allowed to hit Kolb.
10:05 - First look at Charles Scott with the pads on, and he looks like a really hard runner.  Drags a couple Eagle defenders for 3 extra yards on a 5 yard gain.
10:08 - Vick sprints left and hits Baskett on a the sidelines.  Nice catch by Baskett there.  The early drop aside, Baskett looks good.  I don't see a scenario in which he gets cut.
10:09 - Ellis Hobbs with a nice pass break-up, and then he lets everyone in the stands know it.
10:11 - Play of the morning - Gorgeous diving catch by DeSean Jackson on a deep ball.  Kolb overshot him just a smidge, and Jackson fully laid out and made a beautiful catch.  The crowd goes nuts.
10:13 - Keenan Clayton wraps up LeSean McCoy in the backfield.  I seem to keep noticing Clayton over and over.
10:19 - Punt coverage
10:21 - Keenan Clayton is now working as the gunner on the punt team?  Weird seeing a guy with a 59 number as the gunner, but he's very speedy.  I'm really starting to like this kid.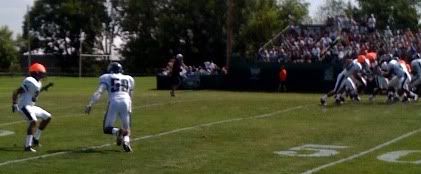 10:30-ish - Air horn!  Done for the morning.
Will have more later.