The 2009-10 season did not end the way we wanted, just like every....other.....year.....in the Superbowl Era. We have to believe and rely on the old saying "There is always next year..." or as we say here at BGN, "Eff you, we're winning anyway!". Anyways, I compiled a short list of the current five best things about this team. I am emphasizing the word "current" because I know Free Agency (although highly limited) and the draft is coming up. I will do a follow-up post after they take place. So let's get started.
*Note: All tables were painfully created by yours truly.
______________________________________________________________________________________________________________________
Bright Spot No.1: Receiving Core
I think any average football fan should know by now how good and young the Eagles receivers are.The combination of Desean Jackson, Brent Celek, Jeremy Maclin, and Jason Avant accounted for 235 catches,3487 yards and 24 touchdowns. This group is gonna be good for years to come. I'm not going to write much about them. I'll let the numbers speak for themselves.
| | | | | | |
| --- | --- | --- | --- | --- | --- |
| PLAYER | AGE | RECEPTIONS | YARDS | YDS/REC | TOUCHDOWNS |
| | 25 | 76 | 971 | 12.8 | 8 |
| | 23 | 62 | 1156 | 18.6 | 9 |
| | 21 | 56 | 773 | 13.8 | 4 |
| | 26 | 41 | 587 | 14.3 | 3 |
The rest after the jump...
Bright Spot No.2: Quarterbacks
Ahhh.....Philly's age old Quarterback controversy is back with a vengeance but this time it's bigger than ever. We have not one, not two, but THREE starting quality quarterbacks. Whatever happens, this is certainly a good position for us to be in. One of them will be gone this off season(not Donovan) and will net us either picks or NFL player/s in return.
Donovan Mcnabb: Undoubtedly the best quarterback in franchise history, who I think does not deserve to get the boot after playing with the FOURTH most injured team in the league. I believe he deserves one last shot with a more experienced and complete team since he still is pretty damn good. If he starts stinking, then bring on Kolb. This is also the most offensive talent he has EVER had. Do we just send him packing after just one season with them? We don't NEED an extra draft pick. This is not a rebuilding team. This Eagles team is freakishly young as it is. Kolb will get his chance the following season as I believe Mcnabb will retire an Eagle in 2011. If he leaves as a FA the following season, we will likely get a 3rd rounder as a comp. pick anyway.



Kevin Kolb: I like the guy as our future QB. I don't think he will be traded this off season. From the limited action we saw from him, we can tell he has an average arm, tends to stare down his receiver which leads to interceptions, and is a prototypical west coast quarterback due to his good short-midrange accuracy. If he can improve his vision and long ball, he is going to be very good.



Michael Vick: Out of the three quarterbacks, Vick is the most speculated to be traded. He also played in a limited role. In the first half of the season, it seemed he was a waste of a down but as the season progressed, he definitely contributed to the team. That 76 yard TD pass to Maclin was beautiful. I think he goes to the Rams for a third rounder(mostly wishful thinking) but the first pick of the 4th will do as well.
Bright Spot No.3: Return of Bradley
I am a HUGE Bradley fan and had really high expectations for him this past season. Andy Reid needs to tone down his training camps or something because these ACLs are tearing like toilet paper. By the start of the season, He should be at 100% and I have no doubt he will return to old form. For just a second year player, he was fantastic and should only get better. He is going to make a significant improvement to our linebacking core. Even without any new starters, our starting linebackers would be Bradley, Spoon, and Jordan. I think Spoon would stay in the middle and Bradley will move to the strong side. Here are their numbers from their previous season. Very solid but I think they will improve next year.
| | | | | | | | |
| --- | --- | --- | --- | --- | --- | --- | --- |
| Player | Age | Starts | Tackles | Sacks | Interceptions | Passes Defended | Force Fumbles |
| | 26 | 2008(16) | 108 | 1.0 | 1.0 | 6 | 1.0 |
| | 29 | 2009(17) | 92 | 1.0 | 1.0 | 5 | 1.0 |
| | 24 | 2009(12 gms-10 starts) | 71 | 1.0 | 2.0 | 6 | 0 |
Bright Spot No.4: Trent Cole

This guy is so good and crucial to this team that he deserves his own spot. Trent shows up every game regardless of being double teamed. He will always be in the QB's face or on top of him(no homo). He is the reason Howard or Parker get their mediocre 6-8 sacks since he often forces the QB to scramble to his right. The pass rushing abilities from the other three linemen leave a lot to be desired. I can only imagine how much better he would be with another stud at the other end and vice versa. Eagles need to sign Peppers so BOTH these guys can dominate. You guys saw what happened to Romo with pressure in his face against Minny. We NEED to be able to put pressure on the quarterback with a 4-man rush or the 'Boys will keep burning us with their WR screens. Get this guy some help F.O!
| | | | | | | | |
| --- | --- | --- | --- | --- | --- | --- | --- |
| Player | Age | Starts | Tackles | Sacks | Interceptions | Passes Defended | Force Fumbles |
| | 27 | 2006-2009(62 starts) | 266 | 42 | 1.0 | 6 | 9.0 |
Bright Spot No.5: Running Backs
I was torn between special teams(Desean & Akers) and running backs for this one but decided to go with the latter due to Sav Rocca suckage, horrible kick returning average and coverage. Although, I have a feeling ST will be top 5 in the league in all aspects next season due to the hiring of Bobby April.
Anyways, the Eagles as a team rushed for 1637 yards with a 4.3 yards per carry average which is pretty good. A lot of the credit go to our running back tandem of Lesean McCoy and Leonard Weaver. Not only are they good rushing threats but they are excellent receivers out of the backfield. I'm not going to complain about Reid running the ball more because it seemed the second half of the season, he was trying. I will save the complaining 'till next season when he forgets about it again.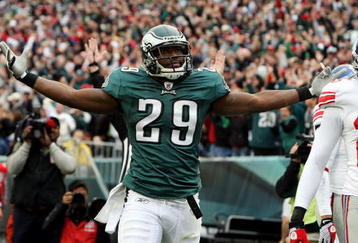 The rookie played well for his first season. I am sad to say but the career of my favorite Eagle is pretty much over. I don't think he should play due to health reasons and the team will most likely cut him anyway. McCoy has shown glimpses of what we are used to seeing from Westy but he definitely is not there yet. Lesean rushed for a modest 637 yards with a 4.1 ypc and 4 tds. He also had 40 catches for 308 yards. He finished just shy of 1000 yards from scrimmage. Let's see if he can surpass Westy's franchise record of 2104 yards from scrimmage.







As for the "Weave", not much to say here. Best full back in football who happens to be a terrific rusher and receiver. He is not just a dual threat but a triple threat. Rushed for a career high 323 yards with a 4.6 ypc and 2 TDs. He also had 15 receptions and 2 receiving TDs. Absolutely terrific player and must be extended.
Well, there it is. Agree? Disagree?I know there are a lot of positives on the team but I wanted to focus on the actual players. I'm sure you can take a different angle and point out stuff like draft picks, coaches, F.O etc. I will also follow this up with the top 5 weakest spots on the team in a few days.