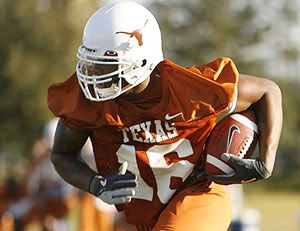 Texas TE Jermichael Finley
The Daily News is reporting that Texas TE Jermichael Finley
worked out for the Eagles yesterday.
Texas tight end Jermichael Finley worked out for the Eagles yesterday, a source close to the situation said.
Finley, who turned 21 last month, left Texas with 2 years of eligibility remaining; some experts felt he should have stayed for more seasoning.
But despite a disappointing 4.82-second 40-yard clocking at the NFL Scouting Combine, Finley, 6-5, 243, seems to rank reasonably high in an underwhelming group of draft-eligible tight ends. He is believed to be an excellent pass catcher with a high upside.
He's a big kid at 6-4 253 lbs and is projected as a mid round pick.
Strengths:
Has great height with the frame to get even bigger...Very athletic...Decent timed speed and quickness...Has soft, reliable hands and great ball skills...Good leaping ability and body control...Can do some damage after the catch...Gives pretty good effort as a blocker...Hard worker with terrific intangibles...Still has a ton of upside.
Weaknesses:
Really needs to bulk up and get stronger...Does not display much power...Sub par blocker who doesn't get much of a push...Can improve as a route runner...He isn't fundamentally sound and needs technique work...Doesn't have much experience.
Notes:
Surprise early-entry who came out after his redshirt sophomore season...Caught 4 passes for 149 yards and a touchdown against Oklahoma in 2007...Still raw and is basically a one-dimensional pass catcher right now...Has the physical tools and talent to ultimately be one of the best tight ends to come out of this draft but will require some patience...He'll be chosen based more on potential than production.