[Ed. Note - Promoted from the FanPosts. Great work here by Anthony. A very insightful look into the Eagles Academy for Men.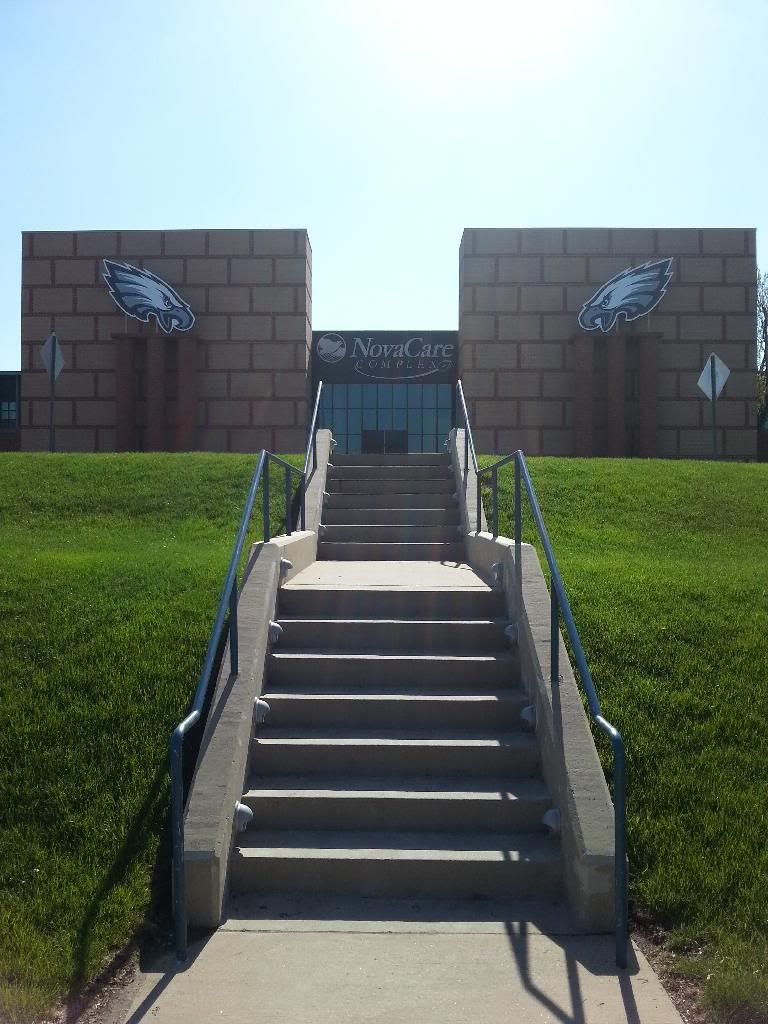 After attending the Eagles Academy for Men event for the first time last year, it was pretty much a no-brainer to do it again this year. The experience is one that I recommend for any Eagles' fan and the $100 cost to attend the event is absolutely worth it. My recap of last year's event (you can read it here) caught a lot of attention as well so doing one for this year's event was an easy decision!
My day started by waking up at 6:00 AM on Saturday morning and quickly getting ready to leave with my fiance and my parents. Luckily, although he's a die-hard Giants' fan, my dad was nice enough to drive me all the way out to the Novacare Complex in Philadelphia, Pennsylvania from Brooklyn, New York to attend the event. We ended up arriving to the event early so we stopped by the Penrose Diner like we did last year for some delicious breakfast (yes, free advertising for them right there). After breakfast, they dropped me off at the Novacare Complex around 9:45 AM to start the event!
But wait a second...as I make my way up the steps towards the front entrance, I see this well-built guy in bright neon shorts and a water bottle in hand walking out of the side entrance of the building. I do a double take and think to myself "that looks an awful lot like Brandon Boykin". So I gave it a short, yelled out "BOYKIN!" and sure enough, he turned his head. I got pretty damn excited and walked over to him.
He was really nice and it felt like I was just talking to a friend. I asked him if he was there for the event but he wasn't even aware it was going on and was just in the building for a "light workout". Since I didn't really want to keep him waiting with a huge pack of fans approaching the building, I asked him to sign my jersey quickly so he could go on his way. But luckily another guy walked up to Boykin, greeted him and was even nice enough to take this picture of me and him together (thanks random guy!):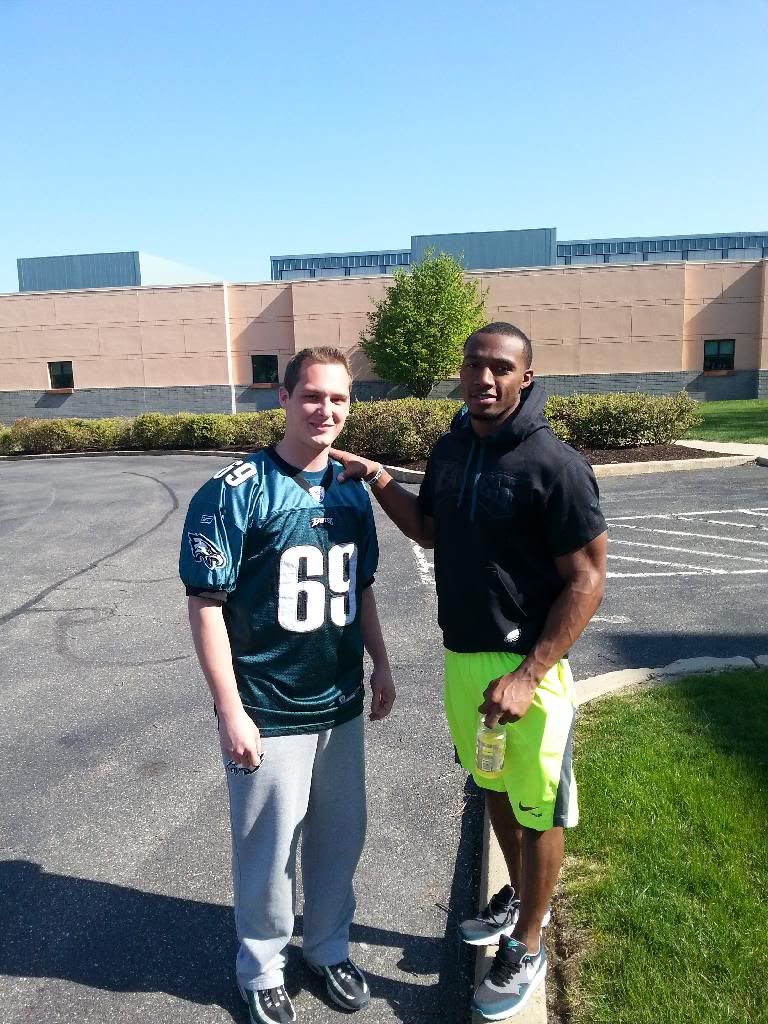 As you can tell by the look on my face, I was pretty ecstatic to meet one of my favorite players on the team. Especially when he wasn't even scheduled to be there, pretty cool feeling. I also joked with him about using the curb to make himself look taller and he thought it was pretty funny. So that was an awesome way to start the day, to say the least. Then I made my way inside, registered for the event, got assigned to "Team Celek" and took a seat in the auditorium for the keynote address by Jon Runyan.
Keynote Address
Runyan took the stage and the first thing he did after thanking everyone for being there was call me out for wearing his jersey and sitting in the same exact seat he used to sit in for meetings, that was pretty cool. He spoke a lot about his experiences in politics and how it related to football in some ways. He referred to a quote that I found interesting, he said "if you're the smartest guy in the room, you're in the wrong room". I thought that was intriguing because he said if you ever feel content with where you are in life, that's not always the best place to be. He said that's why he always liked to challenge himself in both politics and on the football field.
But once he opened up the floor for questions, he started talking more and more about the football side of his life. When asked about why he came to Philadelphia, he bluntly said "it's where the money was". Which sort of got an awkward reaction from the crowd but he explained that it was the best decision he made in his career and it was an honor to play in Philadelphia.
Runyan also told a hilarious story regarding the infamous tailbone injury he suffered during the 2007 season. He slipped and fell near a tub in the trainer's room and according to his story, Eagles' players are reminded every day of what happened. Runyan recalled talking to current Eagles' long snapper Jon Dorenbos and how they now have the "Jon Runyan Memorial Handrail" for the tubs in the trainer's room. Apparently prior to his injury, there were never handrails for the tubs but now there are. That got a great laugh from the crowd as well as another story he told.
This one involved politics but also about how crazy Eagles' fans can be. Runyan made a trip to the White House for some sort of political function with President Obama, Vice President Biden and many other high ranking political officials. But apparently when Runyan was going down the line and shaking everyone's hand, Biden jumped the line and gave him a giant hug and proclaimed how big of an Eagles' fan he was. Runyan joked and said this validated the rumors that Biden was a little crazy at times.
Runyan also told one last story about how fans, reporters, radio hosts, etc. think they know it all when they really don't. He recalled listening to the radio following one of the Eagles' games and hearing Angelo Cataldi bashing him for allowing three sacks by Michael Strahan in that previous game. Runyan was infuriated because he only actually gave up one sack and he wanted to make it known. So he actually went on-air and called out Cataldi for not knowing what he was talking about, it was a pretty hysterical story.
Following Runyan's speech, the offensive teams were sent on to the practice field while the defensive teams would stay in the auditorium. Luckily for me, I was able to catch Runyan in the hallway on the way to the field and got him to sign my jersey but sadly I couldn't get a picture with him. Here's a picture of the jersey for those of you that would like to see it: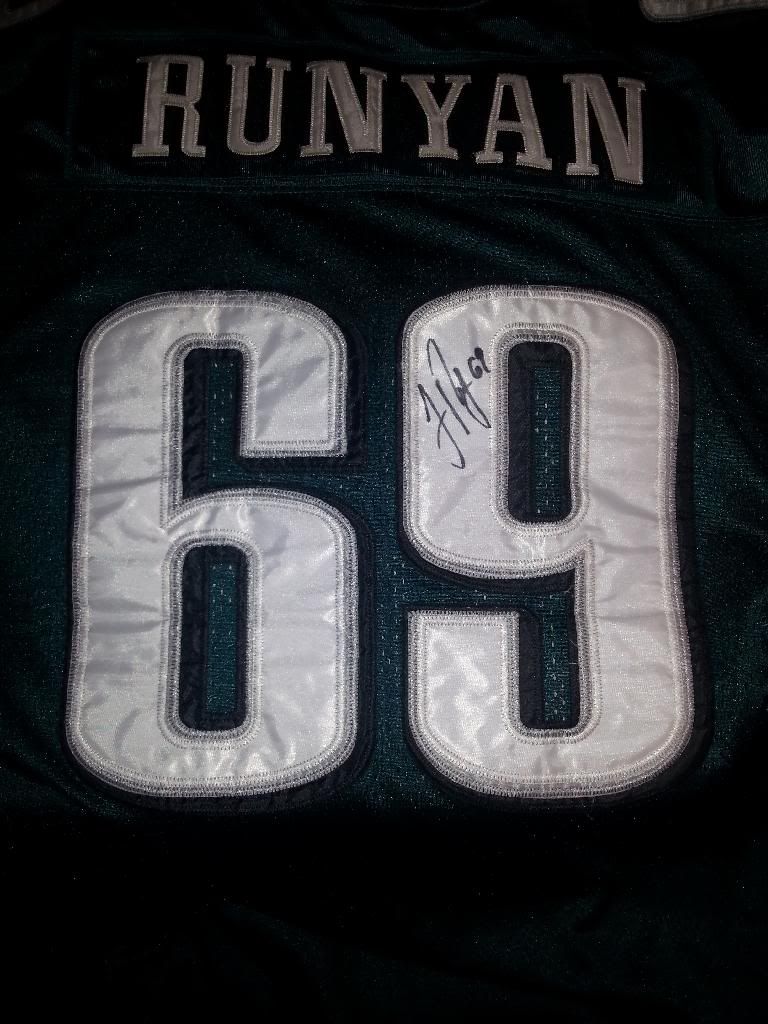 Field Drills
Up next were the field drills on the actual practice field at the Novacare Complex. This was pretty cool because it rained during the event last year so we were forced to do the field drills in the practice bubble. There were four different stations set up and we spent roughly 15 minutes at each one. After a quick stretch, each team was sent to a different station with my team going to a defensive line drill involving running around bags, smacking a dummy bag out of the way, running through a ladder and scooping up a fumble. There was also a tip drill set up here as well but no one really seemed interested in either drill, to be honest.
The second drill was the one everyone was waiting for, running routes and getting the ball thrown to you by Jeremy Maclin! It was a pretty cool thing to experience and although he didn't have the best arm in the world, Maclin seemed genuinely excited to be there. He also looked like he was in great shape and kindly took group photo's with each group following the drill. Luckily I was able to sneak back over to him after all the drill's concluded and got him to sign my custom jersey, a card and even snap a picture with him.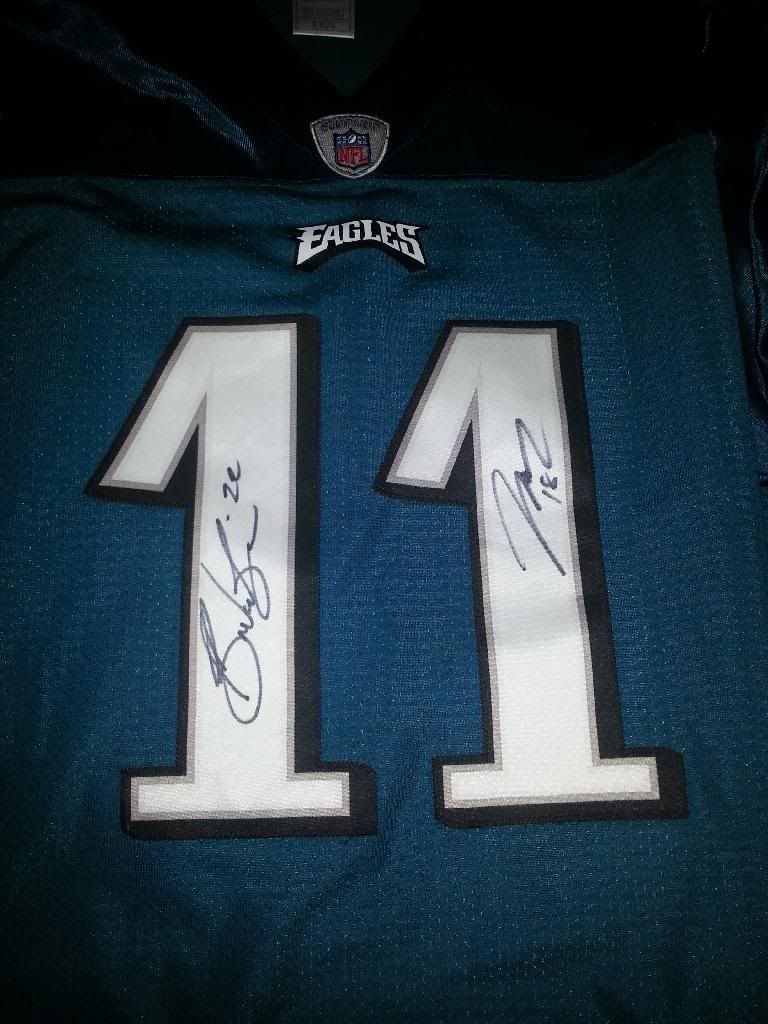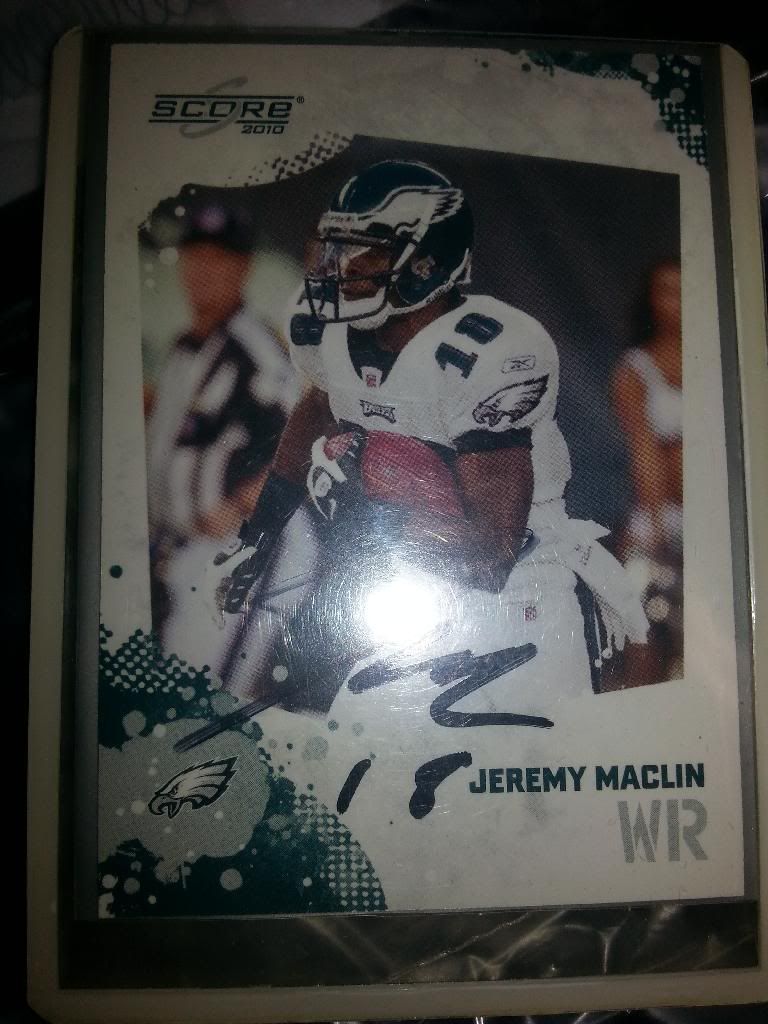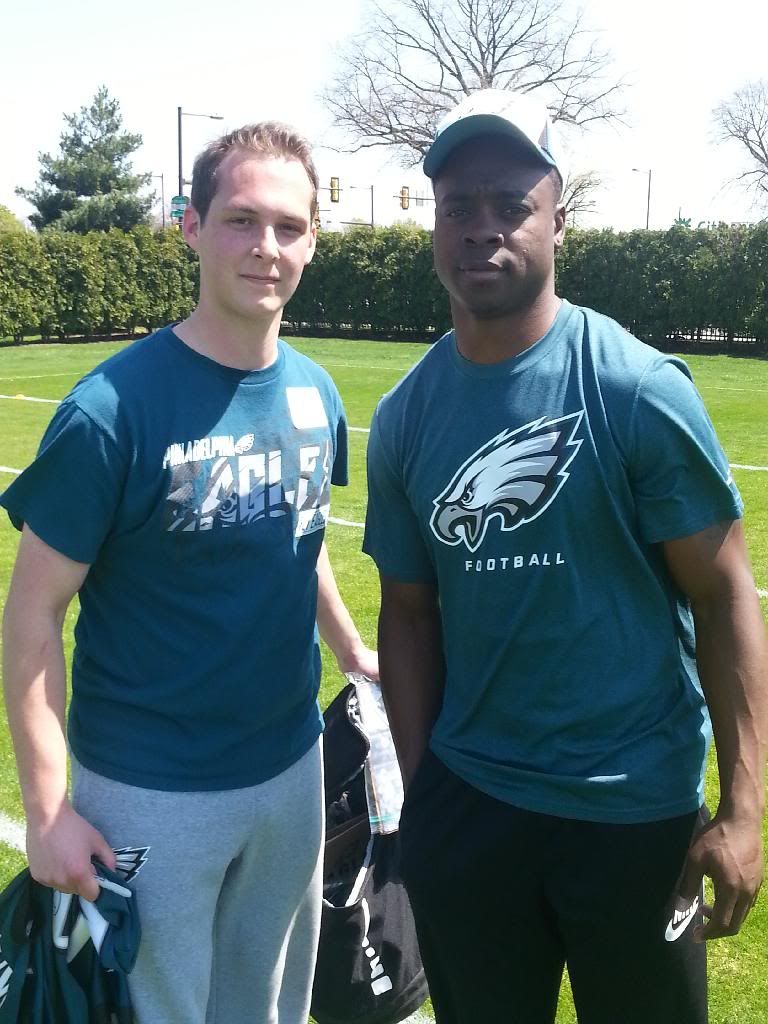 Following the drill with Maclin, we headed over for a three-on-three red zone drill where you had one play to try and score on offense and then rotated to defense for the next play. It was pretty fun and they ran the same drill last year in the bubble. Toward the end of the drill, the younger guys just stuck around on offense and defense. I guess the older guys just couldn't keep up with us (just kidding!). But seriously, some of the older guys at the event were surprisingly athletic, I can only hope I can move like that at their age.
The last on field drill was with Eagles' legendary wide receiver Harold Carmichael. It was more like 10 minutes of talking in a huddle and 5 minutes of doing an actual drill but it was an absolute honor to stand there and listen to Carmichael. He talked about how receivers these days don't look the ball in to their hands and he's shocked that some of them even make it to the NFL. He also talked about how soft the rules are these days and recalled punching cornerbacks in the head to get off a jam at the line back in the day.
One of the guys in my group asked Carmichael what he thought about the wide receivers in this year's draft class and he stressed he didn't know who the Eagles were looking at. But he did say that he was introduced to Kelvin Benjamin when he visited in Philadelphia. At first, Carmichael apparently thought Benjamin was a defensive end. But once he found out Benjamin was a wide receiver, he yelled "get me him, bring me him! I can work with him!"
We did some quick route running drills around cones and Carmichael was really enthusiastic. He even joked that back when he played, he ran a "five something forty" and that it didn't matter much then as much as it does now. It was really cool to listen to his insight and he was even nice enough to sign this picture of him that I brought with me. I purchased it on eBay when they announced he would be there but he called me out and said "that's a bootleg!", I thought that was hilarious. Sadly, I couldn't get a picture with him but he did sign the "bootleg" picture for me, here's how it came out (looks pretty good for a "bootleg", in my opinion, haha!):
Lunch
Following the field drills, we walked over to the cafeteria for a well earned lunch. There was quite the line for food but we had more than enough time to eat. I went with grilled chicken, penne in what appeared to be vodka sauce and french fries. It all was delicious but I doubt Chip lets the players eat all this delicious stuff! Here's a picture of the food for all you food lovers out there, like myself:
They also raffled off some prizes including some stuff signed by Nick Foles but I wasn't lucky enough to win anything. After that, we made our way to the auditorium for the special teams meeting with special teams coordinator Dave Fipp! Although many people find special teams boring, I was actually really excited about hearing everything Fipp had to offer.
Special Teams Meeting
Dave Fipp practically jogged into the room and seemed really enthusiastic about talking to us. He had a slide show presentation set up for us that showed how they figure out who plays on special teams and why. He broke down the exact count of players that he can dedicate to three or four units on special teams and why it's such an intricate process. One specific diagram that he showed us was this one regarding field position and a team's chance to score considering where they started with the ball:
He showed us quite a few cut-ups of film from the 2013 season as well including specific plays by Chris Polk and Brandon Boykin. He talked about how although Polk didn't play special teams much in college but has become a very good special teams player for the Eagles. He also talked about how great Boykin is as a gunner but if he starts to play more snaps on defense, he may have to cut down which units he plays him on for special teams. Fipp said those units would likely be both coverage teams and removing Boykin from the return teams.
Once he was done with his slideshow presentation, Fipp allowed us to ask him questions. The first question was about Alex Henery's performance and Fipp seemed to jump to Henery's defense rather quickly by saying he's the fifth most accurate kicker in the league, etc. But, he did also stress that the Eagles will bring in a kicker to compete with Henery this off-season. He also said that he has been working with Henery to improve his kickoffs by having more distance but a little less hang-time. Fipp also mentioned that Henery's trouble with kickoffs even existed in college because he wasn't even used for kickoffs back then.
Another question that was brought up was the plan to use short kicks against Minnesota. Right away, Fipp admitted that if he could go back, he definitely would have changed what they did. But he also said that with all the injuries the Vikings had that week, they felt Cordarrelle Patterson was their best player and wanted to keep the ball out of his hands at all costs. "When he returned the ball, the team started at the 32-yard line. When we played them, they started at the 34-yard line. We took the two yard loss but took him out of the game" Fipp said.
Lastly, Fipp was asked about the additions of special team's specialists Chris Maragos and Brian Braman. But Fipp responded by mentioning how great of a special teams player Nolan Carroll is as well. It sounded as though Fipp plans to use Carroll as one gunner and Boykin as the other. "Teams won't be able to double both. Both of them will kick single coverage's ass every single time" Fipp said.
Fipp also spoke about the addition of Darren Sproles and admitted "sadly, we all know how good of a returner Sproles can be" he said. It was awesome to hear what Fipp had to say about the 2013 season and what the team can do to be even better heading into the 2014 season. He was nice enough to sign the page with him on the playbook they handed out at the entrance of the event, seen here: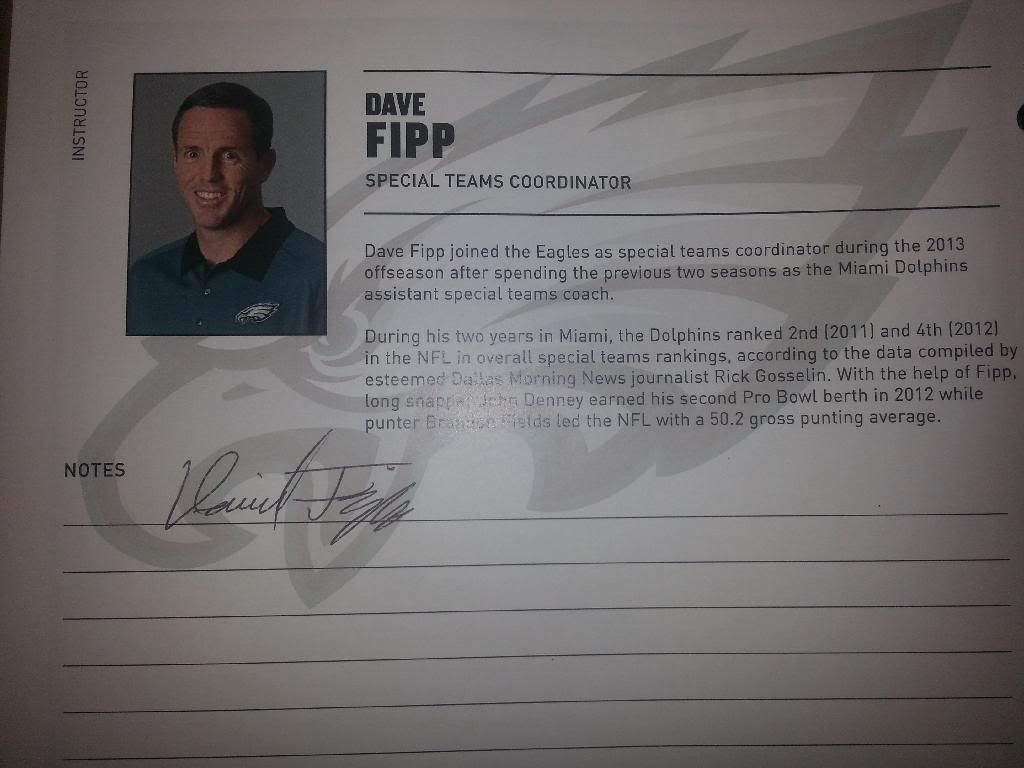 Locker Room Tour
Up next was a tour of the locker room, which was even better than last year because they actually had a member of the equipment staff there to answer our questions. His name was Ed Miller and he has apparently been working for the Eagles' equipment staff for ten years now. He showed us some of the different types of helmets, shoulder pads and cleats the players like to use. We were allowed to touch and try on the equipment, which was cool since it actually belonged to the players.
He also talked about the difference in working under Andy Reid and Chip Kelly. Apparently Reid was "always locked in his office" and didn't bother much with the players in the locker room. He was also very strict with the equipment staff and always wanted to know what was going on. But Chip Kelly is the complete opposite. He said Chip was in the locker room "at least five times" this past week of the OTA's and was talking to the players there. Chip is also more relaxed when it comes to the equipment staff and tells them "just have them ready to play football, that's all I care about" he said.
Here are some of the more interesting pictures I got during the locker room tour, including me showcasing Connor Barwin's helmet like I'm one of those girls on "The Price is Right". There are more pictures, which you can see in a Photobucket album that I'll post the link to at the end of the recap.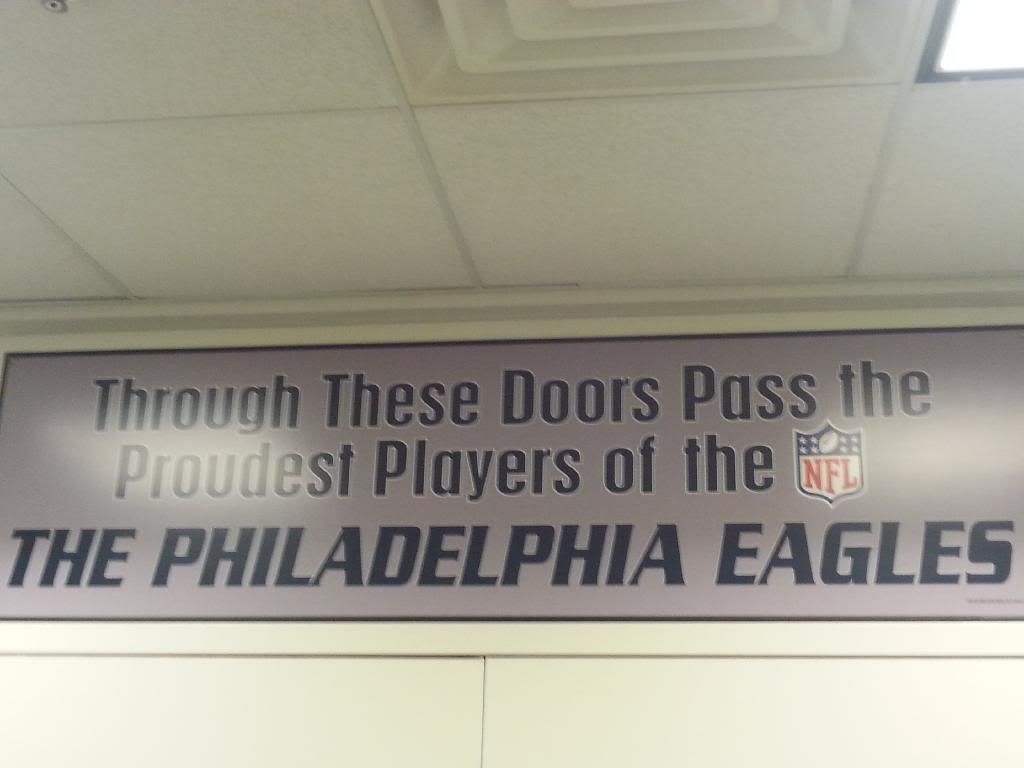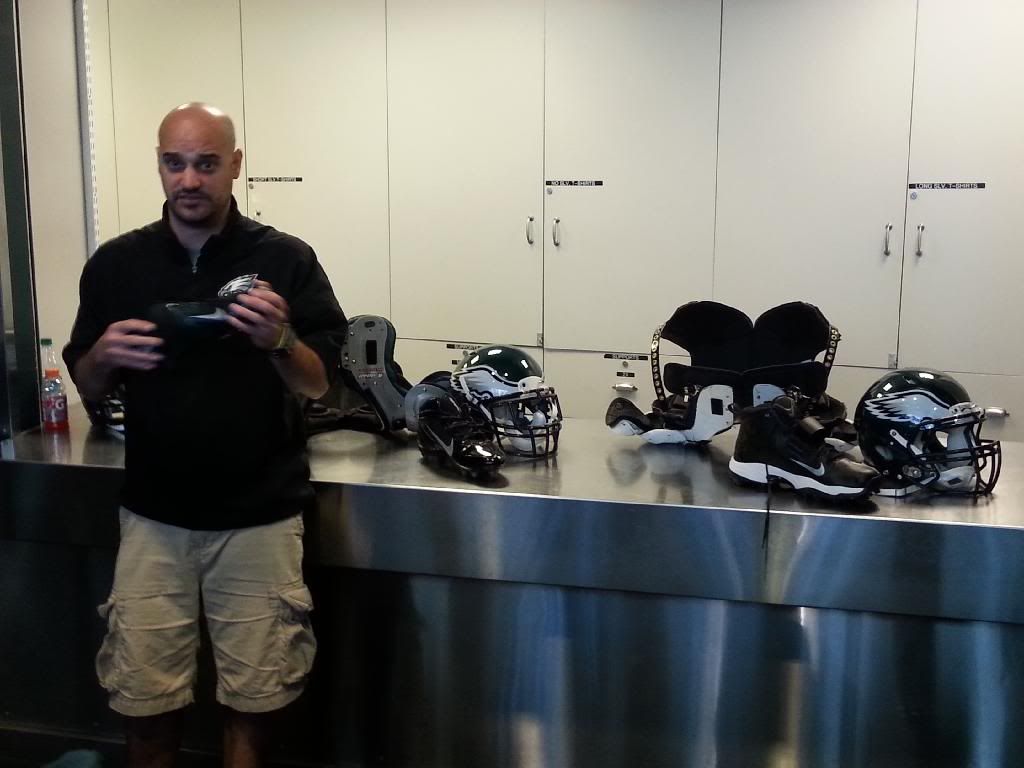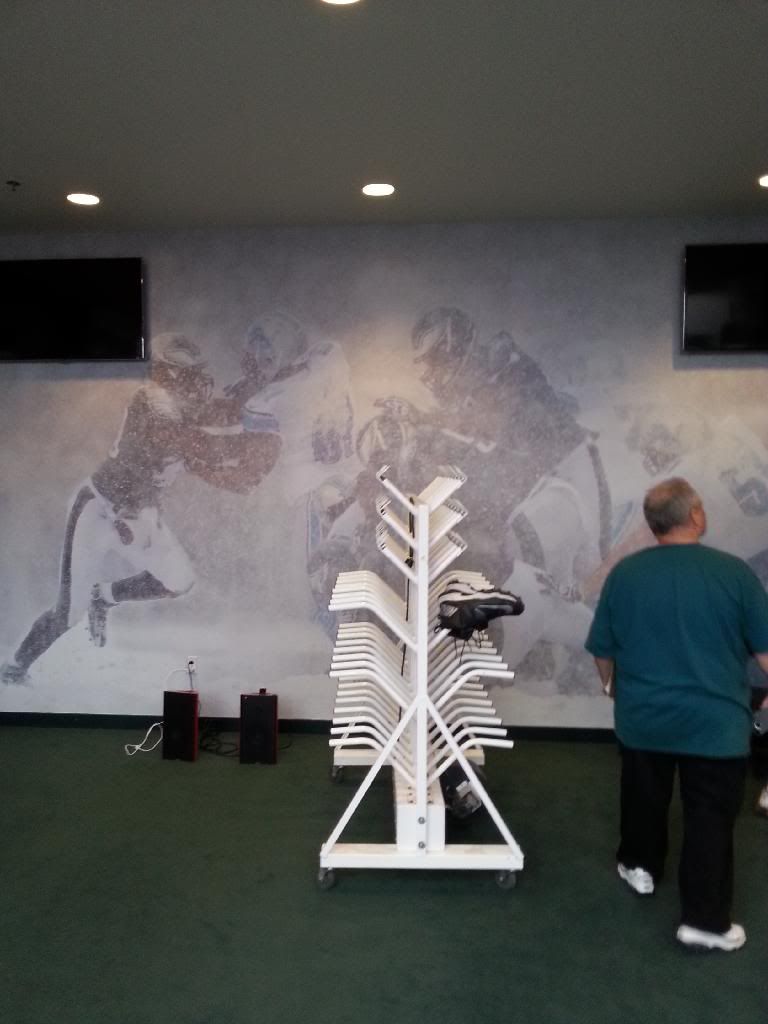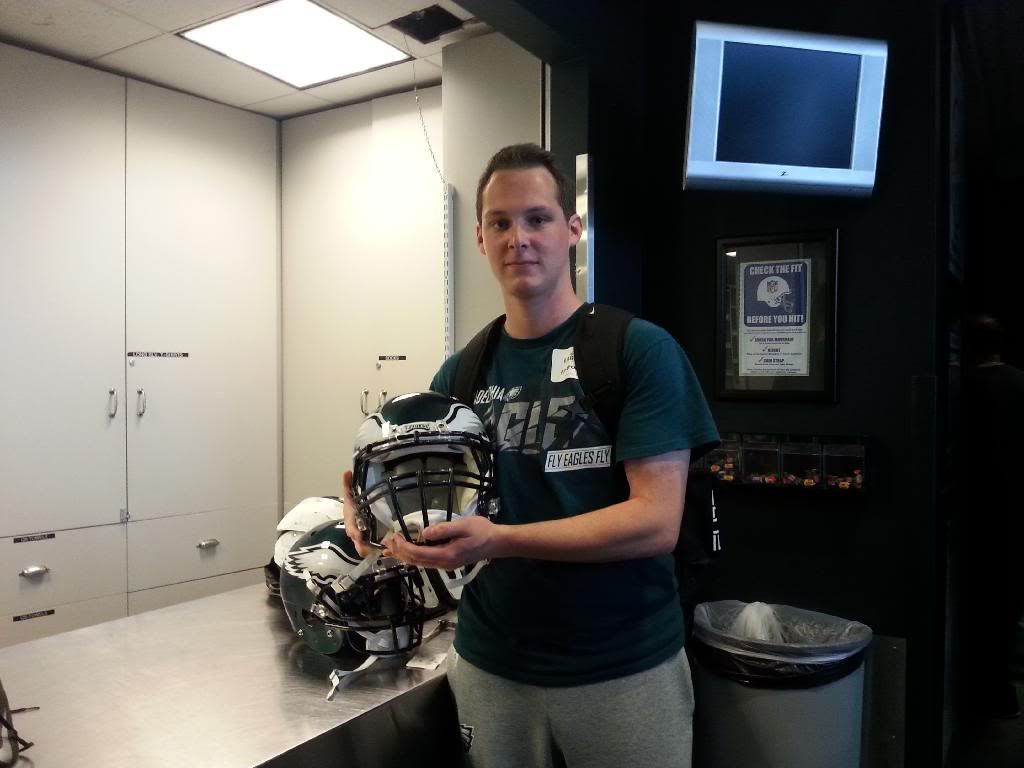 Training Room Tour
Following the tour of the locker room, we headed across the hallway to the training room to tour where the players get all their work in to stay in shape and ready for the games. We met with an assistant strength and conditioning coach, Keith Gray, he was nice enough to answer any of our questions and explain a bit about what goes on there.
He spoke about how they stress that the players "work the movement, not the muscle" because if you build up all this muscle but you can't move, that's how you get hurt. Gray also stressed that Chip Kelly is really into the scientific and nutrition side of the sport but wants a reasoning for everything, calling him a "why guy". For example, they actually test the players urine after every workout to check their hydration levels. The players and Chip weren't on board with it at first but then they provided research to back up the "1% loss in hydration is a 10% drop in performance" claim and Chip and the players bought in to it.
Gray also spoke about the unique way that the Eagles train their players in that each player is catered to and treated differently. Two players can do the exact same workout, but depending on how their body responds to it, one player might go in the cold tub while the other will go in the sauna. Gray was also asked who was the freakiest athlete on the team and he said Brandon Boykin for defense and Jason Peters for offense. He also talked about how great of shape Jeremy Maclin is in and claims he put on "at least 5 pounds of muscle" he said.
Following the tour of the training room, we headed back to the auditorium for the offensive meeting with current Eagles' Running Backs Coach Duce Staley. Here are some pictures I took while in the training room, but you can find more in the Photobucket album that will be at the end of the recap, like I said above.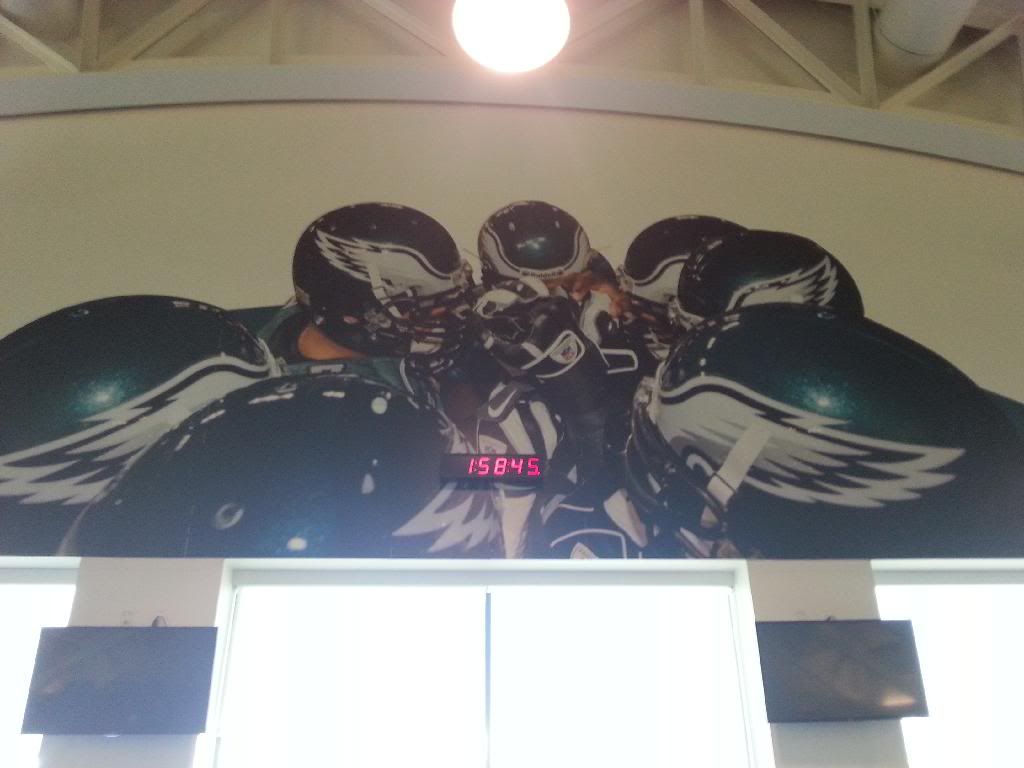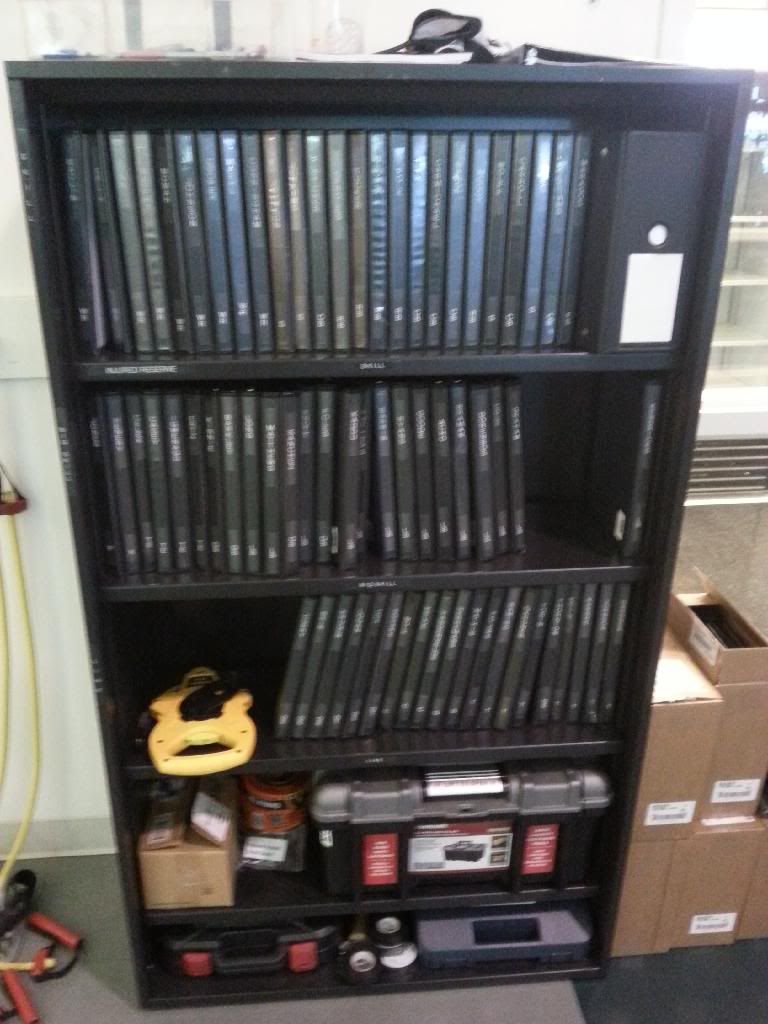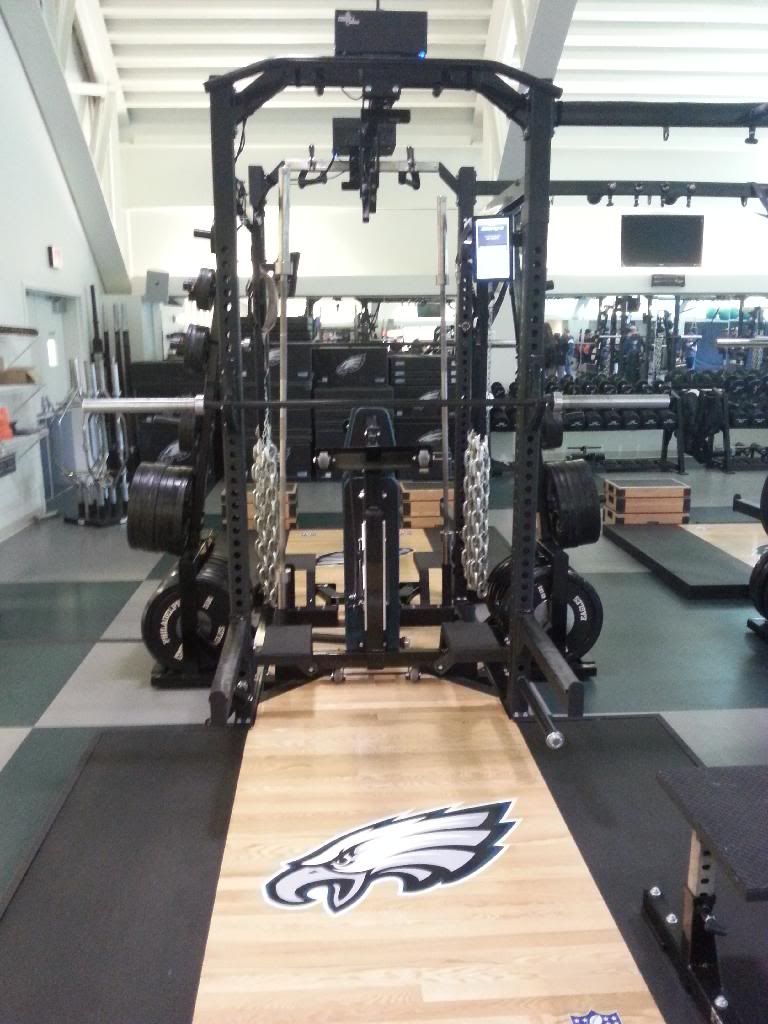 Offensive Meeting
Let me start off by saying Duce Staley may be short but he is a stocky dude and is built like a bodybuilder, just look at the picture above. That being said, he started the meeting off by introducing himself and talking about how he got his coaching start. He was called by his former coach Andy Reid in 2009 and Reid asked if he was interested in joining the minority coaching program. Reid also told Staley that he had a little "project" for him to work on, that project was LeSean McCoy.
After thinking about it, Staley took the job but under one condition. Staley told Reid that if McCoy went back to him and was complaining about the way Staley was treating him, that he should just send McCoy right back to him. Reid agreed and he began to work on his "project" right away. At first, McCoy was very enthusiastic and excited to see Staley back in Philadelphia but he quickly noticed he was there for business. McCoy asked him why he was there and Staley simply stated "to get you right".
Staley said his serious nature didn't mix well with McCoy's fun loving nature at first and they bumped heads a lot at the start. He recalled a specific practice where he was making McCoy run the same drill over and over until he got it right. "I can't do it anymore" McCoy said, but Staley responded "well I can't stand anymore so do it right and we'll get out of here." That drew a pretty hearty laugh from the crowd.
At the season's end, Staley was ready to return home but after meeting with Reid, things had changed. "I need you" Reid said. Staley agreed to stick around but complained to Reid that he needs to put him in a hotel and not those dorms at training camp. "Big Red couldn't fit on one of those single beds and neither could I" he said.
Staley then went on to break down film of LeSean McCoy and showed us the little things that make him the best running back in the league. He showed us clips of McCoy in every facet of the game including running, receiving and blocking. He stressed how he had to teach McCoy how to block and how players either have the heart to do it or they don't. I took down a ton of notes during this meeting so here they are to save some time:
Steal motion means left because of the "l"
Star motion means right because of the "r"
Teaches RB's "three steps and make your decision"
When watching Eagles' film, you can tell where McCoy is looking by watching the wings on the helmet
In regards to empty formations and where the RB lines up, weakside is considered minus (next to the tackle), wide ("w" for weakside, slot on weakside) and wider ("w" for weakside, outside receiver). For the strongside, they are labeled as plus (next to the tight end), slot ("s" for strong, slot on strongside) and super ("s" for strong, outside receiver)
When RB's motion back into the back field, "hback" means they run to the tackle or tight end first and then motion into the backfield and "hbuzz" means they run directly into the backfield.
After opening the floor for questions, Staley was asked some interesting questions. He was asked if he ever talks about McCoy about holding the ball too far out and he apparently tells him "you want to do a crossover? Take your ass to a basketball court!" He was also asked whether he wants to be an offensive coordinator or head coach in the future and he said "absolutely. Let me put it this way, I'm very motivated to reach that level, it's a goal of mine". Sadly, I wasn't able to get an autograph or picture with him but it was an honor to listen to Staley talk, that's for sure. Up next was the final meeting of the day, a defensive meeting with Defensive Quality Control Coach Michael Clay!
Defensive Meeting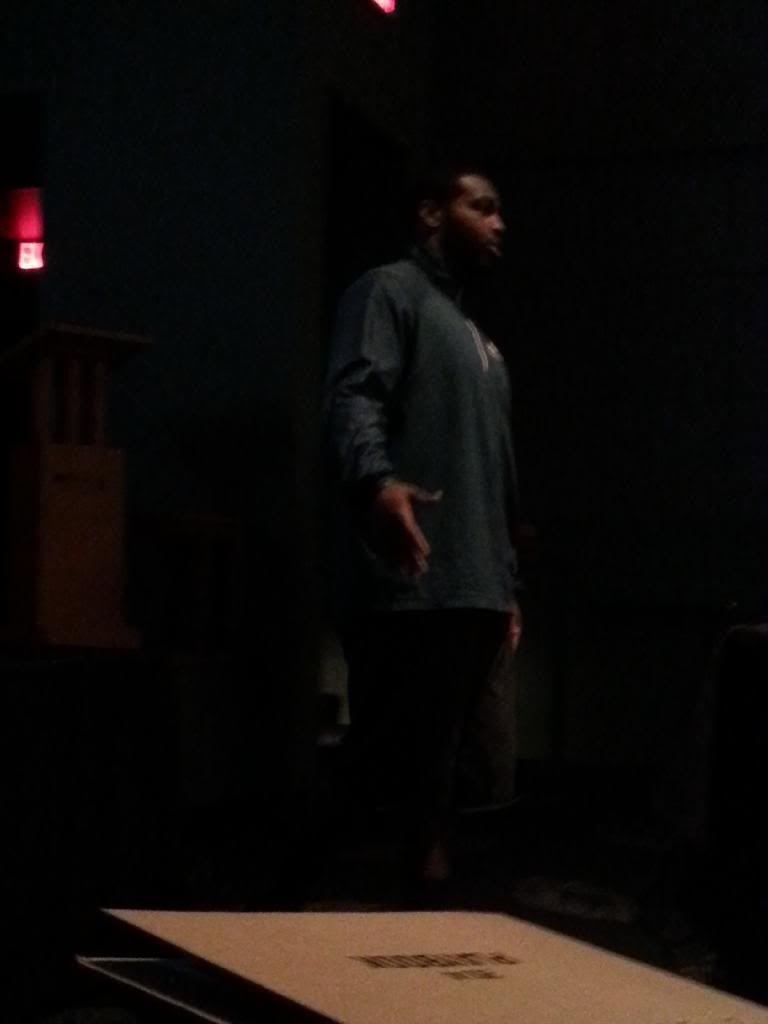 I'm not going to lie, I wasn't that excited about this meeting since I didn't know much about Michael Clay but it was a pleasant surprise. He had prepared cut ups of film from the 2013 season, specifically focusing on the inside linebackers Mychal Kendricks and DeMeco Ryans. He spoke about how he just joined the staff in January but has watched a lot of film to catch up on Billy Davis' system and get familiar with the players on the team.
He specifically spoke about how the team is expecting a big jump for Kendricks in 2014. Although a lot of the film was focusing on Kendricks, Clay kept stressing how much they want him to take that next step in this upcoming season. He also talked about how they want to cut Ryans' snaps down quite a bit and maybe work in Najee Goode more as a rotational player since he showed some potential in limited snaps last season. Here's a picture of the film he was showing us which actually had labels saying which play the defense was running and how the offense matched it: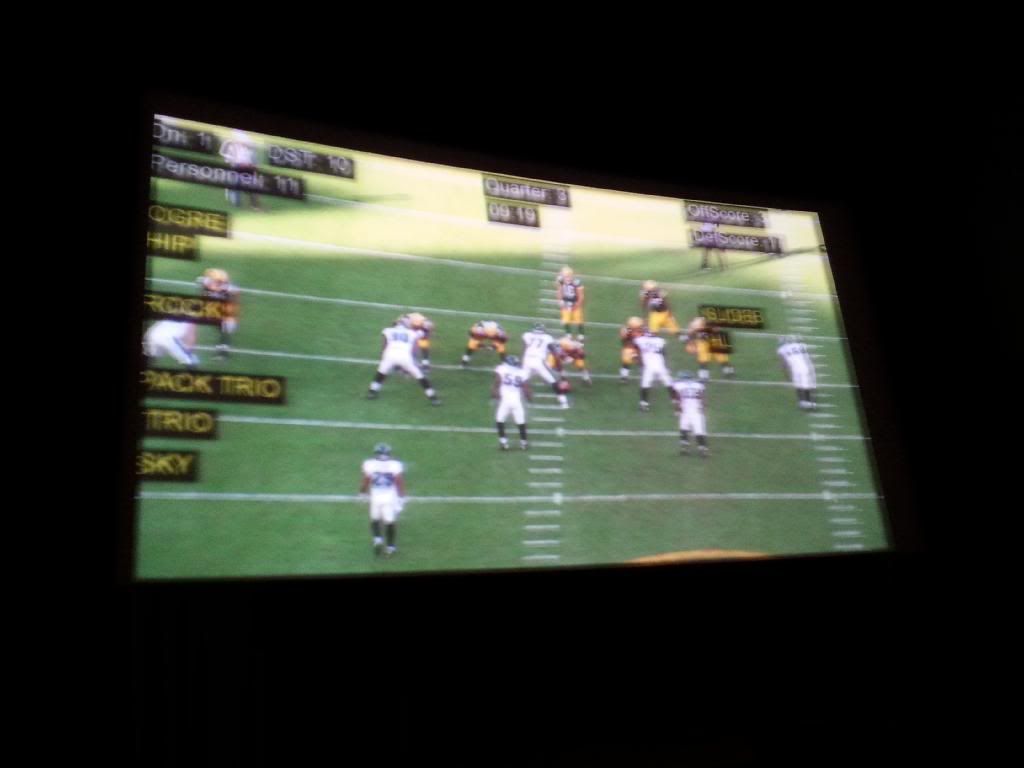 Clay wrapped up his presentation by answering a couple of questions including "is Clay Matthews a washout?" which he answered no to but drew a ton of laughs. He was also asked if he has visited the Oregon training facility since they upgraded it and he said he has and that "85% of the facility is unnecessary but you need it as a recruiting tool at the college level." Clay also talked about how Chip Kelly doesn't really get involved much with the defensive side of the ball, "Chip is straight offense, he doesn't come to the hood!" Clay said.
At the conclusion of the defensive meeting, we made our way out of the building where we collected our gifts for the day. Including an Eagles' apron that has a bottle opener and holder built in to, a photo signed by Jon Runyan as well as a giant picture of LeSean McCoy's infamous hurdle from the "Snow Bowl". You can find pictures of these gifts in the Photobucket album link at the end of the recap.
So that's all for my recap of the 2014 Eagles Academy for Men, I hope you enjoyed it! Sorry it's so wordy but I really didn't want to leave anything out and wanted everyone to really see how cool this event is. Be sure to follow me on Twitter if you'd like at @Anthony_DiBona and thanks for reading!
P.S. - Here is the link to my Photobucket album with all the pictures, around 100 total, from the 2014 Eagles Academy for Men. Enjoy and thanks again for reading!