Here is a run down of my mock draft I just completed using Fanspeak's simulator. I will be the first one to admit that the simulator has some major flaws, but it is definitely an interesting proposition. Here it goes!
Round 1: Pick 22
OLB: Anthony Barr - UCLA
Barr is a freak athlete. There is no question that he holds limitless potential. His draft stock however has been declining with the rise of Khalil Mack, and questions about his leverage. What I see in this guy is a 6-5 speedrusher with the size to stand up against the run. Looking at the tape, Barr looks to be limited in his pass-rushing moves, but one must keep in mind that Barr is a raw athlete, converted from RB just two years ago. At the 22nd pick, he would be a steal. Here is Billy Davis's Predator.
Round 2: Pick 54
CB Bradley Roby - Ohio State
Roby entered this year looking to be a lock as a surefire top 10 draft pick; however, his season saw him being pushed around and sometimes looking lost defending B1G receivers. Roby put up stellar numbers at the combine which in my opinion confirms that his 2012 season was no fluke. I believe that Roby is a better corner than he showed this year. The hype and pressure in a way seems to be a similar situation to Jadeveon Clowney at Carolina. In the 2nd round, Roby is a great find as a first round talent that has been over-analyzed. He would fit well into Billy Davis's schemes as a great man to man defender.
Round 3: Pick 86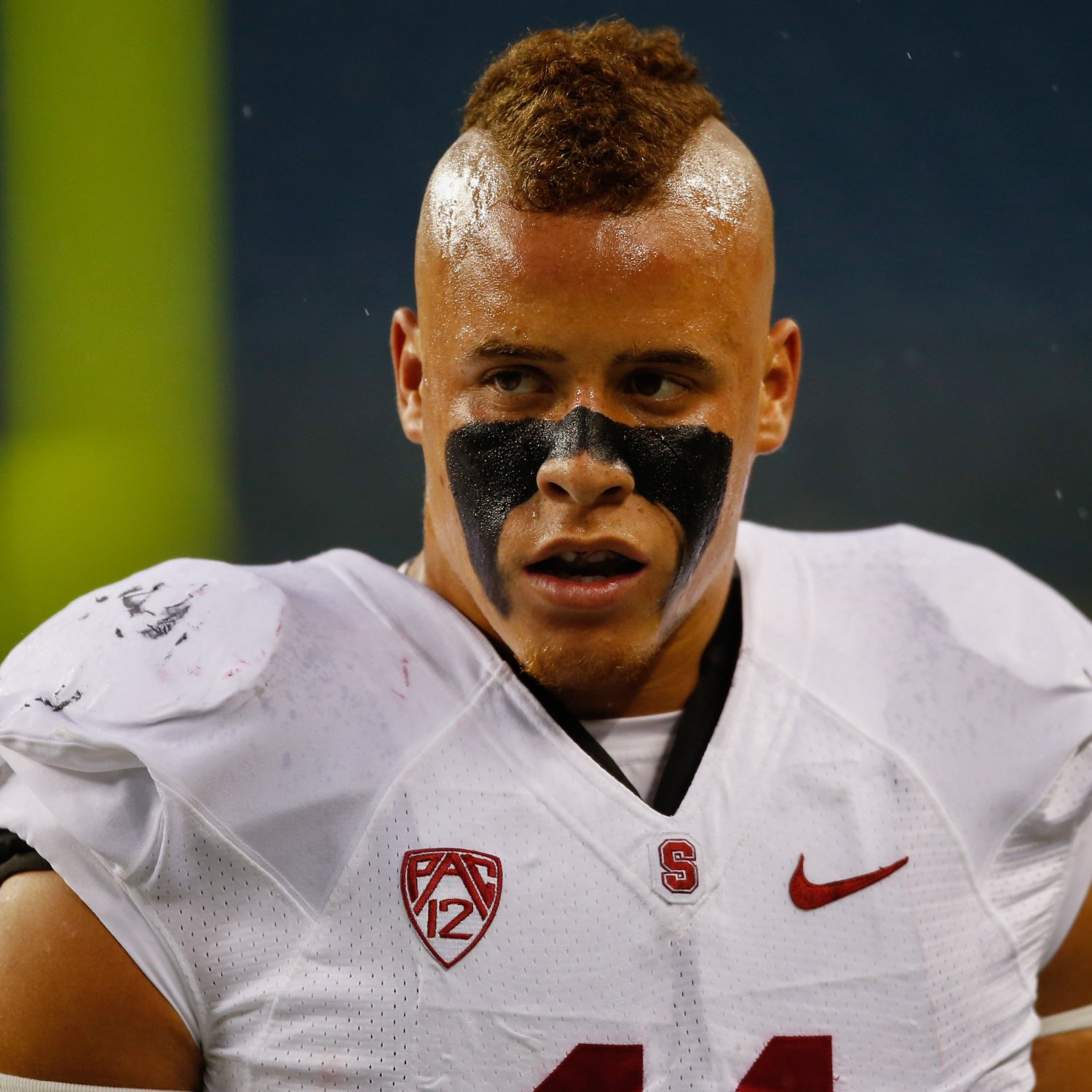 ILB Shayne Skov - Stanford
For years it has seemed like Stanford's defense has been the Oregon Ducks' Achilles heel. Skov helped man the interior of a Stanford Defense that was in my opinion second to only Michigan State this year. Skov won't wow you with his impressive athletic ability, but he really doesn't need to. Micheal Kendricks is already our freak in the middle, and Skov would be a perfect complement to him as a football player. Skov looks very NFL ready, but would likely sit behind Ryans for a year or two learning under his tutelage.
Round 4: Pick 118
DT Justin Ellis - Louisiana Tech
Ellis might have been Conference USA's biggest player coming in at 6-2 330 pounds. He is an absolute monster capable of taking up several blockers in the interior of the D line. I think a 4th round pick is fair for him, as I could easily see him going in the early 3rd round from his impressive combine/senior bowl performance. He is a true NT and stops the run with ease (no more Drew Brees QB sneaks!). What separates him from being a 1st round pick is his lack of penetration that you see Louis Nix and Aaron Donald get. Pass rush wise though, we would be swapping him out on 3rd downs /obvious passing situations with a hand in the dirt rusher anyways.
Round 5: Pick 150
WR Bruce Ellington - South Carolina
Ellington lacks the ideal height for a WR at 5-10 but he is also built like a tank at 205. He is a star on both the football and basketball team at USC and really did it all for the gamecocks. There were several Spurrier gadget plays last year where Ellington threw for touchdowns or ran the ball in. He had an excellent combine and would be a versatile weapon for Chip Kelly. I hate to make this comparison, but he could be used a lot like Brad Smith, except he is a much better receiver.
Round 5: Pick 157
RB/WR/OW D'Anthony Thomas - Oregon
This pick has been mocked for some time for the eagles. It seems so natural for DAT to finally reunite with Chip Kelly. DAT has such a unique skill set, and while some are disappointed with his 4.50 at the combine, I still saw a player with game changing quickness and agility. Thomas is a player who can only function if you get him 8-12 touches a game. If anyone can find a way to get creative and find a way to get him the ball, it is Chip Kelly.
Round 7: Pick 214
CB Aaron Colvin - Oklahoma
Colvin looked to be a possible 1st round pick before he tragically tore his ACL in Senior Bowl practices. He has got the size and height that Chip is looking for (6-0 200) and the skills to back it up. 7th round picks are meant to take a chance on a player that could land big dividends later. Most fizzle out of the league, but Colvin could be like Boykin who slid in the draft due to a broken leg. The value in this pick is something the Eagles cannot pass up.
Notable UDFAs who the Eagles should target
QB Connor Shaw - South Carolina
I dont care what people say about him. The dude can play out play. His performance against Missouri with a knee sprain was the most amazing performance by a QB in recent memory with the likes of Manziel vs. Alabama. He also happened to run one of the fastest 40 times at the combine by a QB which certainly doesnt hurt.
TE Colt Lyerla - No college
Colt is a 1st round talent. Everyone knows it, but he is also such a mess. His situation has an eerie resemblance to Aaron Hernandez. If anyone can bring him back from the brink, its chip. Imagining him and Ertz a couple years from now leads to a scary, scary one two punch at TE
RB Dri Archer - Kent State
The small scat back from Kent State is an even smaller version of DAT. I can imagine Chip is drooling over the possibility of having this guy in his offense; however, I believe he will ultimately be drafted by the Raiders in the 1st round in the spirit of Al Davis.
K Cairo Santos - Tulane
The Eagles need to find someone to challenge Henery please. please. please. Santos was a very good college kicker and can be had without a draft pick.
QB Tajh Boyd - Clemson
Boyd is a project QB at best right now. His draft stock really couldn't get any worse especially after him running a 4.9 40 at the combine. Boyd was amazing at clemson, but he really doesnt look like an NFL quarterback.