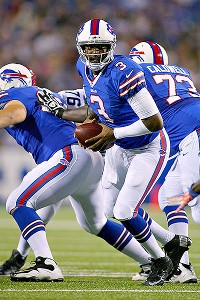 via sikids.com and sportsrender.com
At last, the most wonderful time of the year is almost here. No, not Christmas, Not even the upcoming release of Riddick (don't we all want to kick ass while no one can see but you? Ok, maybe it's just me.) Of course, I mean the start of the new NFL season, now with 1,000 percent more read-option! To commemorate it, I decided to write down what I always try to do for fun and for gambling purposes, if it were legal, of course. (Shout out to Bill Simmons!) These would be my predictions for the season.
Now, to do this, I tried to find common trends from the past 10 seasons that might help determine who will be in the playoffs with what records and seeds, who will win the major regular seasons awards, and who will win the Super Bowl. Why 10 seasons? Because going back that far will still present fairly relevant results, while still providing a large enough sample size of results on which to based my predictions. Everyone got it, right? Right!
To figure out the playoff teams and their seeds, I found 5 common trends, all courtesy, as will all other trends you'll see in this post, by the ultra-awesome pro-football-reference.com:
There has been at least 4 new playoff teams.
At least 1 team had a QB that started the majority of their games (at least 9 starts) that didn't the previous year.
At least 1 team, except in 2005, had a new head coach (Disclaimer: Miami, with new coach Nick Saban, went 9-7 and missed the playoffs by 1 game).
At least 1 team won their division after being alone or tied for last place the previous season.
At least 1 team improved by at least 4 wins to have a playoff bye.
So, with this in mind, I can try to use these trends, one by one, to determine the playoff teams. Now, knowing that at least 4 new teams will likely be in this year, I must first figure out what teams won't make it back then. After some thought and research, I came up with these teams:
Minnesota - As amazing as All-Day is, he can't possibly repeat his 2012 performance (can he?). That means Christian Ponder will likely have to improve his performance, and I don't see improving it quite enough for another playoff berth, even with an improved receiving corps. Also, I like the defense, but I just like Ponder, I don't trust it to carry the team at any point. Add in their 5-1 record in close games that's likely to be worse, and they're my 1st team down.
Indianapolis - In some ways, they're a reverse of Minnesota. I actually think their best player (Mssr. Luck) will actually improve this season and I like the offense a good bit. However, I think the defense will hold them back. One thing they have in common with the Vikes is their record in close games (an astounding 9-1 last year) will likely worsen to the point to leave them out in the cold come January.
Atlanta - This is a much tougher call for me. The Dirty Birds are obviously very talented, with one of the best QBs in the league and a coach that's to me is underrated. Looking closer, though, I can see them being a team that won't get back this year. I'm not crazy about the defense. They also have a record in close games (7-2 in 2012) that's likely to regress. They have a pretty tough projected schedule (they play the NFC West, a improved AFC East, Green Bay, Washington, and their own tough division). Put it all together, and I'm gonna go out on a big limb and say no go for them.

Cincinnati - My toughest call of all. There are so many things I like about them. Their running game is very solid. A.J. Green is an absolute stud, and he leads a good receiving corps. Most of all, the defense looks tremendous, led by the dominating Geno Atkins. Not only that, it wasn't like they were great in close games last year (5-3). So, what gives, then? Well, I like Andy Dalton. I think he's a good QB. I do. I also think Marvin Lewis is a decent coach. However, when i compare them to the other QB-coach duos from the remaining 2012 playoff teams, they simply don't match up to me. That, to me, was the deciding factor.
So, now that's done, I have to figure which 4 teams take their places then. What are they? So glad you asked:
Carolina - My pick to replace Atlanta as the NFC South winner. Three reasons why: 1. They have a lot of talent on both sides of the ball. Cam Newton could definitely make the Leap this year. (I think he will. Partly, because I'm a big believer in the read-option, as you will see). Luke Keuchly is probably already the best middle linebacker in the game. 2. As stated earlier, there will likely be a team that rises from worst (tied for worst in Carolina's case) to first in their division. Why Carolina and not New Orleans or Tampa Bay? They like their overall talent over the other two, especially on the defensive side. (Though, going against Sean Payton in a potentially all-time F.U. season was hard). 3. Just as records in close game games are likely to decline, they are equally likely to improve. Carolina had a particularly one last year (2-7). So, for all that, they get in by me.
Pittsburgh - Lots to like about the Steelers. They really like their QB, though hopefully he'll stay upright. However, since their O-line should be improved, this hopefully won't be that big of an issue. I really like the defense. Yes, they have aging key players, but they have young reinforcements that given Pittsburgh's history and the power of LeBeau, will probably produce very well. I really like their coach. Even though their running game looks a lil shaky, I think they can overcome it, though, as well as no Mike Wallace, as I like their overall receiving talent quite a bit. Plus, the Steelers, we know, don't do staying down for long.
Chicago - Just like Pittsburgh, lots to like here, too. I'm not crazy about Culter, but he can play and all indications are Marc Trestman will get a lot out of him. Won't be that hard, either, with a very good running back, good receivers, and an improved O-line, Plus, the defense should really good once again. Not to mention, also like Pittsburgh, da Bears don't go many years not in the postseason and as you may noticed, they fit under being a team with a new coach.

Buffalo - I know, I know. I'm going out on a CRAZY-ASS limb here, but if you look at recent history, there's always at least one team that NO ONE believes will be in the playoffs. So, why Buffalo, then? Simple. I like their talent base more than others. E.J. Manuel looks like he has all the physical tools and IQ to be productive right away. Maybe not on the RGIII/Luck/Wilson level last year, but possibly on the Flacco/Ryan level from 2008. He helps him greatly that his new coach, Doug Marrone, will likely run an offense that will take advantage of his strength via the read-option. It also helps that he has some good weapons. C.J. Spiller is a beast. Stevie Johnson is a good, if erratic at times, receiver. Also, the O-line, while suffering a big blow with the loss of Andy Levitre, can still be decent with Cordy Glenn and Eric Wood leading the way as promising players. Also, the defense might be pretty good, too. They have 2 very good players in particular in the secondary with Stephen Gilmore and Jarius Byrd, who's possibly the best safety in the game and in a contract year. I also Mario Williams to have a bounce back year and be back or close to All-Pro status. In the end, though, I could be astounding wrong about this and look incredibly foolish, but no one remember predictions anyway, so, I'm good either way!
So, to recap this very long post, here are my playoff teams for 2013: Seattle, San Francisco, Green Bay, Washington, Carolina, and Chicago in the NFC, New England, Denver, Baltimore, Houston, Pittsburgh, and Buffalo in the AFC. I was hoping to cover everything here, but if you're still reading this, I've already wasted too much of your time. So, I'll cover the rest, including my Super Bowl pick, in Part 2. Stay tuned for that. In the meantime, please send comments below about anything I've discussed. Which teams do you see making the playoffs? Where do you agree with my picks. Where do you disagree? Is there anyone else who yearns to fight in the dark like Riddick? All are welcome to tell me!