The draft starts off with a trade. We move back a spot from #4 to #5 by trading with the Lions. The Lions appear to really, really want Eric Fisher and I think we let them go for it. The trade will look like this in my opinion: we give up #4 and #101 for their #5 and #68.
By doing this trade, we are able to take care of one of our serious needs and swap our fourth for an early third enabling us to get another likely impact player. I expect this to be one of, if not our strongest drafts in a while because we have a staff that is so familiar with the college ranks at the moment. We will see though.
Let's get into it. Also, please note...I'm going to save my reasoning behind each pick to the end.
5. Chance Warmack OG Alabama
35. Margus Hunt 3-4 DE Southern Methodist
65. Zac Dysert QB Miami (OH)
67. Jonathan Banks CB Mississippi St.
136. Chris Gragg TE Arkansas
210. Quinton Dial 3-4 DE Alabama
212. Jasper Collins WR Mount Union
218. Elvis Fisher OT Missouri
239. Brandon Moore NT Texas
That's my draft.
Early on, I was considering all of our positional needs. I was tempted to selected Ansah to fill the need at 3-4 DE but was confident that their would be more difference makers at that position later in the draft. Milliner was another viable option, but I thought about the Eagles defense and remembered that having superstar corners is not a necessity in our scheme. They are, more often than not, going to have help over the top from the safeties. They are expected to be tall and physical and able to make plays in the run game as well as the passing game. Milliner certainly fits that bill, but using the fifth pick to fill a position where having a stud versus a solid player would be almost a waste. Waste isn't a good word for it, but I hope you understand what I'm saying. That left me with QB and offensive line. I don't think there is a QB in this draft worth taking in the first round FOR US. Other teams desperately need a QB, I don't think we are at that stage. Lastly, Todd Herremans ability to play guard or tackle allows us to trade back from 4 to 5 and select Warmack rather than Fisher. Both will be All-Pro players so it is not important to me who we pick. I love the Warmack pick and trust that he will be one of the top guards in the league from day one.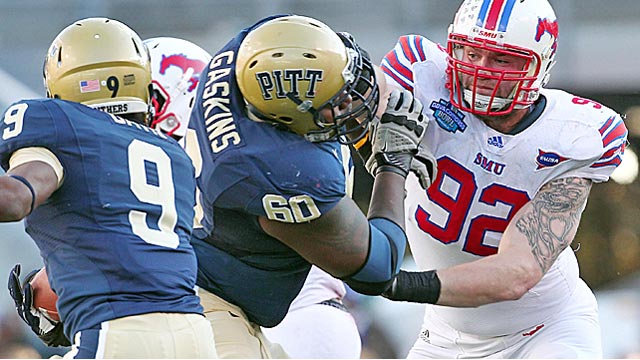 In the second round I wanted to grab a QB, CB, or 3-4 DE. As much as I like Manuel, I don't feel that he is worth such an early pick. He seems to be a risky selection and I don't think he is better than Vick or Foles in my honest opinion. In fact, I would rather have Dixon play over him this year. I say we wait and hope for a better class next year if we really want to spend an early pick on a QB. For now, I'd rather take my chances with a mid round pick and see what happens. At CB I considered Amerson and Slay. I like them both but in the end I couldn't get the thought out of my head that "big people beat up little people" (or something like that). Hunt, a 3-4 DE prospect that can also play many other positions along the line), is the biggest physical freak in this year's draft. At 6'8 and 280 lbs this monster ran a 4.6 40 yard dash and banged out 38 reps on the bench press despite his long arms (nearly 34 inches). I think this is the kind of guy that Chip Kelly is looking for and I think Billy Davis will be pleased with this physical specimen in the second round.
..............................................................................................................................................................
With two third rounders, selecting a QB was an easy choice, as I expect Zac Dysert to be available still. The guy is a stud and has the ability to make all kinds of throws. NFL.com compares him to Ben Roethlisberger, but I honestly see him as a more mobile Foles. Dysert can sling it, is tough as nails, and can make plays on the run. He's a smart player and can certainly compete for the starting spot from Day 1. Next, I wanted to fill a need at CB. We don't necessarily need a starter as I am already quite content with Fletcher and Williams as our starters outside (remember what I said about not needing a stud like Revis), but depth is certainly needed. I chose Jonathan Banks because of his outstanding production in college along with his poor combine and pro day 40 times. It sounds weird, but our corners are only going to be expected to run with our guys for so long. Banks is a playmaker. The proof is in the pudding in that regard. He is a former safety and possesses the ability to make tackles. I like his potential and think that his knee injury he suffered this year may be what is slowing down his 40 time. Even if he does only possess 4.5-4.6 speed, I like his length and ability at 6'2 and think he can compete with Fletcher and Williams for a starting spot from day 1.
With our needs covered I decided to take a shot and try and find a new toy for Kelly to play with. Gragg was a great pass catching TE prospect coming into the season, but a knee injury kept him from making solid contributions. NFL.com had this to say about him: " Straight-line speed helps him separate from linebackers in the middle of the field, which are often open as the team's gaggle of receivers open up the defense. Possesses receiver-like hands, adjusting to poor throws and going up to snatch passes above his head. Strong runner after the catch, churning through and spinning off tackles to maximize the play. Gives good effort as an in-line and downfield blocker." All in all I like Gragg as a prospect and think he could find a role in our offense one way or another. If not, I love his potential and think he is definitely worth grabbing in the fifth round after our major needs have been taking care of.
With four picks in the seventh round I started to look for some prospects that we might consider. I doubt we keep all four but here's my reasoning behind these guys: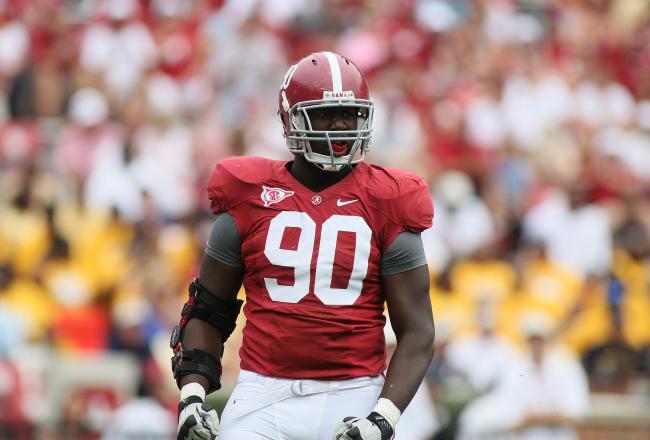 Dial is a big monster. He didn't get a lot of playing time at Alabama, but I'm sure that Stoutlant got to see a lot of him coaching against him everyday in practice. Dial possesses a lot of potential standing at 6'5 and measuring in at 320 pounds with 34.5 inch arms. NFL.com had this to say about his strengths "Versatile athletic defensive lineman who plays on the nose, three-technique and five-technique spots on either side of the line. Tall, powerful player who can drop his hips despite his height to hold his ground or drive his man backwards on bull rush. Also capable of holding the edge against the run, using strong arm extension and hands to contain or crash inside. Has good short area agility for his size, and often hustles to the ball. Wraps up ballcarriers in tight quarters with bad intentions."Bad intentions = Big people beat up little people!
Jasper Collins is a D3 WR prospect. He isn't the fastest guy nor the tallest, but he does run beautiful routes is very quick. Not to mention he comes from the same school as Cecil Shorts and Pierre Garcon. I like Collins potential to earn a position in the slot or become decent trade bait as the preseason wears on.
Elvis Fisher is a stud offensive tackle going in the seventh round. Why? Because he gets hurt all the time. He possesses second round talent and has been starting at left tackle since his true freshman year. I think his talent more than makes it worth it for us to take a "gamble" and select him in the seventh round. We could get a future starter at tackle.
Brandon Moore was a highly touted prospect coming out of high school. He originally played for Alabama (played as a freshman) before being suspended for violating team rules. He transferred to a community college as a result and worked his way back to big time football where he played at Texas. He is leaving Texas early in order to help his family financially despite his low draft projection. CBS had this to say about his strengths "Naturally large man with long limbs and good overall weight distribution. Scheme versatile. Flashes a powerful bull rush to push the pocket. Possesses just average burst but shows surprising straight-line speed once he gets going. Untapped potential." He's worth the selection late in the seventh.
Comments are encouraged. I'll try to check up once a day and discuss with you fellas. Last two weeks of lacrosse season are coming up and finals week is right around the corner for school. Hope you all enjoyed this and maybe even learned about a guy or two that you hadn't heard of before.