I am writing this fanshot because I would like to share my thoughts on the players the Eagles have signed, the reason I am making it a fanshot is because I don't really have the time to come on here multiple times a day and share it all in the comments. I will update this whenever I get the chance and add whoever the Eagles sign between when this is posted and when FA pretty much stalls out.
Patrick Chung, Safety, 25 years old:
I like the Patrick Chung signing, it was honestly something I said I thought would happen a few days before FA opened up, I view this move as a low-risk/high-reward signing because Chung is still young, showed flashes of being a good safety during his time with the Patriots however he did fall out of favor in New England and I'm not so sure that it was because McCourtey was looking like one of the best Safety's in football.
Chung is a physical safety who doesn't miss many tackles (what a surprise right?) and will punish receivers if they catch the ball. Chung fits here because of the way he plays, he's got enough ability to be solid in coverage and he can come down into the box and make tackles and in this system you pretty much need two safety's who at times can do the other guys job.
The only issue I have with Chung is that he gets hurt just about every season and will miss a couple of games, in order for him to be a success in Philly I would say he needs to stay healthy and not let the little nagging injuries crop up and take him out of games. This is a very good signing for the Eagles no matter which way it goes, if he doesn't pan out he wasn't expensive but if he does then we have a good safety for years.
Bradley Fletcher, Cornerback, 26 years old:
Bradley Fletcher is a guy that I had my eye on for a little bit, I didn't think he'd already end up signed by this point but I cannot say I'm unhappy about it. Bradley is a young guy who everybody claims is an underrated player and a steal for the Eagles, and I cannot say I disagree. Bradley didn't start last season due to the fact that the Rams spent a high pick on Jenkins after bring in Finnegan, so he was stuck in a loaded position.
The good news for the Eagles (and Fletcher) is that he ended up on the field quite a bit last season and when he did take the field it was on the outside vs lining up in the slot and he graded out well. Fletcher is a player with a ton of upside and who fits the scheme that everything implies Davis will run. The thing that I like is that he's 200lbs at 6'0 and has long arms to press WR's coming off the line.
Isaac Sopoaga, NT, 31 years old:
There were a few guys I'd rather have than Sopoaga but I can't say that the move is bed since its a low cost move and gives us a 2 down run stuffing Nose Tackle who can keep our ILB's clean. There are only two reason why I am skeptical of this signing, (1) he graded out as one of the worst NT's last season and lost a ton of time to his backup RJF and (2) He's 31 years old and that doesn't exactly fly with a team that looks like it's rebuilding.
The positives with this move is that it frees us up from having to take a NT high in the draft and playing them immediately, we can grab a guy later in the draft and slowly ease him into action over the course of the next year or two to eventually take the place of Sopoaga. Another positive is that the move added depth at other positions along the DL due to Sopoaga's versatility.
In all I don't see how anybody can be upset with this move since it's such a low risk move across the board and the fact that Sopoaga is a safe bet moving forward.
Jason Phillips, ILB, 27 years old:
Jason was nothing more than a depth signing for the Eagles, he provides us with some depth at both ILB positions and he will mainly be used as a Special Teams player which from what I've heard he's very good at. I honestly don't know much about the guy outside of the fact he's played for Carolina the last few years and the two before that he was with the Ravens.
I don't really expect a guy who has 31 tackles and 1 FF in 4 years to be anything amazing.
James Casey, Tight End/H-Back, 28 years old:
This move is the move that I'm most excited about, Casey is one hell of a football player and the fact that he was severely underutilized in the Texans offense should be a punishable crime. Now pair him with Brent Celek and Chip Kelly here in Philly and it's likely that we have a very high powered group of TE's to throw too.
The thing with Casey is that with the no-huddle fast paced spread type of offense having Casey on the field gives us a guy that can line up at TE and make plays, line up at FB and pound open holes for the running backs and even split out in the slot and keep making plays. Casey gives us that jack of all trades guy that Kelly likes and I feel he will likely be our best asset heading into next season.
The only that that worries me with this signing is that happens at TE, Harbor is to talented to give up on and Celek is a solid option and since we gave Casey a pretty nice contract I assume they're projecting him as the starter. I just don't know who stays, goes, or gets pushed aside as pure depth.
Kenny Phillips, Safety, 26 years old:
Kenny Phillips is a guy many of us were talking on twitter about last night, everybody pretty much agreed that a 1-2 year team friendly deal would be the best thing for both the Eagles and Phillips because if he can't stay healthy it doesn't hurt us in the future to much and if he plays well then we can always re-sign him and at least have one Safety position solidified moving forward.
The big issue with Phillips is that he cannot keep healthy and everything has to do with his knees or hammy's. We all know about how Lesean McCoy pretty much juked Phillips into next century and we all watched his knee bend in a direction that isn't natural. But moving forward if he can stay healthy and if he can return to form there's no doubt that Phillips has the ability to become one of the best Safety's in the NFL.
Cary Williams, Cornerback, 28 years old:
Cary Williams was one of the bright spots for the Ravens Superbowl run, and over the last two seasons he hasn't missed a games which is something that excites me since we've added 3 DB's who all have injury issues so it's good to have somebody who can stay healthy and hold down one position at least.
Williams is 6-1 and 190lbs fits the mold of a Davis DB which is big, long arms and can get in a players face right off the line and mess up the QB's timing. Williams however isn't a guy who's going to get you a ton of interceptions, but he will do his job and will be a very solid CB for the Eagles moving forward. Williams is also a solid tackler which is already a drastic improvement over DRC and Nnamdi.
Connor Barwin, Linebacker, 26 years old: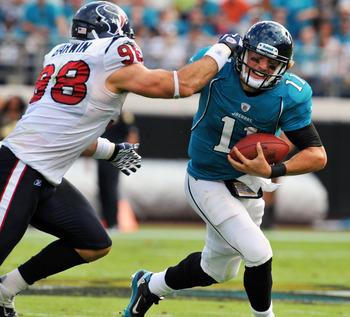 Barwin is a move that many on here seem to have an issue with but I don't really see why once you understand that two year ago when the Texans D was healthy he had 11 sacks then look at last season when they were killed by injuries at Linebacker you can see he only had 3 sacks. However I feel the Eagles have the supporting cast to give Barwin the chances he needs to be successful and considering we don't have an experienced OLB on the roster and we don't really know how Trent Cole, Brandon Graham or Vinny Curry will do at that spot so I think it was important to go and grab an experienced OLB.
Also keep in mind over the last two years Barwin has not missed a game and that is something that should have us all happy considering we've been loading up on injury risks during Free Agency. Another positive I can see with grabbing Barwin is that this will allow us to truly go best player available in the draft since we now have somebody who can legitimately one of the most important positions in Davis's system which means we don't have to grab Dion Jordan or Jarvis Jones, so basically it gives us options.