Allen Barbre joined the Eagles via Free Agency during this past off season. Barbre's skill, work ethic, and positional flexibility soon earned him the praise of his teammates and ultimately a spot on the active roster. From the preseason through week 10, minor injuries to starting offensive linemen have given Barbre his chance to step on the field and showcase his talent.
Barbre has shown that when you plug him into the line up, production does not drop off. Whether he lines up next to Mathis at Left Tackle, or next to Johnson in the Tackle Over formation, the offense keeps firing on all cylinders. We haven't been that fortunate in the past with our O Line depth, what makes Barbre different?
Situational Awareness
Barbre has shown that he can see beyond the front seven, and he uses that ability to help his team in critical situations. For example, take this play from the Green Bay game: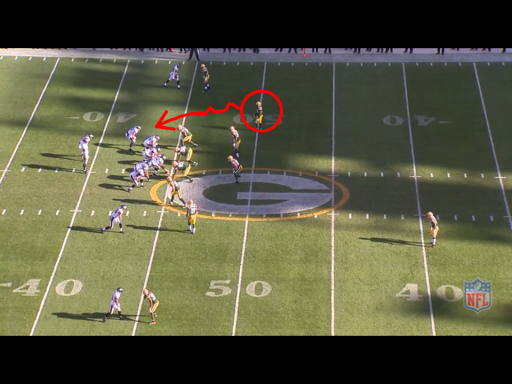 Green Bay is in Cover 1 and they are going to bring the Safety off the edge of the formation. Barbre has an end over him in a Wide 9 type of split before the snap.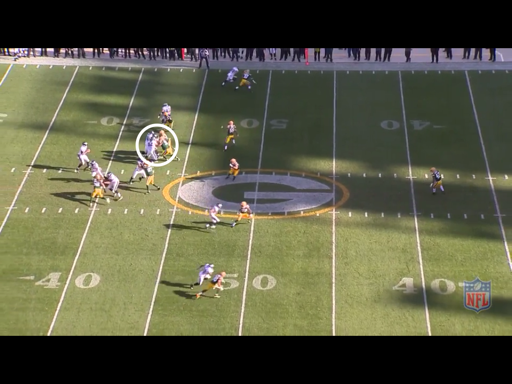 At the snap, the End and the Nose try their best to tangle up Barbre, Mathis, and Kelce.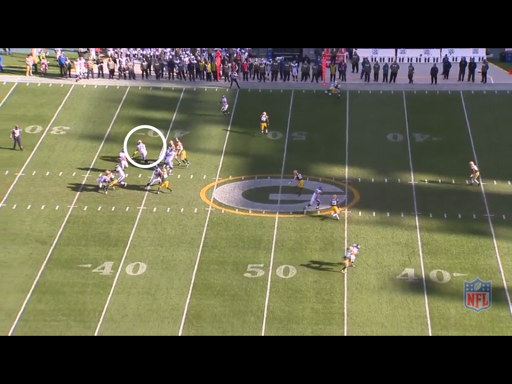 Barbe passes off the End to Mathis and kicks out to pick up the blitzing Safety who is coming off the corner. That allows Foles to step up in the pocket and throw deep to Jackson for a touchdown, seen here: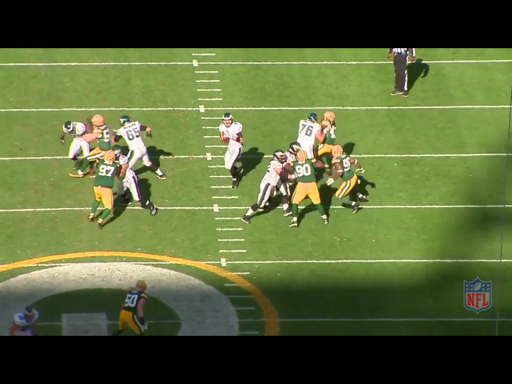 Speed and Agility
We have a few linemen who have had impressive performances at the annual NFL Combine, but did you know that Barbre held the 40 yard dash record from 2006- 2013? He was dethroned this year by none other than... Lane Johnson. He also put up solid numbers in the Vertical Leap (32") and the 3 Cone (7.40). These numbers are great and all, but how do they translate to the field?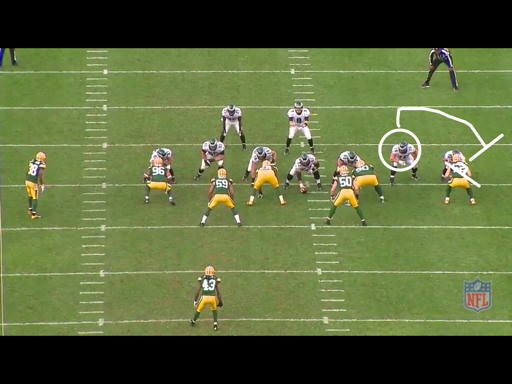 In this play Barbre is going to pull to his left around the Tight End and look to block the OLB/ SS.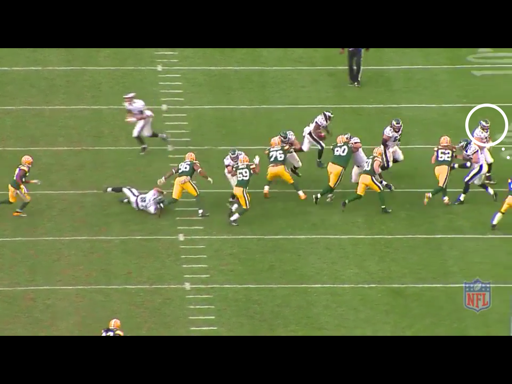 Barbre gets depth with his first step, clears the TE, and gets upfield after his assigned man.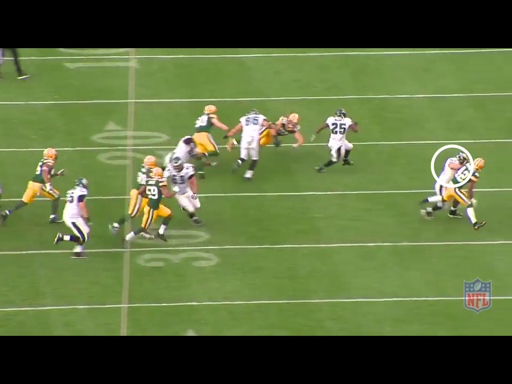 Excellent block in space, at speed and against a smaller, more elusive defender. This demonstrates great balance and control of his large frame (6'4", 310lbs). As an aside, we can see from this play that Ertz still stinks as a run blocker.
Hustle
If you want to win, you don't take plays off. Barbre consistently shows that even when a play is run away from him, he gives an extra effort to make a difference in the result.
Barbre is lined up next to Johnson in the Tackle Over formation. The play is going away from them, and Barbre hustles to make a block downfield on the other side of the formation.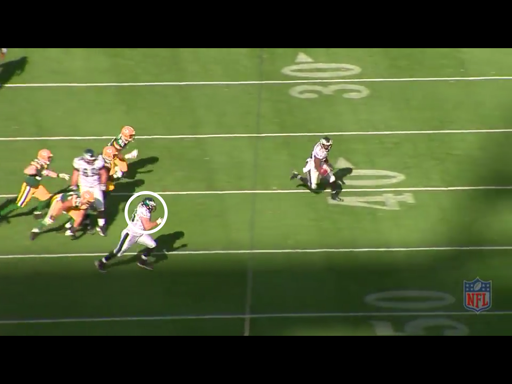 Barbre is already across the opposite hash mark and looking to lower the BOOM on a second level play side defender.
Barbre turns upfield and leads the way for a nice gainer by Shady. That was some serious hustle on his part, and it shows his desire to help the team succeed.
Nasty Streak
Barbre has shown that he loves to get after people. Given the chance, he will aggressively finish a block by putting his guy in the dirt. I'd bet these guys spent some time in an ice bath after the game:
Barbre launches Matthews on a Nick Foles scramble.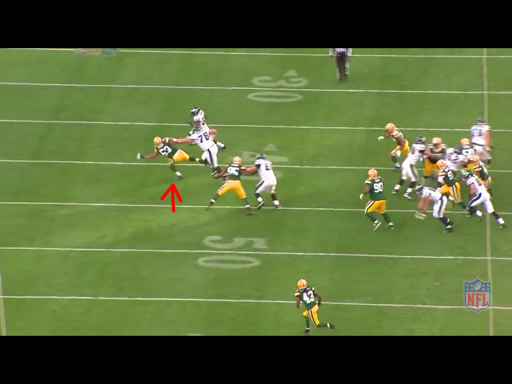 Barbre jacking another LB to the ground.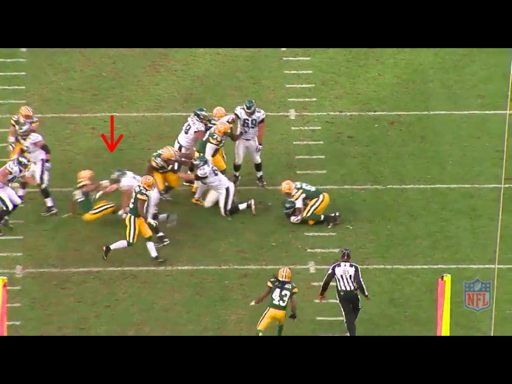 Here comes the BOOM! Guarantee that LB caught hell in the film room on Monday.
Special Teams
Lastly, we all know how important Special Teams play is to Head Coach Chip Kelly. Little known fact: While playing for Missouri Southern State as a Senior in 2006, Barbre was a leader on the punt coverage unit ringing up seven solo tackles as a gunner. Yeah, you read that correctly. For reference, the Gunner on the Punt Team is circled below: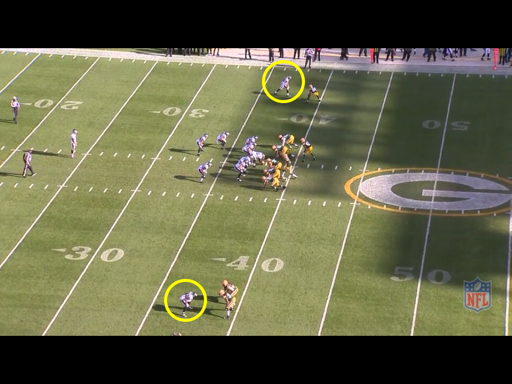 The coaching staff is extremely pleased with Barbre's play coming off the bench this season. He has been able to step in and play at a level high enough to help the Eagles win games. His contribution also gives our younger guys like Tobin and Kelly a little bit more time to develop before facing tougher competition on game day.
Given that Barbre can also play Guard, where do you see him fitting in with the team from this point forward? Would you move him inside where his aggression, strength, and technique could shore up a struggling Right Guard position? Or would you keep him as depth at Tackle where his field vision, speed, and agility protect Foles' blind side and also help set the edge in the run game?
More from Bleeding Green Nation: