Most Eagles fans know by now that head coach Chip Kelly places an emphasis on the performance of his Special Teams units. So far, the production of the Return teams could be described as average at best and has quite a few fans scratching their heads after the first seven games. So, what exactly is going on and why hasn't the Kickoff Return (KOR) team been meeting Chip's (and our) expectations? Let's take a closer look.
Special Teams concepts can be difficult for the average fan to grasp in large part due to how stations like CBS, ABC, and ESPN broadcast their games. They choose to focus on the kicker - returner battle and almost completely ignore what the other 20 players on the field are doing while the ball is in the air. I'm going to break that down a bit before I delve into what the Eagles are trying to accomplish.
How can we make sense of what the KOR team is trying to accomplish? We can do so by simply looking at the Kickoff Return for what it is... an Offensive Play. True, the KOR formation looks nothing like an offensive formation when the ball is kicked, but by the time the returner has the ball in his hands the other players have retreated to a point where they can launch their attack and let the play unfold.
Now, depending on who your ST Coordinator is your return schemes could vary between boring and lackluster to imaginative and explosive. To get a sense of how boring a KOR scheme can be, let's see what offensive play quite a few teams base their kick returns on (Sadly, this includes NFL teams):
Yes, that's a simple dive or wedge play. Around the same time that the returner catches the ball, the front line has retreated to the point where they can plant, turn, and get a helmet on a specific coverage man. The returner sprints straight ahead looking for a lane to exploit while he has several "full backs" to clean up whatever defender is in the way. Very simple play that counts on solid execution to create good returns. This vanilla scheme is run over and over on Saturdays and Sundays and is nearly unwatchable. No wonder Special Teams don't get much air time.
Enter the Chip and Fipp Special Teams show with it's high flying schemes and Dare Devil return men! Well, no not really, but let's take a look at what they are trying to accomplish. First, here is the Eagles primary KOR formation: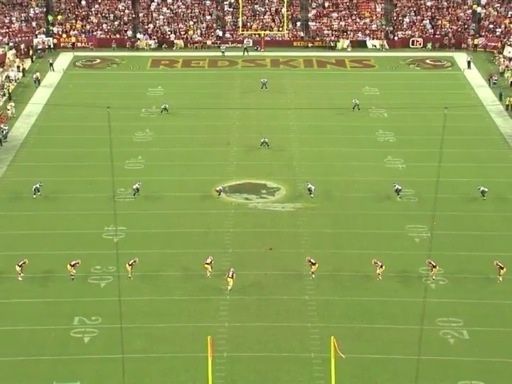 I'm going to call this a 6-4 return scheme, even though it could probably be described more accurately. This formation is well balanced and you can see Damaris standing just behind the "D" in LOLSkins Redskins. This balance allows them to run their preferred play to either side. By preferred I mean that they have run this play 13 out of the 15 times they have returned a kick this year. Without further ado, here it is: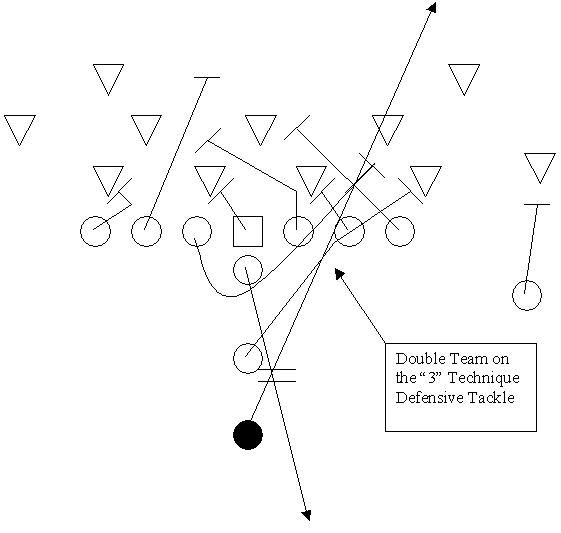 Thats a Power, or Off-Tackle play. The return team runs this play almost to a T. When they run "Power Right" they leave the first three outside coverage men unblocked. Our end crashes inside with a down block and a double team also begins to form just inside of that block, creating the inside wall of the seam for the return man to hit. The two fullbacks kick out the first two unblocked coverage guys and just like that you have one heck of a return lane. Here is a sequence of those events:
The end crashes down, outside three coverage men ignored...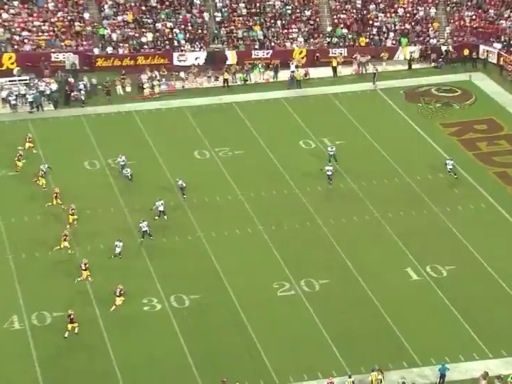 Double team begins to form, kick out blockers team up...
Now the play unfolds... Looks like a TD right?
Damaris is hopefully left with a one-on-one situation in the hole created, just as you would want to see Shady vs a Safety. That's one of the best outcomes for the play. Unfortunately, the play doesn't usually make it that far due to breakdowns in blocking, and it's somebody different every week who fails to execute their assignment. In the final pic of that sequence focus in on the double team. The defender splits the double, powering through Earl Wolff and... Casey Matthews. Blown play. Here's another example:
The return is setting up nicely against the Chargers...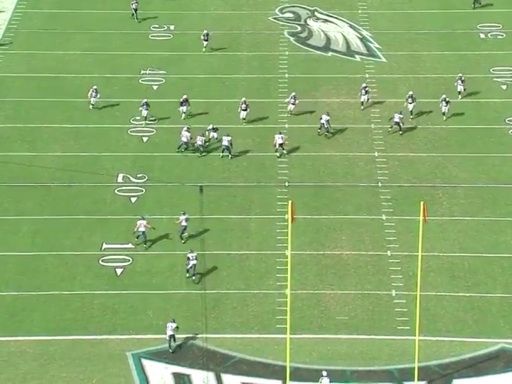 Until Ertz freezes with indecision and gets trucked by the Incredible Polk...
Damaris isn't without fault. Check this next still out...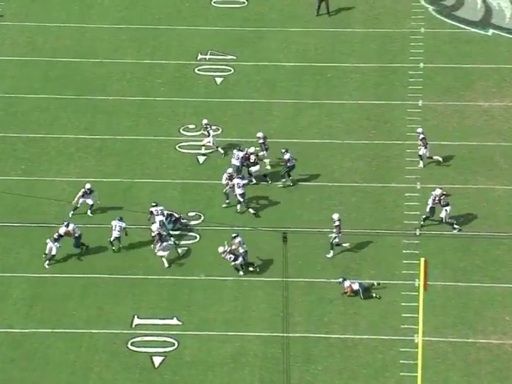 In that image above he failed to shake that guy in the seam. We have exactly what we want but Damaris himself doesn't execute this time. Great tackle by the coverage guy, but he would have been blocked if Ertz hadn't goofed. This return play is aggressive and meant to yield strong returns, but week after week it is ruined by poor execution.
One last thing. There were two KOR plays run that weren't Power play based. What were they? At first I thought they were Middle Criss-Cross returns (And yes, they were Wiggedy Wiggedy Wiggedy Wack!), but I was wrong. They were both run against Tampa, and they were based on Iso run plays like this:
This was an adjustment to teams crashing hard on the outside with coverage. Fipp simply moves the double team and kick out blocks further inside and uses the end to block out. They are trying to create that inside run seam but both attempts were miserable failures (Brandon Graham missed key blocks on both). You can see that here...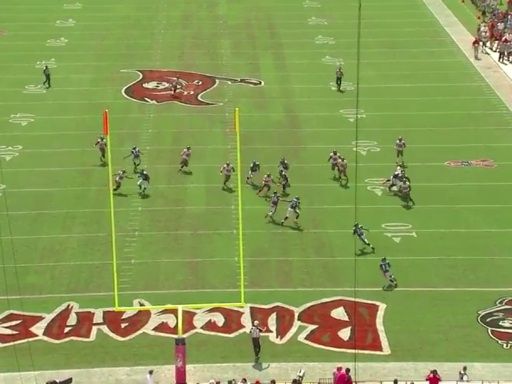 Don't get down on Damaris just yet. He could easily break one of these. It's there, the scheme is sound, and when all 11 guys on the return team execute their assignment on the same play Damaris will take one to the house. It's going to come from hitting a seam that looks just like this...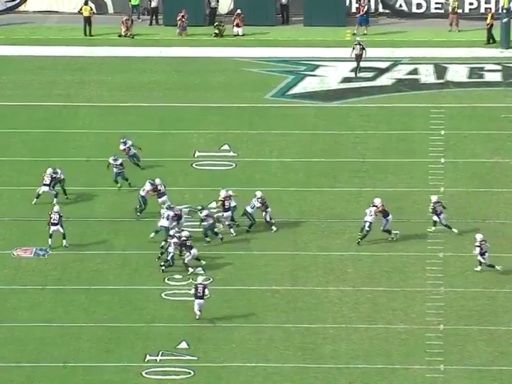 Hopefully this was helpful to the casual fan and wasn't too lengthy for the rest of BGN. Being my first post, it was a good learning experience for me and I will be happy to take any advice or constructive criticism you may wish to share. Please note that I did not include results from this past game against the Giants.
More from Bleeding Green Nation: