The season hasn't even started, but here's the top prospects for the2012 draft. (Warning Long)
The top 4 QB prospects for next year.
1.Andrew Luck,Sr. Stanford :Before deciding to stay at Stanford,Luck was easily the highest ranked prospect in the game.Will his desicion result the same way as what happened to Jake Locker or will he have an even greater year?Even now,most "experts" are placing him at number one for next year,but Matt Barkley is chasing his tail.Quickly.
2.Matt Barkley Jr.USC:In 2009, Barkley was rated the highest rated prospect coming out of high school and has lived up to expectations.Barkley managed to have a 26 TD showing for a struggling,unmotivated USC team.Many expect him to have a breakout season next year, and if he does, there is gonna be a huge debate about who should be number one overall,him or Luck.
3.Landry Jones Jr. Oklahoma(Sounds familiar,Friday Night Lights?":Like Barkley,Jones was a highly rated prospect coming out of high school and has impressed many with Oklahoma,having a 38-12 TD-INT ratio and completing more than 65% of his passes.He could go as high as a top 10 pick or go in the second.
4.Nick Foles Sr. Arizona:Foles has the potiental to impress next year,with his mechanics,but he needs to be far more consistent.
5. Ryan Lindley Jr. San Diego State: I don't know much about Lindley, but I do know he has good accuracy and arm strength and has very few weaknesses, but is often overlooked because he play's for a smaller college.
Top 2 Running Backs:
1.Trent Richardson Jr. Alabama:When Mark Ingram was hurt,Richardson made his missed presence forgotten after he had almost half of Ingram's whole year stats in the first couple of games alone. He is a potiental top ten pick
2.Lamicheal James Jr. Oregon: If it weren't for Richardson, he'd be hands down the best running back in the nation,James led the country in rushing.He's expected to be a first rounder,if not a top ten pick.He has the quickness of LT and has the running style of Clinton Portis.
3. Knile Davis Jr. Arskansas: Speedy downhill runner that could be rising up many draft boards, but he is out for the season.
Top 5 wideouts:
1.Alshon JefferySr.USC(Of South Carolina):All I can and have to say about him is that he is a beast,catching for more than 1500 yards and 9 TD's,he is likely to be a top 5 pick.
2.Justin Blackmon Sr.OSU:To be honest,I think he's better than Jeffery,catching 111 passes with 20 touchdowns and to me,he reminds me of Andre Johnson.But off the field issues have hurt him hard,including an arrest.
3.Ryan Broyles Sr. OklahomaHe was easily the top recieving option for Landry Jones and Bradford and I expect him to go high in the first round.
4.Jeff Fuller Jr. Texas A&M:  Fuller is on the watch list for the 2011 Maxwell Award, and his stats prove him as he logged 73 receptions for 1066 yards and 12 TD's
5.Micheal Floyd Sr. Notre Dame :If he remains healthy,he's a lock to make it in the first round,If he's injured,well he may not.Hopefully for Floyd,the QB won't affect him.
6.Chris OwosuSr.Stanford:Yep,next year will be a great class for wideouts in the first round,and Owosu will be one of them.Andrew Luck's best friend and target will be back and thus, may increase his stock.
Top Tackles:
1.Johnathan Martin Sr Stanford:it's gonna be hard to chose between him and Kalil,but Martin has more upside and is better suited for protecting the blindside of a QB.
2.Matt Kalil Sr. USC:You may have heard a similar name before, and that's probably Ryan Kalil of the Carolina Panthers,who is his older brother.The younger Kalil may be drafted earlier than his brother,if Matt Barkley has a breakout season next year,the USC offensive line,which will be anchored by Kalil at LT.
3.Rielly Reiff Sr.Iowa :He is not very heavy for his position(300LB),but he is extremely athletic.If he gained a little weight and hit the gym more,I can see this guy in the top ten.
4.Matt Reynolds Sr. BYU: Reynolds is a very raw prospect, but he can turn into a star with proper teaching.
 
    Top Guard's/Centers:
1. Micheal Brewster Sr. Ohio State: Easily the best center in the draft, should be a first rounder.
2.Kelechi Oselmele Jr. Boise State: Oselmele is a mualer in the run game, but needs to develop in the pass.
Top Tight End's
1. Coby Fleener Sr. Stanford: Coby Fleener was Andrew Luck's favorite Tight End to throw to. He's fast, but may be a little undersized.
2. Lardarius Green Jr. Lousiana State:  Green reminds me a lot like Antonio Gates. He's fast for his 6'6 frame and can be a vicious run and pass blocker.
Top 3 Inside Linebackers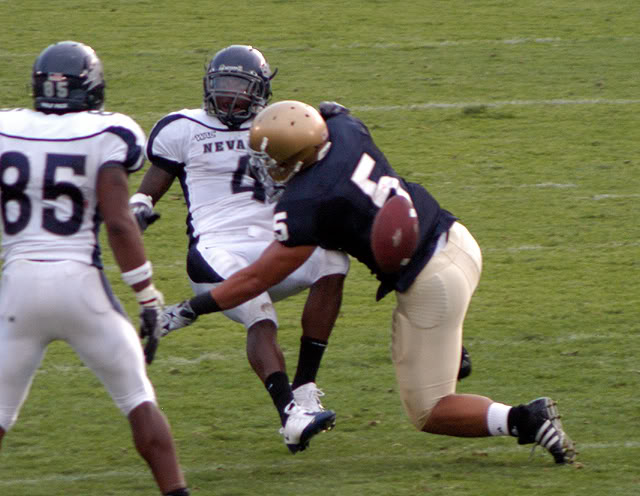 1.Vontaze Burzflict,Jr. Arizona St:,Burzflict is probably the best ILB in next years draft,only as a sophmore had 90 tackles with 8.5 TFL. I expect him to be a tackling machine next year,and will be one once he reaches the bigs. Buflict is something special, some scouts say he's as good as Patrick Willis(Bit of a reach)
2.Manti Te'o Sr. Notre Dame:Okay, I admit I've fallen to the Burflict bandwagon, but Manti Te'o is no joke either .Te'o has made a terrible Notre Dame defense in to a slightly above average one.In other words,Te'o is the Ray Lewis of the ND defense and will be for his NFL team.
3.Dont'a Hightower Jr. Alabama:He had an ACL injury in 2009,and I say,he's done pretty well and he's bound to do better.But what really gets him this high,is probably his intimidating size at 260lb and a 6'4 height,while most ILB's don't even reach a 6'1 height.
Top 4 outside linebackers/DE or regular OLB
1.Quinton Coples Jr. UNC:Quinton Coples is a Quarterback molester,and I feel so bad for the quarterbacks who have been intimidated by this monster,as you see Tom Savage above breathing his last breaths.In fact,QB's have been molested 15.5 times alone this year!He is huge 6'6 and 270 LB's.He is better suited for a 3-4,but can at the 4-3 as well.
2.Brandon Jenkins,Jr. Florida St:Another QB molester,here.As a sophmore,he racked up 14.5 sacks,leading the best Defensive Line in the country.Expect him to be at least a top 10 pick,if not top 5.
3.Courtney Upshaw Jr. Alabama:More suited for a DE in my thoughts,but is a way better run defender(obviously)as a OLB,having 14.5 TFL in 2010.Would play well in a 3-4 scheme like the New York Jets,who need to improve their pass rush.
4.Donte-Paige-MossJr.:Whoo,another UNC linebacker.Moss was heavily recruited out of High School and had a good sophmore campaign with 7.5 sacks.He has oozing potiental,but needs to work harder.
5.Zach Brown Sr. UNC:Yes,ANOTHER UNC linebacker projected to go high in next years draft.Will be a nice weakside linebacker in the pros
Top  Defensive Lineman:
1.Jahrel Worthy Jr. Michigan:This freak of nature could still rack up 4 sacks and 8TFL's despite being double-triple teamed on basically every play.He still has a year or two to go,but I think he will go into the top 10 in next years draft.If he played here,I think he'd fit in Washburn's scheme.Just saying.
2.Marques Forston Jr. Miami:He probably has as much upside as Worthy with three sacks and 12 tackles for losses,but he has had ankle issues, as he missed most of 2009 with an ankle injury.
3.Devin Taylor USC(South Carolina) Jr.:Had a nice season disrupting the play by sack,pressure or TFL with 8 sacks and 12.5 taclkles for loss.But what impressed me more was ability to disrupt the pass,with 8 tipped passes this year alone.This guy would help the pass defense and pass rush.
4.Andre Branch Clemson Sr.:Like Taylor,Branch is good at tipping the pass and forcing it.Branch is bigger,but not as athletic, however.
Top  Cornerbacks:
1.Dre Kirkpatrick Jr. Alabama:Had some good games this year,and it was consistent.If he can match it he can still be a top ten pick,if not top five,especially with his glaring size,(6'3).
2.Cliff HarrisSr. Oregon:Yes,this may  be the Patrick Peterson of next year,but this is the underated and smaller version of him.This year,he had 4 punt returns for six and had 6 Interceptions.Hopefully he is underated enough so we can draft him if we have a low first rounder.
3.Steven Gilmore,Jr. USC(South Carolina).:Steven Gilmore is just one of the many big prospects to come out of USC (South Carolina)in 2012.He is probably the fastest or second fastest player with potiental to run the 40 in the  4.3's
4.Alfonzo Dennard Jr. Nebraska: Dennard played opposite of  the Prince at Nebraska, but now he's making a name for himself as one of the best CB's in the nation
5.Greg Reid Jr. Florida St.:Ried showed boatloads of promise this year and is ready to have a breakout season next year,which can boost him in to the top ten next year.
6.Janoris Jenkins, Miami Sr.: Despite now playing for a D2 school ,he's likely to be a first round pick. But he is a great potiental shutdown corner that was one of the best CB's in the nation at Floridai.
7. Jayron Hosely Jr. Virginia Tech: Underrated CB that is a big playmaker, he once picked off Andrew Luck in a spring game.
Top  Safeties
1.Janzen Jackson Jr. IDK: He has been kicked off the team, but may play for a d2 schoolNow out of Eric Berry's shadow has had a breakout year.He  started nine games as a true freshman next to Eric Berry in 2009. He logged 69 tackles and five interceptions this year without him.He has blazing speed,he may as well run a 4.3 40 time in next years combine.He's projected to go midround next year.
2. Mark Barron Jr. Alambama: Nicknamed "Superman" by his fans, Barron put up 3 sacks and 3 picks with the Crimson Tide. But off the field issues, such as an arrest have hindered his stock.