While this has probably been done a 100 times this offseason I've just been thinking about the holes we have and what the possibilities are.. I'd like to go through a few things below before I start writing so bare with me please:
This is based purely on my opinion, from the holes that need to be filled, the player I see best suited to fill it, etc. There will be facts and stats to back up my "claims" but I'll say right here this is probably going to be 85-90% opinion.
I'm assuming with a new CBA the years needed to be an UFA are to be set at 4.
Some of my idea's may be out there, this is not lockout madness, in the NFL even a slight possibilities happen.
I'm going to try and include some guys on the roster who can fill the spot and guys from FA who can do the job. I'm going to go from my first option (my most preferred) to my last in order.
Once you've read what I've written I'd like to know what you believe the holes in the Eagles roster are and what you'd realistically like to see happen.
Let's make this fun.
Backup Quarterback:
As we all know the chances of backup and former QB of the future Kevin Kolb being traded are about 95%, the only way I don't see him getting traded is if for some reason we wait till preseason to do so and Vick gets injured and even in that regard we'd still need to bring a backup in.. It seems to be that the Backup QB is a very valuable position to the Eagles, Vick missed 4 games last season (1 of which was the Dallas game where he was resting) and with the way he plays I don't see him going a full 16 game season so we need a guy who can ideally come in for 3-4 games and keep us in games, because if they keep us in the game through their decisions then we always have a chance to pull out a win.
Now what I look for in a backup QB is probably different than what most of us here would. Yes I would love a starting caliber QB to be my backup, Matt Hasselback, Kevin Kolb, McNabb etc, but that's just not going to happen, we're spoiled to be in the position we've been in for the past few years.. So my criteria is this:
Needs to protect the ball, no stupid turnovers
Needs to be a guy who's suited for the west coast offense
Ideally a guy who's a little bit mobile.
Aha, now that we have my criteria let's look into some guys I feel will be capable of doing the job..
Guy #1
If you guessed Mike Kafka you're 100% correct. I'd love for the Eagles to promote from within at QB because I think Kafka's got the physical tools to excel within our system. He's 6'3 and 225lbs and is a decently mobile guy. Last preseason he had a pretty good game where he went 9/13 for 93 yards and a game winning TD on a 2 minute drill. I haven't seen a lot of Kafka, but I've read what Marty and Andy have said about the young man and if they truly feel that way about him, and were confident enough to invest a 4th round pick in him I think he should be the first guy to get a crack at the backup vacancy left.
Guy #2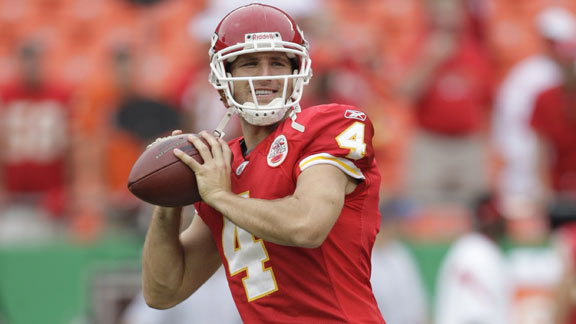 This is
Tyler Thigpen
, he's actually not a
Chiefs
player anymore but whatever.. This guy is one of my favorite guys to watch play, I remember I watched a Chiefs game where he threw a TD, ran for a TD and caught a TD pass and was the first one to do so in like 10-15 years. There's nothing spectacular about Thiggy, but he takes care of the ball well enough (17 INT's in 22 games, but has 21 TD's). He's pretty good at buying time, but he's not McNabb or Vick, probably a bit closer to a Seneca Wallace. And his arm isn't terrible but would be great for the WCO we run. Here's some stats from 2008 when he started 11 games and played in 14 for KC:
12 games, 11 Starts. 230/420 with 2,608 yards, 18TD's and 12 INT's. He added 62 rushing attempts for 386 yards and 3 TD's.. Also caught 1 pass for 37 yards and a TD.

As you can tell he's not a terrible player, I have confidence that if he were to come to Philly and play 4-5 games we'd be in all of them and would win a few.
Guy #3
How many of you guys watched the NFC Championship game? Well this guy was the 3rd string QB for that game and he went in and sparked some life into the
Bears
, he wasn't spectacular but he really intrigued me with how well he played. This guy's exactly what I look for in a backup QB, he hasn't played much in his 3 years in the NFL so there's not much to base this off of aside from that championship game so here are the stats for it:
13/20, 153 yards, 1 TD and 2 INT's. 1 rush for only 3 yards.
While the INT's aren't really preferable if he comes in and plays like that for a game with the Eagles I'd be perfectly fine with that.
Backup Runningback:
For any team you always need a capable backup RB. With Harrison set to most likely be an UFA we can't rely on rookie
Dion Lewis
and Buckley, we have to get a guy in who's more capable than that. My reasons for not trusting Lewis is because if McCoy gets hurt for 2-3 games we need a guy who can get shit done. Now here's my criteria for when I look for a backup RB:
They need to be able to come in for spot duty, yet be able to carry the load if McCoy can't go.
They need to give us enough of a running game where we don't have to rely solely on the pass.
They need to be able to catch the ball out of the backfield.
I'd like a guy who's capable of pass blocking.
Without further stalling let's get to my options:
Pick #1
Michael Bush
would be my ideal backup for this situation. He's a good compliment to McCoy and is a pretty good threat with the ball. He's a good runner, he's ok catching the ball and he can block for Vick when needed. He's a very good specimen at 6'1 and 245lbs and he's pretty quick for that size. The only issue I see is that he wants to be a primary starter somewhere but I could see somebody like him putting ego aside to go somewhere to win, here's his career stats:
45 games with 10 starts. 376 attempts, 1,665 yards, 4.4 average, 14 TD's. Then has 54 receptions for 461 yards and 0 TD's. He's fumbled 3 times in his career.
Bush is exactly what the Eagles are looking for in a backup/complimentary back. Bush actually reminds me of Buckhalter a little bit with how he worked with Westbrook and was more than capable of filling in when needed. I don't know many people who wouldn't love for a guy like Bush to come in and spell McCoy.
Pick #2
Brandon Jackson is another guy I'd be happy with as my backup RB. I don't think the
Packers
will resign him because they have Grant returning and Starks who broke out in the playoffs last year. Jackson's a guy who fits my criteria and is basically a poor mans McCoy but slightly better than Harrison. Let's look at his stats from last season:
16 games with 13 starts. 190 attempts for 703 yards and 3 TD's. He added 43 rec for 342 yards and 1 TD. and fumbled just 1 time.
Like I said he's a poor mans McCoy, but last year proved to be a capable player when Grant went down. He's able to catch, he's able to run and he's an OK blocker and has proven he's nothing more than a backup in the NFL. He'd be a great fit here as our #2 RB.
Pick #3 (Darkhorse) 
Ah a guy who played his college ball 10 mins away from me..
Kevin Smith
's had a bad run of luck, he hurt his knee in 2009 when it looked like he was on his way up in the NFL then he just didn't look right in 2010 and busted up his shoulder. I think Kevin Smith is a guy Philly would end up taking a flyer on because we tend to give chances to injured players because they're cheap low risk-high reward options. Kevin fits the WCO because he's a good runner who can catch and block. Here's the stats from his first two years:
2008
16 games, 12 starts. 238 attempts for 976 yards and 8 TD's. Added 39 rec for 286 yards. He fumbled 2 times.
2009
13 games all being starts. 217 attempts for 747 yards and 4 TD's. Added 41 rec for 415 yards and 1 TD. He fumbled 1 time.
As far as the biggest risk among my options this is it, but he's also got the highest ceiling as a RB and because he's young (24 years old) he's still got a chance to get his body right and produce. And before we write off a RB who's messed up their knee take a look at Buckhalter who after being given a chance really helped us.
Pick #4
Jerome Harrison. We all know him. We all know what he's capable of. He's my 4th guy here. I don't think I need to explain much.
Left Defensive End:
Brandon Graham's knee won't be the same till probably late in the year, so I doubt he'll be somebody to count on this year. Parker's older and we all know he fades late in the year. We have a hole at LDE to fill and it's pretty much anybody's guess who will fill it, I still think we'll go with a DE by committee approach because that works for us. Anyway here's what I'm looking for in a LDE:
A guy who fits Washburns system, a guy who puts his hand down and relentlessly attacks the QB and can win. 
A guy who will produce well in a committee
A guy who's capable against the run.
I only have 2 options on this one that I'd really love so here you go...
Guy #1
Mathias Kiwanuka
is one of the guys I for some reason just love. The dude is an explosive pass rusher who's relentless, I think if we lined him up opposite of
Trent Cole
opposing QB's will piss themselves. Kiwi's a guy who's been buried among the likes of Tuck, Osi and JPP, but I honestly feel he's better than Osi. He had a herniated disk in his neck that ended his 2010 season but I'll still take him in a heartbeat. Here's his stats from his only full year starting (2008) and 2009 when he was splitting time with Osi and Tuck:
2008
16 games, 16 starts. 51 tackles, 8 sacks, 1 safety, 1 pass defense, 2 forced fumbles.
2009
16 games, 3 starts. 61 tackles, 3 sacks, 1 pass defense and 2 forced fumbles.
Kiwi can produce very well. He's 28 so we'd probably sign him for 2-3 years and insert him into a rotation with Tapp and just let him pass rush like he's good at. Oh and we'd be taking somebody away from the Giants, they got McDougle we'll just take Kiwi.
Guy #2
This man is
Darryl Tapp
, if you don't know he's on our roster and he had some clutch plays for us last season. Tapps a guy who also fits Washburns attack the QB philosophy, he's a pass rusher and a good one at that. Here's a look at his stats from 2007-2009 when he was in Seattle and last season with us:
2007-2009
48 games, 32 starts. 153 tackles, 15 sacks, 11 pass defenses, 1 INT, and 7 forced fumbles.
2010 (Eagles)
14 games, 1 start. 23 tackles, 3 sacks and 4 pass defenses.
Tapp's a very capable option for us at LDE. I'd ideally love to see Kiwi and him in a rotation because both seem to do better when rested, but there's no questioning that Tapp can produce and when asked to only pass rush I'm excited to see what will happen.
Strong Safety:
Mikell leaving is kinda bad. We do have a hole at SS now and I think we only promote from within here. And the only 2 viable options are:
#1
Jarrett's our 2nd round pick this year. I think he's the best option for SS because you don't invest a 2nd round pick on a guy who's perfect for a position you just happen to have the veteran leaving at without being willing to play him. Jarrett fits the SS position very well, his coverage is OK, but he's great in run support and is a very good tackler. He's going to bring that physical presence we've been missing since Dawk left for Denver. He's probably going to be our starter at SS day 1.
Guy #2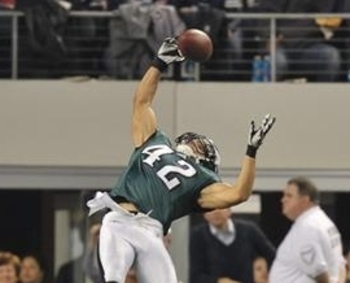 Kurt did well in the time he got in Philly. Look back at the Preseason game where he essentially solidified his place on the roster with those huge fumble returns for TD's, and look at the picks he made during the season along with his stable play when Nate went down. Still I think Coleman may have a future as a starter elsewhere in a few years but right now he's backup/ST material, Jarretts to talented not to play and the same goes for Nate. The good thing for Coleman is it seems our 3rd safety plays quite a bit and he's capable of backing up both spots. 
Right Cornerback:
This is that void that killed us last season. Hobbs is terrible, whether he retires or no I don't see him staying in Philly, Patterson was great at first but faded, he proved he's nothing but a backup, he'll probably be back due to ST play.. It's no question that RCB is a big big hole and here's what I'm looking for in a starting RCB:
Compliment Asante's inability to tackle. So basically I want a guy who's a solid tackler.
A guy who can match up with bigger WR's, I'd love a big guy but if you can game you can game no matter the size.
Nnamdi.
So I have 4 guys on my list....
Pick #1
This really needs no explanation.. Best CB in the game on the open market, yeah you better have him #1 on your list. I feel like if he wasn't on here my whole post and the 3 hr's of work I've put up til this point would be completely worthless and wasted.
Pick #2
Ahh Brent Grimes. He's not really shut down, he's not that big of a guy.. But the man can play football and he's young. He's a guy who Atlanta fans love because he does everything pretty well, he can play off and get up in somebody's face and press. I like him because he doesn't give up a lot to WR's and he tackles and quietly he get INT's. Here's his stats from 2009 and 2010:
2009
16 games with 8 starts. 66 tackles, 13 pass defenses, and 6 INT's.
2010
16 starts. 87 tackles, 23 pass defenses and 5 INT's.
Grimes is more than capable and really is my second option at RCB. He's a younger guy and plays very well.
Pick #3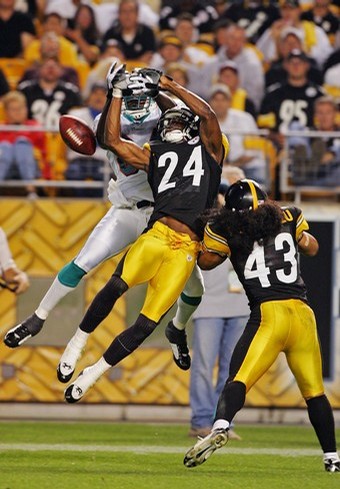 Ike Taylor
makes the most sense for the Eagles to me. He's older but has enough left to give us 2-3 good years until we can usher in one of the young guys to take over. He's also a physical tackler which is what the
Steelers
D creates and what the Eagles could really use on the Field. Here's a look at his stats over the last 3 years:
48 games, with 47 starts. 193 tackles, 2 sacks, 38 pass defenses, 4 INT's and 1 FF.
I'd be thrilled if we got Ike, he's exactly what we need opposite of Asante and would really add a physical presence to our defense. 
Pick #4
Lindley. I've made my case on here for him a million times. If we miss out on Nnamdi, Grimes and Ike I'd rather see us give Lindley the shot at RCB and keep Hobbs who can start if Lindley isn't panning out. The quickest way to learn is by experiencing and with what he got last season I think a crash coarse in being a starter wouldn't be detrimental to him. Here's his stats from last season:
11 games with 1 start. 23 tackles, 1 pass defense and 1 INT. 
While not spectacular you need to remember the SF game he started and played the entirety of and he did very well against Michael Crabtree. Also I'd like to add in that while at Kentucky he consistently shut down teams #1 WR's, and before you write that off he was going up against guys like
Julio Jones
,
Percy Harvin
and AJ Green all of whom where 1st round picks, and if they're the future at WR in the NFL I'm confident in a guy who shut them down in College being able to grow and do so in the NFL too.
***Now onto the rough part of this thing. I'm going to do the LB's. I basically look at it as we have 3 linebacker spots open, we need 3 starters. This is going to be a long section so please bare with me.. I'm going to list the options I think are best for each position, then I'm going to state below it what I think should happen at Linebacker team-wise.***
Middle Linebacker
The Quarterback of the defense, the man in the middle, normally the heart and soul of a defensive unit. This is probably the most important position on the field for the defense... and we have a giant hole there. We had Stew there for a year then he missed 2009 and then again missed time late in 2010 and Chaney played well but here's what I'm looking for in a MLB in this new system:
Sideline to sideline capability.
Ability to cover.
More read and react than attack the Line of scrimmage.
Solid Tackler.
Can get past blocks. This is key now since we won't be using our DT's to keep the Mike clean.
I have 3 guys who interest me really..
Pick #1
I believe in Chaney. I'm just worried about the inexperience he brings to the table and I think a 2-3 game sample size is to small for us to go off of. But that small sample size was a great piece of work, if he continues his play like that over a 16 game season he'll be up there with
Ray Lewis
and Co. Here's a look at his stats for last season:
14 games, 2 starts. 42 tackles, 1 pass def and 1 FF.
That's pretty good considering 30 tackles, 1 pass def and the FF all came in 2 1/2 games.. I really like how Chaney came in and demanded the respect of his teammates and assumed command of the defense, and he showed a lot of confidence and ability both as a leader and as a player. Chaney's a guy who does everything I'm looking for in my MIKE LB and that's what has me excited.
Guy #2
Big Stew's had a rough couple of years. The torn ACL then the Elbow injury which may have brought his replacement into action. However if the Eagles aren't confident that Chaney can fill the role for 16+ games a year next season then the clear number 2 option would be Bradley. He was starting to get back to pre-ACL form when he hurt his elbow and even while not being up to par last season he was still producing pretty well. Just look back at his 2008 stats and then look at how much of a difference his return meant after the 2009 season, he's clearly now what he was but he made us much better immediately.
Stew would fit as a MIKE in this system mostly because he's strong against the run, and has the size and strength to handle NFL interior OLmen flying at him. He's also a pretty good blitzer which would do wonders for us also. I'd be happy with either Chaney or Bradley starting next season at Mike.
Guy #3
I don't know why many people are so down on Ruud, he's a good MLB in the NFL and would be a great addition if we signed him. But we'd probably have to move Chaney to another LB position and Stew would have to most likely go. But let's look at Ruud's stats from last season:
16 games, 16 starts. 118 tackles, 2 sacks and 4 pass defenses. He also added 1 INT and 2 FF.
Ruud does what we're going to need in a MLB, he can shed blocks, and he's strong against the run and I think he's good enough in coverage where we wouldn't have to worry to much. He's also a leader and really takes command, if they decided to go another direction outside of Chaney and Bradley this is probably the guy I'd go with.
Weak Side Linebacker:
WILL LB will be one to watch. There aren't many options out there and there's not much on the roster. Eernie Sims was a fail,
Akeem Jordan
is gone,
Omar Gaither
is gone.. But we'll get into who could be here right after I list what I'm looking for in the WILL LB:
Somebody who's got good coverage ability.
Somebody who's able to blitz
Strong against the run.
Somebody who can play the run.
Also this is more read and react than attacking the LOS.
Now to I only have 3 guys who I see fit, all 3 are on the roster...
Pick #1
I'm a believer in
Casey Matthews
, Casillo being a linebacker guy himself you don't take the first LB he's ever drafted lightly. Casey's good in coverage, he's strong against the run, he doesn't look lost in space and he can blitz a bit. He's got a relentless motor and honestly wants to be just as good as his brother and I think he's got the ability to be that good just not in the same way Clay does things.
The new defense is perfect for Casey, he was considered the best cover LB in the draft, he is able to play the run and he's more of a read and react guy which is what we need. I don't know if Casey will be great, I don't know if he'll even be decent but I do know that from watching him in college he's going to give 100% percent and you don't need talent to hustle. He's my first pick for WLB because of what he brings to the table.
Pick #2
Yes this is Chaney again. I think he has to be considered for WLB if he doesn't get picked for Mike.. You can see the reasons above for justification.
Pick #3
Keenan Clayton
is a guy many of you guys love. I don't quite see it but hey he's better than what's out there. I think he covers pretty well and he can stop the run, but I don't like his tackling ability, I think it's a bit below average for a LB but if he can make up for it with his coverage then I'm all for it.. The reason he's #3 is because I don't think his ceiling is a high as Casey's and Chaney's.. Clayton looks like a nickel LB to me.
Strong Side Linebacker:
I'm including SAM LB because there's a question as to who will start at SAM. Once again the SAM LB will need to be this:
Capable of covering
More read and react
Able to stop the run
Able to blitz
Not onto my 2 options..
Pick #1
Fokou was our best LB last season, I think he gets first dibs on his spot until somebody can outplay him for it. He brought a physical presence and once he was inserted into the lineup our stats against the run skyrocketed. He's able to cover, blitz and play the run which is what makes him perfect, and yes I think he can be more read and react than attack the LOS. Let's look at Fokou's stats from last season:
16 games, 11 starts. 51 tackles, 1 sack, 1 pass def and 1 FF.
Not great production but his stats don't tell the entire story. I think he'll be capable of transitioning into a new system and he will continue to establish himself as one of our better young players, when I watch him play I see so much growth from season 1 to season 2, and from game 1 to game 16..
Pick #2
Here's Bradley again. I honestly feel he'd be great for either SAM or MIKE.. See the reasons above under Mike LB for justification here. But I'd also like to add it was his play at SAM late in his rookie year that spurred them moving him to MIKE to replace Trotter.
Now for the two options I'd like see happen at LB:
Option 1:
Mike- Chaney SAM- Bradley WILL- Matthews
I feel these 2 would bring a physical presence to the D. Chaney's capable of playing MIKE at a high level, Matthews looks the part and Bradley is a step up from Fokou and it would be bitter sweet seeing him unseat Fokou.
oooorrrrrr....
Option 2:
Mike- Bradley SAM- Fokou Will- Chaney
Bradley would be the physical force in the Middle, Fokou would continue to do what he does and Chaney would be the quick LB who can cover and do it all on the Weak side.
I'm sorry this was really long you guys (4443 words), I hope you enjoyed the read, and please leave your ideas, complaints or whatever in the comments I'd love the feedback and to have a nice football conversation.