With the lockout now officially over and free agency on the horizon, the Eagles have some serious needs that have to addressed.  We're all very aware of what positions need to be addressed and most of us are familiar with the players that have been speculated as potential targets for Philly.  I'll go more in depth with the potential targets and who I think will be wearing midnight green after the jump.


Defensive End:  With Brandon Graham suffering a torn ACL and undergoing microfracture surgery, he certainly won't be ready for the start of the season, and even if he does comeback midseason, I doubt he'll be able to perform 100%.  Through the first half of last season, Trent Cole had 7 sacks.  The second half of the season he only managed 3 sacks, due to teams being able to gameplan for him and having to face formidable double teams.  Juqua Parker is getting old and he too fades down the stretch and is a question mark to even be on the team this season.  We have depth in Darryl Tapp, Philip Hunt, and Ricky Sapp, but we need a DE opposite of Cole that can consistently contribute and help take some pressure off the rest of the defenseive line, specifically Cole.  There are several options in free agency
     Ray Edwards, DE
I think Edwards is the most likely option to end up in Philly, although he isn't my first choice out the FAs.  Edwards finished the 2010 season with 8 sacks in 14 games, and in 2009 he had 8.5 sacks in 16 games.  He's only 26 years old, so he's still fresh, and he performs consistently throughout the season as he had 3.5 sacks through the first half of last season and 4.5 in the second half.  Recent reports have made it seem that Edwards to Philly is very likely to happen, and I'd be happy to see these reports become official.
     Charles Johnson, DE
Johnson would be my number one pick to come to the Eagles.  He's only 25, he performed well throughout the whole 2010 season, and sort of flown under the radar so far.  But there's one problem; He's only had one outstanding season.  He had 11.5 sacks and 62 tackles last season, but in 2009 he only had 4 sacks and 25 tackles, and the year before that he only had 6 sacks and 25 tackles.  It's a scary thought to spend some money on a guy who's only had one good season, but it's a chance the Eagles might need to take.  If Johnson can perform up to his 2010 season consistently, then he would be my number one choice of free agent DE's.  However, I don't think it will matter because I think he re-signs with Carolina.
     Jason Babin, DE
Babin already had a stint with the Eagles, and it didn't work out as I had hoped.  He had flashes of potential during the preseason with the Eagles, but never really performed in the regular season.  That all changed when he went to Tennessee.  Babin had a monster year with the Titans, recording 12.5 sacks.  Some of this can be attributed to the great Jim Washburn, the former defensive line coach of the Titans who now just happens to be our D Line coach.  Because of the link between Washburn and Babin, many people have speculated a return to Philly for Babin.  I don't see it happening.  He's 31, so he's past his prime, and I think he'll demand more money than he's worth.  He's had one good season, and there's no reason to break the bank when there are cheaper, younger options.
Cornerback:  Do I even need to talk about this one?  To make it short, we could've put a piece of cardboard at CB and it would've performed better than what we had last year.  Hobbs is expected to retire, and Patterson showed he can't handle a full-time starting role, so what are our options?  Frankly, I don't think it matters because I think DRC will be rocking the Eagles uni, but just for shits, let's take a look at the FAs
Nmandi Asomugha, CB
Asomugha is every NFL team's dream player.  He's arguably the greatest CB currently in the NFL, and opposing QB's are scared to throw the ball his way.  His interception number are so low simply because teams throw the ball away from him.  Put two and two together.  Less balls thrown towards Asomugha equals more balls thrown towards Asante, which in turn creates more interceptions.  And even though some people have been claiming he's "not a good fit" for the new defensive scheme we're going to be running, the man is the best CB in the league.  He will thrive, no matter what the scheme is.  He will demand an extraordinary amount of money, and I wish the FO would spend the money on him instead of acquring DRC.  The one knock on NA is his age, and it's debatable as to whether he'd be worth the money for the few years that he may have left performing at a high level.
Johnathan Joseph, CB
Joseph, in my opinion, is the second best CB in FA, and I think he's a great alternative to Asomugha.  For one, he'll demand a lot less money.  If the rumors are true that Asomugha wants 19 million a year, then compared to NA, Joseph will cost a bag of bread.  He's also younger, at just 27, so he's still in the midst of his prime.  While he certainly isn't as talented as NA, he's ten times better than the options we had at RCB last year.  If for some reason the DRC deal falls through and Asomugha signs with another team, and I would be extremely elated if we wound up with Joseph.
Ike Taylor, CB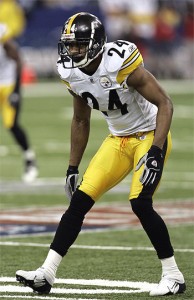 Taylor comes from a defense known for their tenacity and physicality, which is an aspect that we need on our D.  Ike is a good cover corner and he tackles well, another attribute missing from our CBs.  However, Ike is old (31), and to put it nicely, he has hands of stone.  I can recall watching Steelers games where on several occasions he dropped an easy INT that was right in his hands.  Even with the age and stone hands, I'd still feel comfortable with him on the right side of the field, but I don't think it'll happen.
Running Back:  Obviously the Eagles aren't looking for a starting RB, as we have a highly capable starter in Lesean McCoy.  What we could use however, is a back that complements McCoy, someone with power and the ability to stuff it in from the goal line.  I don't want to start the season with Dion Lewis or Eldra Buckley as our number two back, and Harrison wants to start somewhere, so I think he'll be out of here.
Michael Bush, RB
Bush is a powerful back, and he's shown flashes of greatness in several games.  Even with his power, he still has the ability to bust off long runs.  In part-time duty for Oakland, he ran for 655 yards while racking up 8 TDs, and he can also catch the ball out of the backfield, a necessary skill in Andy Reid's offense.  He did hurt his case with a drunk driving charge back in February, but I think he'd be a nice secondary option for the Eagles.
Darren Sproles, RB
I know, I know, Sproles isn't necessarily a power back.  He's only 5'6", so he isn't suited for a full-time starting role, but the man has a knack for working his way through holes.  He has good vision, deceptive speed, and is powerful for his tiny frame.  He'd be a good spell for McCoy, and he's a great receiver out of the backfield.  He could also handle kick return and punt return duties.  He only had 267 yards on 50 carries last season, but listen to this; 520 receiving yards last year.  For a part-time back, that is a hell of a lot of receiving yards.  If we don't sign Bush, I'd be content with Sproles.
Reggie Bush, RB
Couldn't help it, I had to have a picture of Kim Kardashian in here.  Before you guys hound me, I know he's not a free agent, but there's a good chance he could become one.  He's going to demand a good chunk of money, but frankly, I think he could be worth it.  Imagine the mismatches we could create with McCoy, Jackson, Maclin, Avant, and Bush out on the field.  While he certainly hasn't performed up to expectations, he hasn't been a piss poor player either.  There have been times where he showed flashes of his USC days, and those flashes alone are enough for me.  He can line up out wide, in the slot, at RB, and return kicks and punts.  If we have the opportunity to get him for a reasonable price, then I think we should absolutely pull the trigger.  His upside is tremendous, and if you can't already tell, I'd love to have this guy on the Eagles.
I'm not going to touch on the backup quarterback situation because I haven't really taken a look at the quarterbacks available.  I think if we address these positions, we'll be set to make a Superbowl run and bring the Lombardi Trophy to Philly.