Here is an quick look at possible outcome the Eagles could do with their team and through free agency to solve the right cornerback solution...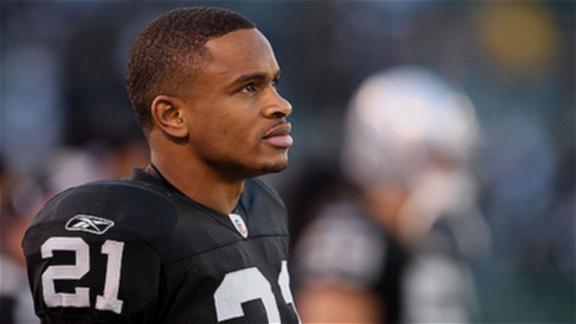 This would be a great pick up for Philadelphia. This is a veteran who not only wants a nice contract, but a Super Bowl ring. Philadelphia has plenty of salary cap room to go out and snag him and they also have great potential to win a Super Bowl as soon as next season. This move would rank amongst the top outcomes to Philadelphia's off-season aquisitions to answer the stand-out issue in the defense.
Now to toss in a personal opinion, this is what I would like to see happen. Dominique Rodgers-Cromartie, also known as DRC, would be aquired via trade for Kevin Kolb. All the rumor speculation surrounding Kolb really points to him starting for Arizona this coming season. What the Eagles could get in return is a wild guess. DRC and a high-round draft pick would be a solid package to recieve for the services of Kevin Kolb. I like this idea since he is real young, very good and fast shut down corner. He would be much less expensive than Nnamdi and still has room to grow even better.
Option 3: Jonathan Joseph...
Depending on how the FA rules go this season, JJ could or could not be a free agent. If he is than the signing of him to the Eagles would be a good deal. The only downside is that he's middle-aged and not too spectacular. However if the Eagles cannot snag a dominant cornerback somehow, they should eye in on Joseph and fill the void at right corner by signing him.

 Redskin's Carlos Rogers is an older corner who did not live up to his potential coming out of the draft. He is not a big time corner but a worthy starter. He did say he would not mind playing for Philadelphia. I don't think to highly of this idea. His age and ability is not a real good short or long term answer for a team in need of a big time player.
Also, we cannot forget about in-house corner Trevard Lindley. I think this guy will eventually earn a shot and could possibly become a starter but still having only one year of experience means he is young. So he still has quite a bit to learn and get better at. I hope to see him prevail but Philadelphia needs a starting corner now and he probably isn't at that status now unless Juan Castillo and Andy Reid see something we don't.