Lets continue from where I left off,Starting at the ILB's
Top 3 Inside Linebackers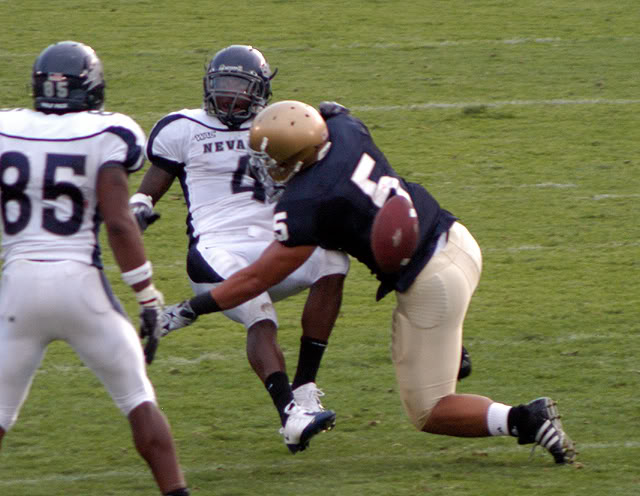 1.Manti Te'o Sr. Notre Dame:Some may say Vontaze Burflict is better,but if you're saying Burflict has more heart than Te'o and is more of a leader,IDK what the hell you're talking about.Te'o has made a terrible Notre Dame defense in to a slightly above average one.In other words,Te'o is the Ray Lewis of the ND defense and will be for his NFL team.
2.Vontaze Burzflict,Jr. Arizona St: Heart aside,Burzflict is probably the best ILB in next years draft,only as a sophmore had 90 tickles with 8.5 TFL. I expect him to be a tickling machine next year,and will be one once he reaches the bigs.
3.Dont'a Hightower Jr. Alabama:He had an ACL injury in 2009,and I say,he's done pretty well and he's bound to do better.But what really gets him this high,is probably his intimidating size at 260lb and a 6'4 height,while most ILB's don't even reach a 6'1 height.
Top 4 outside linebackers/DE or regular OLB
1.Quinton Coples Jr. UNC:Quinton Coples is a Quarterback molester,and I feel so bad for the quarterbacks who have been intimidated by this monster,as you see Tom Savage above breathing his last breaths.In fact,QB's have been molested 15.5 times alone this year!He is huge 6'6 and 270 LB's.He is better suited for a 3-4,but can at the 4-3 as well.
2.Courtney Upshaw Jr. Alabama:More suited for a DE in my thoughts,but is a way better run defender(obviously)as a OLB,having 14.5 TFL in 2010.Would play well in a 3-4 scheme like the New York Jets,who need to improve their pass rush.
3.Donte-Paige-MossJr.:Whoo,another UNC linebacker.Moss was heavily recruited out of High School and had a good sophmore campaign with 7.5 sacks.He has oozing potiental,but needs to work harder.
4.Zach Brown Sr. UNC:Yes,ANOTHER UNC linebacker projected to go high in next years draft.Will be a nice weakside linebacker in the pros
Top 5 Defensive Lineman:
1.Brandon Jenkins,Jr. Florida St:Another QB molester,here.As a sophmore,he racked up 14.5 sacks,leading the best Defensive Line in the country.Expect him to be at least a top 10 pick,if not top 5.
2.Jahrel Worthy Jr. Michigan:This freak of nature could still rack up 4 sacks and 8TFL's despite being double-triple teamed on basically every play.He still has a year or two to go,but I think he will go into the top 10 in next years draft.If he played here,I think he'd fit in Washburn's scheme.Just saying.
3.Marques Forston Jr. Miami:He probably has as much upside as Worthy with three sacks and 12 tackles for losses,but he has had ankle issues, as he missed most of 2009 with an ankle injury.
4.Devin Taylor USC(South Carolina) Jr.:Had a nice season disrupting the play by sack,pressure or TFL with 8 sacks and 12.5 taclkles for loss.But what impressed me more was ability to disrupt the pass,with 8 tipped passes this year alone.This guy would help the pass defense and pass rush.
5.Andre Branch Clemson Sr.:Like Taylor,Branch is good at tipping the pass and forcing it.Branch is bigger,but not as athletic, however.
Top 5 Cornerbacks:
1.Cliff HarrisSr. Oregon:Yes,this will be the Patrick Peterson of next year,but this is the underated version of him.This year,he had 4 punt returns for six and had 6 Interceptions.Hopefully he is underated enough so we can draft him if we have a low first rounder.
2.Greg Reid Jr. Florida St.:Ried showed boatloads of promise this year and is ready to have a breakout season next year,which can boost him in to the top ten next year.
3.Dre Kirkpatrick Jr. Alabama:Had some good games this year,and it was consistent.If he can match it he can still be a top ten pick,if not top five,especially with his glaring size,(6'3).
4.Steven Gilmore,Jr. USC(South Carolina).:Steven Gilmore is just one of the many big prospects to come out of USC (South Carolina)in 2012.He is probably the fastest or second fastest player with potiental to run the 40 in the  4.3's
5.Brandon Harris, Miami Sr.:This guy is overatted in my book,but,sigh,who's listening?he's likely to be a top ten pick.
Top 2 Safeties
1.Janzen Jackson Jr. Tenessee:Now out of Eric Berry's shadow has had a breakout year.He  started nine games as a true freshman next to Eric Berry in 2009. He logged 69 tackles and five interceptions this year without him.He has blazing speed,he may as well run a 4.3 40 time in next years combine.He's projected to go midround next year.
2.Kenny Tate Sr. Maryland:Living in Maryland,I've been able to have a healthy dose of ACC football.I've watched Tate a couple of times,and he has impressed.As a junior,Tate proved to be one of the better free safeties in the country,with 8 passes broken up and 3 picks.