Yeah,Yeah we aren't even near the 2011 mock draft yet, but I know after this draft, there will be many questions about who's gonna be drafted high or will this player have depth.etc. next year,so I'm just trying to make BGN a whole lot smarter and more prepared for next years draft.Again,this is an extremely early post, so any of these prospects could be in the top ten,or might as well as go undrafted.
The top 4 QB prospects for next year.
1.Andrew Luck,Sr. Stanford :Before deciding to stay at Stanford,Luck was easily the highest ranked prospect in the game.Will his desicion result the same way as what happened to Jake Locker or will he have an even greater year?Even now,most "experts" are placing him at number one for next year,but Matt Barkley is chasing his tail.Quickly.
2.Matt BarkleyJr.USC:In 2009, Barkley was rated the highest rated prospect coming out of high school and has lived up to expectations.Barkley managed to have a 26 TD showing for a struggling,unmotivated USC team.Many expect him to have a breakout season next year, and if he does, there is gonna be a huge debate about who should be number one overall,him or Luck.
3.Landry Jones Jr. Oklahoma(Sounds familiar,Friday Night Lights?":Like Barkley,Jones was a highly rated prospect coming out of high school and has impressed many with Oklahoma,having a 38-12 TD-INT ratio and completing more than 65% of his passes.He could go as high as a top 10 pick or go in the second.
4.Nick Foles Sr. Arizona:Foles has the potiental to impress next year,with his mechanics,but he needs to be far more consistent.
Top 2 Running Backs:
1.Lamicheal James Jr. Oregon:Hands down the best running back in the nation,James led the country in rushing.He's expected to be a first rounder,if not a top ten pick.He has the quickness of LT and has the running style of Clinton Portis.
2.Trent Richardson Jr. Alabama:When Mark Ingram was hurt,Richardson made his missed presence forgotten after he had almost half of Ingram's whole year stats in the first couple of games alone.If Lamicheal James is the best running back in the nation,Richardson isn't far behind.
Top 5 wideouts:
1.Alshon JefferySr.USC(Of South Carolina):All I can and have to say about him is that he is a beast,catching for more than 1500 yards and 9 TD's,he is likely to be a top 5 pick.
2.Justin Blackmon Sr.OSU:To be honest,I think he's better than Jeffery,catching 111 passes with 20 touchdowns and to me,he reminds me of Andre Johnson.But off the field issues have hurt him hard,including an arrest.
3.Ryan Broyles Sr. OklahomaHe was easily the top recieving option for Landry Jones and Bradford and I expect him to go high in the first round.
4..Micheal Floyd Sr. Notre Dame :If he remains healthy,he's a lock to make it in the first round,If he's injured,well he may not.Hopefully for Floyd,the QB won't affect him.
5.Chris OwosuSr.Stanford:Yep,next year will be a great class for wideouts in the first round,and Owosu will be one of them.Andrew Luck's best friend and target will be back and thus, may increase his stock.
Top 3 Offensive lineman:
1.Johnathan Martin Sr Stanford:it's gonna be hard to chose between him and Kalil,but Martin has more upside and is better suited for protecting the blindside of a QB.
2.Matt Kalil Sr. USC:You may have heard a similar name before, and that's probably Ryan Kalil of the Carolina Panthers,who is his older brother.The younger Kalil may be drafted earlier than his brother,if Matt Barkley has a breakout season next year,the USC offensive line,which will be anchored by Kalil at LT.
3.Rielly Reiff Sr.Iowa :He is not very heavy for his position(300LB),but he is extremely athletic.If he gained a little weight and hit the gym more,I can see this guy in the top ten.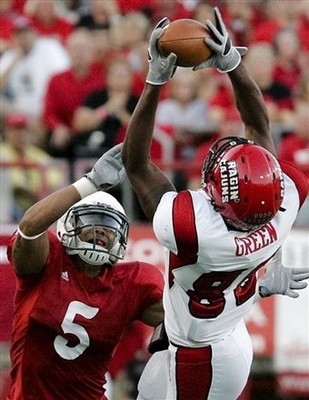 Top Tight End:Lardarius Green,Louisiana State,Sr.Damn the bold print for now,but this guy is an absolute monster,he caught for nearly 800 recieving yards with 7 TD's and his stock is only expected to rise.His size is intimidating 6-6 230 LB's and I believe he won the John Mackey award for best TE this year.
The defense edition will come soon.