Only 164 days until the NFL draft. Am I ahead of myself? Probably. But I couldn't channel my disdain after yet another horrendous loss effectively. So, I decided I was going to make a very spiteful post. And what is more spiteful to the current coaching staff than talking about a new coaching staff and all the good they would do? I know some of these moves would be incredibly unpopular but on the road we're on now, I don't think they're out the realm of possibility. I tried to think of what was wrong with this team. I came up with complacency, egotism, no heart and a lack of physicality amongst a litany of other things, but ultimately I decided those 4 things were the things that I would address in this offseason. But remember, this isn't a statement of what I think will happen (although I wouldn't be incredibly shocked if something similar did) but more of a statement about the current state of the Eagles. I hope you enjoy at least entertaining these thoughts and I welcome all ideas about coaching staffs, draft picks and even criticisms.
Coaching Moves:
The Eagles hire Perry Fewell as the head coach
-Tough and vocal defensive minded coach that players will go to war for. He is a great teacher and he is a guy who should have his own team at this point. He has all kinds of experience and he isn't a scheme limited guy. He has learned from some great coaches and he is a pretty aggressive defensive shot caller.
The Eagles hire Bill Callahan as the offensive coordinator
-Will get to run the show with Fewell focusing on the defense. Callahan is a former QB who is known for his offensive line coaching and his grind it out style.
The Eagles hire Marc Trestman as QB coach and AHC
-A scout's darling this guy is, he is the best coach in the CFL after coaching in the NFL for a few years and his scheming ability is highly regarded.
The Eagles keep Ted Williams as the RB coach
-Why not? Look what he has done with Westbrook and McCoy, no reason to cut him.
The Eagles promote Duce Staley to offensive assistant and assistant RB coach
-Ted Williams is old, the Eagles start breeding Duce Staley to take over for him one day.
The Eagles keep David Culley as the WR coach
-He has been in the NFL for a long time and coached in a lot of schemes. He is scheme diverse and a good coach that is worthy of keeping.
The Eagles promote Eugene Chung to OL coach
-This is Howard Mudd's protégé, Mudd retires and Chung takes over the offensive line coaching spot. But keep in mind that he has the help of renowned OL coach Bill Callahan.
The Eagles keep Tom Melvin as the TE coach
-He has done a pretty solid job with Brent Celek and Clay Harbor. He brought those two along into some pretty versatile players. Worthy of keeping.
The Eagles hire Jon Hoke as the defensive coordinator
-Jon Hoke and Perry Fewell worked together at Kent State back in the day. Hoke now works with Lovie Smith who once mentored Perry Fewell. He has experience in the Tampa 2 scheme under Lovie Smith and the 3-4 zone blitz scheme under Dom Capers. He has said he likes the zone blitz concepts in the past, he ran a very aggressive defense at Florida when he was the DC there. Hoke and Fewell have 3 connections: Kent State, Lovie Smith and Dom Capers.
The Eagles hire Kevin Greene as their DL coach
-Fewell and Hoke hit up the Capers connection and call upon Kevin Greene to take on a bigger role and coach an entire defensive line. Tough guy's tough guy who is a top position coach already. Very well versed in zone blitz concepts.
The Eagles hire Hardy Nickerson as their LB coach
-Played under Capers and Tony Dungy, he is familiar with zone blitz and Tampa 2 schemes. Former player that was highly regarded. He was the original Tampa 2 MLB.
The Eagles hire DeWayne Walker as their CB coach
-He is wasting away at New Mexico State, he is a highly regarded coach that is known for his teaching ability and enthusiasm. He moves to the NFL in hopes of putting himself on a bigger platform.
The Eagles hire Troy Vincent as their S coach
-He is probably too deeply involved with the NFLPA but hey, this is a mock offseason so I can do what I want. This guy NEEDS to get into coaching. He is so intelligent and articulate, he could be a great NFL coach. I would love to see him coach on the Eagles. He is familiar with the zone blitz concepts that Hoke and Fewell plan on running.
Transactions:
The Eagles cut Jamaal Jackson
-Cut a discontented veteran and save some cap space? Sure.
The Eagles trade DeSean Jackson to the 49ers for a 2nd round pick and conditional 3rd round pick in 2013
-This situation gets ugly after LeSean McCoy gets extended. DeSean Jackson gets very upset and the two sides can't come to an agreement. The Eagles sign and trade him back to the west coast to the 49ers where they pay him and he goes back to his west coast roots. The Eagles just didn't want to give money to a guy as inconsistent and flawed as DeSean Jackson.
The Eagles trade Jason Babin to the Jacksonville Jaguars for a 4th round pick
-Jason Babin is part of the problem with the Eagles, he is a selfish player who only wants to play the wide 9 spot. He is egotistical, he is a walking penalty marker and he is a one trick pony. The Eagles part ways with him and improve the locker room while getting a 4th round pick in return.
The Eagles sign Mike Pollak
-Versatile, veteran interior line depth with experience.
The Eagles sign Dan Connor
-The Eagles need a BUNCH of linebacker help and it starts with Connor, an underrated linebacker in his prime that can play WLB or MLB.
The Eagles Sign Le'Ron McClain
-One of the quickest ways to add a bit more teeth to your running game is to add a guy like Le'Ron McClain, a big, strong and powerful full back who can crush people on lead blocks and carry the ball as a power back when needed.
Mock Draft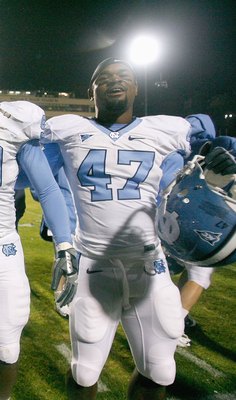 1 - Zach Brown LB North Carolina
-The lack of linebacker talent on the Eagles is astounding, the problem is well on its way to being solved with Dan Connor and Zach Brown and they compliment one another perfectly. Dan Connor is more of a 2 down backer with his run stopping ability and coverage deficiencies. Zach Brown on the other hand is a guy who you want on the field in nickel situations. Zach Brown has incredible athleticism, he might immediately be the most athletic linebacker in the league. His talent, is special. This year at North Carolina, he has been absolutely dominant with 71 tackles, 11 tackles for a loss, 5.5 sacks, 2 interceptions, 4 passes knocked down and 3 forced fumbles. He has showcased incredible foot speed and effort in pursuit. He has displayed an improved ability to take good angles, read his keys and diagnose the play. Oh, and he is a dynamic special teams player who lights people up on that unit with his dynamic hitting ability. Zach Brown is a complete linebacker prospect with good tape and great potential, if he keeps up the momentum he has going, he'll be a great linebacker in no time.
Trade: The Eagles trade the Cardinals' 2nd round draft pick, Tampa Bay's 4th round pick and the Bronco's 6th round pick to the New England Patriots for pick #28

1 (via New England) - Cordy Glenn OL Georgia
-With Howard Mudd gone and Bill Callahan in, the Eagles move back to more of a big offensive line. That means the Eagles are going to bulk up along the offensive line again. With the pick of Cordy Glenn the Eagles are going to move Todd Herremans back to LG, move Evan Mathis to the bench where he can be the first man up at both guard spots and start Glenn at RT. Cordy Glenn is a massive man at 6'5" and 340 pounds. He has the ideal arm length that you want with 34" arms. He has massive 10 1/8" hands that he uses to lock people up. He is incredibly powerful and he is incredibly strong while also having very athletic feet. He is a guy who can consistently reestablish the line of scrimmage and win in the run game. His skillset is very reminiscent of Jason Peters'.
2 - Michael Brewster C Ohio State
-Callahan had great success with the last big Ohio State center prospect so he heads back to the well. Brewster doesn't have the same kind of natural base strength, leverage and coordination in space that Mangold has but he is no slouch. Brewster is a big, NFL sized player at 6'4" and about 310 pounds. He has been starting at center for the Ohio State Buckeyes for the past 4 years and it shows, his snapping mechanics and ability to get his head up and find a man are very good. He showcases good technique, good lateral ability and a nasty streak. Brewster looks like a long time starter in the NFL that could start at either guard spot if needed.
2 (via San Francisco) - Devin Taylor DE South Carolina
-With the departure of Jason Babin, the Eagles need to add a pass rusher so they draft Devin Taylor. Devin Taylor has an incredible frame with plenty of room to add weight and maintain athletic ability, he has the length, speed, fluid hips to turn the corner, effort, burst off the line of scrimmage and the arm length/hands to keep blockers off his frame. Devin Taylor has a reputation for being skinny but he has wiry strength and he does a nice job of coiling up and transitioning his speed and burst to power off of the edge. I really liked his activity level and motor in the games I saw him in. Devin Taylor does a good job of getting his hands up when he can't get to the QB. He puts in a good effort when he is in pursuit. And he is always moving forward and doesn't appear to be content to be blocked. And I thought that he had some pretty decent pass rush moves, it's nothing extensive but he had counter moves and he had the ability to fight through contact. He hasn't put it on paper yet in terms of statistics but he really has been disruptive this year and I think he is really going to blossom in the NFL. He is actually my #1 rated end in the draft.
3 - Joe Adams WR Arkansas
-When the Eagles lost DeSean Jackson, they lost quite a bit of speed on offense that they would be well suited to replace. Joe Adams ran a 4.3 in spring training and it shows on the field, he has speed and agility to spare. On his career he has 153 receptions, 2326 yards and 16 touchdowns. He is also a weapon in the run game and on returns. On his career he has scored 21 touchdowns total, 16 receiving, 2 rushing and 3 returning. He has incredible elusiveness and run after the catch ability, he has the ability to burn defenses. He is very good at getting separation and he is a pretty good route runner too that is coming from a prostyle offense. He drops some passes but it's not chronic and you can overlook a couple drops when you have a guy with this sort of ability.
4  (via Tampa Bay) - Brandon Bolden RB Ole Miss
-Bolden has underachieved at Ole Miss but he has loads of talent, he is a big, bruising running back with his fair share of speed. He is a hard charging running back who isn't afraid to get physical and do the dirty work. He hits the hole hard and he finishes his runs. He punishers defenders when he runs, he hits the hole hard, can run by people, and just refuses to go down. He is an outstanding receiver as well, he led the team in receiving last season. He blocks and he is even on the kick and punt coverage units. Bolden is a senior and has been a big time contributor since his freshman year, he is on a horrible team but that makes what he has done the last two seasons that much more impressive. 
4 - (via Jacksonville) - Tyler Nielsen LB Iowa
-The Eagles need some intelligent, team oriented and assignment sure linebackers that are ahletic enough to execute what they're supposed to do. Nielsen is a decently sized strong side linebacker that is physical and smart. He is a three down linebacker who does it all at Iowa. He isn't the most physically gifted play around but he is savvy and he tries hard. At the worst the Eagles found a back-up strong side linebacker that can play special teams.
4 - Chad Diehl FB Clemson
-This guy is a mortal lock to become one of the NFL's elite lead blockers. Chad Diehl has ideal size at 6'1" and 261 pounds and he is a well respected player on the Clemson team. His teammates and opponents heap praise upon this guy. They say he would fit in comfortably with a leather helmet back in the day. Dabo Sweeney has called him the "epitome of a football player". The Clemson center, Dalton Freeman has called him "one of the best football players he has ever seen". DeAndre McDaniel has mentioned that he avoided Diehl in practice sessions. Chris Hairston called him an honorary offensive lineman and said that "He's just not going to lose a one-on-one matchup. I don't see anybody in the country that can step in isolated and take on a Chad Diehl block. He's relentless, probably the hardest hitter I've ever seen play this game."
5 - Chris Marve LB Vanderbilt
-Marve is a small, athletic and strong middle linebacker, he is short but he has good instincts, he is a strong tackler, he can stuff the run over the middle and he has the athleticism to drop back into coverage. He is a strong leader who has a passion for the game. He could be one of the real steals of the draft.
5 - (via Detroit) - Brandon Taylor S LSU
-Taylor is a high energy safety that is the emotional leader of the LSU defense. He comes in with an NFL mentality and the willingness to play special teams and do whatever it takes to make the roster. He is a pretty athletic guy and even though he is corner sized, he throws his body around. He should be at the very least a good special teams player and high end back-up.
6 - Case Keenum QB Houston
-You know Keenum, the all time leading passer in the NCAA. He comes from a spread offense but Keenum is going to have a place in the NFL. Keenum has enough arm strength, he does a great job keeping his eyes downfield, his ball placement is fantastic and he makes very good decisions with the ball. He has the athletic ability to move around and his work habits are outstanding. He should be a high end back-up for the Eagles.
6 (via New England) - Rishard Matthews WR Nevada
-At this point in the draft you really have to take shots on potential and hope for the best. The Eagles do that with Rishard Matthews. Matthews is a big 6'2" and 215 pound wide receiver with 4.4 speed. He has really big hands and he snatches the ball out of the air. He showcases strong run after the catch ability and the ability to get yards after contact. He has the ability to run every single route in the route tree, its just a matter of learning them and dedicating himself to his craft. He is a JUCO player whose early development was hindered by his father who didn't let him play football.