As we've all seen there's like 400 of these in a row since about .5 seconds after we lost to the Packers... I've posted some stuff.. But I think this is what will end up doing as of now

Step 1: Holes. (in order of importance)
Hole #1- Right Tackle. I hold the Right Tackle spot as the highest priority, this is solely because this man (or very hairy, muscular and butch woman) must be able to protect Vick's blindside. That and we must be able to run to our right, we ran left entire to much last year because the right side couldn't get a push. A stud, or even above average quality RT would make a world of difference.
Hole #2- Right Guard. I think once again protecting Vick and being able to run both to the left and to the right are the most importing things right now. I think those are the only things we're missing from completing our entire offensive attack.
Hole #3- RCB. If we had a consistently solid RCB I think we win the Titans, Bears, and Vikings games. We need a guy who can get a few picks a year, tackle and keep players out of games at times. I think if we get a RCB that takes a lot of pressure of McDermott to protect players and will let him cut loose.
Hole #4- Linebacker. We need to fill out the two LB spots not currently occupied by Fokou. I think 2 solid to great LB's make our D monstrous.
Hole #5- Defensive End. Need another pass rusher or two to help keep our DE's fresh throughout games and the season as a whole. Our Defense pretty much lives and dies by the pass rush.
Step 2: Re-signings.
We resign Vick, Bradley, Jordan, MJG, Schmitt, Patterson, and Harrison.
Step 3: Trades
Trade #1- Our 4rd, and a conditional pick (4th - 7th) for the rights to Jared Gaither. The 6-9 340lb monster has some medical issues and would be suited at the RT position here even though he didn't want to leave the LT spot to begin with, but to protect the blind side of Mike Vick may entice him to sign up for the move.
(*** I realize he's going to be an FA, but if I'm correct he'll only be going into his 5th year making him a RFA        meaning we can trade for his rights.***)
Eagles Standpoint: They get a starting caliber OT who has probowl potential, he's a big guy who can maul people, essentially a guy you'd trust protecting Vick. I'd be willing to give up a 3rd  and a conditional if I had a good idea he'd be effective.
Ravens Standpoint: They get rid of a guy who wants to protect the blind side of a QB and who most likely would end up as a backup for the Ravens with Oher entrenched there.. They'd also be getting multiple picks for a guy who's missed quite a bit of football and who is disgruntled.
Trade #2- Riley Cooper(or Avant) + Bunkley to Denver for their 3rd round pick. Tebow worked well with Cooper in college, reuniting them would be something Tebow would push for, and Bunkley although not spectacular is a good DT who'd upgrade their DL.
Eagles Standpoint: Cooper is a good WR (JIBTA, I know you're throwing a hissy fight on your keyboard right now, just make sure you slow down and make sure it's understandable) but he's expendable on this roster with a deep WR core. Bunkley is now low in our rotation here, he's a good starter and honestly had it not been for his injury we'd be having a different conversation.
Denver's standpoint: Riley Cooper has a good rep with Tebow, they're going to want to get him comfortable within the offense and stuff like that, making him your starter you only got Lloyd as a threat because Thomas couldn't get or stay healthy. Cooper would be a good #2 or #3 WR there. Bunkley could play that 1 gap role pretty well for them.
Trade #3- Kevin Kolb + our #23 + our #54 for the 49ers #7, #45 and a conditional 4rd-5th next year. Kolb's worth us moving up 16 spots in the 1st and 9 spots in the 2nd and getting us a conditional next year. This pick gives us flexibility to pick a highly ranked player at a position of need.
Eagles standpoint: Kolb was the future before Vick's resurgence, now he's due to make less than 2 million next year, he wants to start and he's shown that he's a viable option in this league. This is the time to trade him, or commit to him. Using him to move up high in both rounds is a very good strategy.
SF's standpoint: They're going to run the WCO, Kolb's had 4 years now of learning and running it, he's got the knowledge and ability to come in and make an immediate impact for them.. They also get to keep a 1st and 2nd round pick and give up a mid to late rounder next year.
Step 4: Free Agency.
So at this point after the trades (just too keep things organized, I know they're randomly done but it this method made it easier for me) we've filled the RT position pretty well. So we're left with a hole at RG, RCB, LB, DE and now have one at b/u QB.
My Right Guard options.
There are some good right guard options here, but 2 really stand out to me: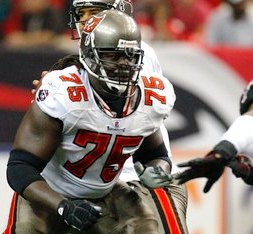 This is Davin Joseph, he's a good RG, he was having a very good year before he hurt his foot and got IR'd. He's 6-3 and 313 lbs and is only 27 years old. His height would allow him to be less of an obstruction to Vick's throwing lanes, he's also got a low center of gravity (which I like in an OLman).
Ohh yes, now my favorite man for this job. Harvey Dahl. He's a nasty nasty OLman, he'll punch you right in the cock if he could get away with it. Now he's a guy I want at RG for us, he's a good fit with a nasty Herremans and McGlynn, those 3 in the middle pretty much equal murder at some point. He's my top pick but I believe he's a RFA..
Signed?? Davin Joseph (unless Dahl is a UFA)
My Linebacker Options.
This is Chad Greenway. He's kind of good. He's great at stopping the run and decent in coverage.. He'd be a very good pickup for us. I'm assuming we do infact sign him.
Signed Greenway :)
My options at Cornerback.
Nnamdi Asomugha (will be referred to as NA from now on). He's a badass, you all know his shit. If you don't want him I want to IQ test you to make sure you are infact an intelligent life form.
I'm just gonna say we sign NA.
So in FA we get Davin Joseph, Chad Greenway and NA. We have the money to throw around so lets do it. We've got 2 (if we're super lucky 3) more years with Vick playing at a level where he can carry us, don't waste it.
Step 5: Draft. (Only going to round 4, beyond that it's a crap shoot)
So, now we get to the fun part.
#7 overall (from SF)- Prince Amukamara. Yes I know we've got NA, Asante, Patterson, Hanson and Lindley... But this give us Lindley and Prince to groom into the next dynamic duo of CBness. If he's there at #7 the only players you pass him up for are Fairley, Bowers and Peterson. Stacked Secondary again.
#45 overall (from SF)- Pat Delvin (QB, Delaware). He's got a big arm and is accurate. Knock with him is level of competition and he holds onto the ball to long. Both can be fixed with coaching. Could be the QB for life after Vick.
#67 overall (from Denver)- Casey Matthews, Oregon. I like this kids drive, and he's athletic. Worth the pick here.
#85 overall- Derrick Locke, my Kentucky boy. This may be the fastest man in the draft. He ran a 4.27 after tearing his ACL. He's a good replacement if we don't get Harrison back and he's a KR.
Well, this is the end.. Let me know what you think.