Obviously we all know that McCoy just absolutely sucks, he's like so awful I could walk in there an take his job, he's just shit, scum, cant run, cant catch, and cant block, he's a waste of space... Pathetic that he's in an Eagles Uniform.. Here's a list of 5 RB's I'd rather have than McCoy:

Running Back #5:
If you guess this superhero is Mike Bell then you'd be correct. The FO made a massive mistake on letting this stud slip through the cracks, we signed him for nothing then traded him for some Harrison bum. Complete shit by the FO.. He's got a fucking superman outfit on who the fuck trades a man with a SUPERMAN COSTUME!! His monsterous stature and blazing speed would've been perfect for us, he's obviously 100002% better than McCoy.
Running Back #4: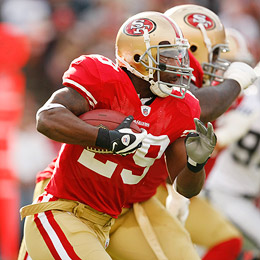 Ahh, this super stud is Glen Coffee. Although he retired from the NFL after one season (only because he was so much better than the competition around him) he's a fucking monster. I mean the guy's name rhymes with Ben Toffee I mean isn't that fucking awesom? Anyway how the Eagles choose McCoy over a guy who retired after only one season to be "closer to god" then arrested a few weeks later for having a loaded and cocked automatic piston in the center console of his Caddy after being pulled over for speeding still puzzles me.. Nice job FO, that McCoy bum over Coffee? You've gotta be stupid to make that decision.
Running Back #3:
Ohh yeah, this hunk of man rivals that of Peyton Hillis. Dan Klecko is the best RB/FB to ever don an Eagles uniform.. We had a future HOF RB in our hands and we just cut him so he can go elsewhere. What does McCoy have that Klecko doesn't? I'll tell you what that is, it's the ability to suck! We should bring back Klecko so we can actually run the ball every once in a while, god know's McCoy can't.
Running Back #2:
Reno Mahe.. Look at this guy, he's got talent flowing through his cock.. Obviously a superior talent to Shitty McCoy. We should pick him up and use him at WR, RB and KR and cut McCoy's garbage ass.. Enough said about Mahe, you all know his awesomeness.
Running Back #1: (JIBTA's Cock is about to get hard)
How the FO could pass up this supertalent for just a measley 4th round pick still pisses me off. I mean this guy has the best nickname ever.. Beast Mode... He's go class act written all over him.. He's got intelligence, I mean who'd suspect this poor innocent man of trying to steal $20 from the Chief of Polices wife at a restaurant? How we didn't land him is just startling, we should've given them McCoy and a 1st then add another 1st just because they took McCoy off our hands.