1. Saint Louis Rams : Sam Bradford, Quarterback



Though the Rams should grab Ndamukong Suh immediately, we are about to witness a draft blunder by a franchise in chaos at the top levels.

Marc Bulger, the starting quarterback for the last few years, has been released. Bradford will be the 2010 starter.

Though they could get Suh to line up next to former first round draft picks Adam Carriker and Chris Long, giving them a very promising unit, they will choose not to wait until the second round to draft a Colt McCoy to be their starter.

This move could haunt them for years.







2. Detroit Lions : Ndamukong Suh, Defensive Tackle



About two seconds after Lions general manager Martin Mayhew sends the Rams a gift basket as a "Thank You", he will grab easily the best player in the entire draft.

Suh will be brought in to stir memories of Roger Brown, Alex Karras, and the original "Fearsome Foursome".

If he stays healthy and plays to his abilities, Suh will one day join Lions legend Lou Creekmur as the only defensive tackles in Canton.

Unless the voters wake up and induct Brown finally.











3. Tampa Bay Buccaneers : Gerald McCoy, Defensive Tackle



Timing is everything. Tampa would prefer Matt Millen were still in Detroit so they could get their hands on Suh, but McCoy is a solid consolation prize.

He will improve the interior of their defense immediately.















4. Washington Redskins : Russell Okung, Offensive Tackle



This is the pick most of Redskins Nation has been screaming for since the draft countdown began.

Even before they got their hands on future Hall of Fame quarterback Donovan McNabb.

Washington couldn't block in 2009, and they even lost left tackle Chris Samuels to a career ending spinal injury.

This may the only no brainer pick of the draft.











5. Kansas City Chiefs : Bryan Bulaga, Offensive Tackle



IF the Rams wisely draft Suh, it is possible the Lions and Chiefs swap picks so Kansas City gets Okung.

Baluga will be the second offensive lineman drafted most likely in any scenario.

As desperately as they need blocking, this might be the right pick. Yet they can go in several directions because they have several holes to fill.















6. Seattle Seahawks : Jimmy Clausen, Quarterback



Seattle has two first round picks this year, and I think they grab Clausen here because it is conceivable that Buffalo would before their second pick came around.

New head coach Pete Carroll knows Clausen well, and he can allow the kid a year on the bench to learn from veteran Matt Hasselbeck.

This is a move for 2011, unless the oft-injured Hasselbeck goes down again with his bad back.













7. Cleveland Browns : Eric Berry, Safety



Few teams have a tradition as rich as the Browns. Yet, they have never had a safety inducted into the Pro Football Hall of Fame. Stunning, considering they have 16 players inducted. It is the fourth most in NFL history.

Not saying Berry is headed for Canton, but he would be a huge upgrade over the current free safeties Mike Adams and Ray Ventrone.

The Browns have a ton of excellent cornerbacks, so Berry will offer them a wrinkle of versatility needed to get their defense back on top and the "Dawg Pound" rowdy again.










8. Oakland Raiders : Bruce Campbell, Offensive Tackle



Oakland needs blockers like a fish needs water.

They need to run the ball to win, and are full of questions at quarterback.

Good blocking solves a lot of problems.







9. Buffalo Bills : Trent Williams, Offensive Tackle



The Bills have hit hard times in the trenches on the offensive side of the ball. Williams is needed, especially in the run game.

He also helps soothe the sudden loss of guard Brad Butler to retirement.











10. Jacksonville Jaguars : Jason Pierre-Paul, Defensive End



If ever there was a pick looking to get traded, this might be it.

Jacksonville needs depth at running back, the secondary, and linebacker.

I have them grabbing Pierre-Paul for a few reasons.

They need pass rushers, and there is no guarantee newly signed Aaron Kampman is 100 percent coming off a major knee injury.

Even if Kampman is ready, head coach Jack Del Rio can't get enough pressure on the ball.

Pierre-Paul is a local kid, so that somewhat helps satisfy the franchises hopes for drawing larger crowds. He is also a incredible athlete whose football skills and knowledge are very raw.

Having Del Rio, a former NFL linebacker, teach him the ropes will be a huge help.











11. Denver Broncos: Dan Williams, Nose Tackle



Even if Denver just signed veteran nose tackle Jamal Williams, this is a smart move.

Jamal Williams has been injury prone lately, and has shown definite signs of slowing down. The Chargers let him go, despite needing help in the trenches.

These Williams' won't remind you of the Minnesota Vikings Williams', but Dan Williams is easily the third best defensive tackle in the draft.. He immediately upgrades the team in a huge area of need.










12. Miami Dolphins : Rolando McClain, Inside Linebacker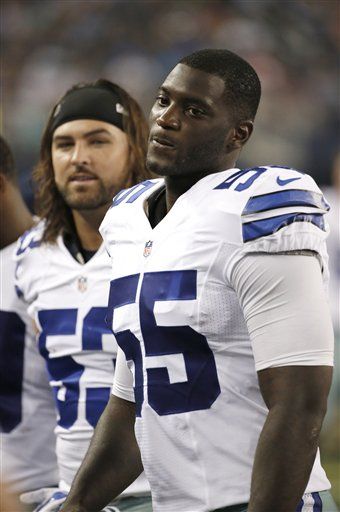 This makes the seventh linebacker Bill Parcells has drafted in the first round.

McClain pick allows newly acquired Karlos Dansby to move to the outside to help Cameron Wake rush the passer. He will also help the inconsistent Channing Crowder.












13. San Francisco 49ers : Joe Haden, Cornerback



The Niners need help in the secondary. Their current group of CB's had five interceptions last year, and veteran Nate Clements is entering his ninth season.

Haden was considered a top ten selection before his mediocre showing at the combine, but it is hard to see him dropping too far in the draft.











14. Seattle Seahawks: Dez Bryant, Wide Receiver



Now that all of the top blockers are gone, Seattle could use an infusion at wide receiver after losing Nate Burleson.

Bryant is big and strong, with hr ability to jump high.

He is the best player on the board at this time.













15. New York Giants : Derrick Morgan, Defensive End



The Jints get a gift here. Morgan fits nicely into their 4-3 scheme, and will help if they lose both 2009 starters after this season.

Linebacker Sean Witherspoon might get a look, because his game fits G-Men defensive coordinator Perry Fewell's scheme.













16. Tennessee Titans: Everson Griffen, Defensive End



This workout warrior just ran an impressive 4.59 40-yard dash at his Pro Day. He fits the Titans recent run at drafting guys who have great workouts, plus he fills a need. Jeff Fisher's USC ties don't hurt either.\













17. San Francisco 49ers : Anthony Davis, Offensive Tackle



Davis had his stock drop after a poor combine, but is has the measurables highly sought after.

He is only 20 years old, so he can be developed at right tackle for now with an eye on the left side for the future.
















18. Pittsburgh Steelers : Mike Iupati, Guard



Iupati fills a big need on a Steelers offensive line that was not very good last year. He can play either guard slot and even right tackle.

He brings a nasty streak that Steelers fans want from their blockers, which will help a rushing attack that is uncertain right now.













19. Atlanta Falcons : Brandon Graham, Defensive End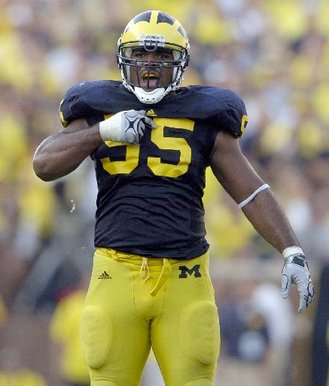 Linebacker Sean Weatherspoon could go here, but the Falcons had a paltry 28 sacks in 2009. They need to do better.

Graham is smallish, but his motor and pass rush moves make him perhaps too intriguing to pass up here.

















20. Houston Texans : Earl Thomas, Safety



The Texans absolutely need a free safety right now, and Thomas fills that void. It also doesn't hurt that he attended college at the University of Texas and has some ability to play cornerback.

Though Houston could look at running back, their issue at free safety is too great to ignore right here.















21. Cincinnati Bengals : Jermaine Gresham, Tight End



Even if the Bengals do sign wide receiver Terrell Owens, they need more receiving options for quarterback Carson Palmer.

Especially at tight end, where they got little production from in 2009.

Though Cincinnati could look at guard or defensive tackle here, Gresham is easily the best tight end in the draft and may be too tempting to pass up.
















22. New England Patriots : Ryan Matthews, Running Back



He is a do-it-all type of back who is not afraid of running in between the tackles.

The Pats are full of specialist backs, but lack that bell cow they can lean on.

Matthews could be that guy.




















23. Green Bay Packers : Kyle Wilson, Cornerback



Wilson has shot up the boards recently. He is a four year starter who never missed a game, and is extremely smart.

He can also return punts.

Considering Charles Woodson is 33 and entering his 12th season, now may be the time to bolster their cornerbacks unit.

Of course, the Pack could get younger at the offensive tackle. So that is a possibility.




















24. Philadelphia Eagles : Devin McCourty, Cornerback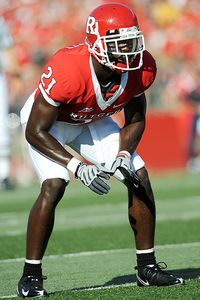 Sheldon Brown is gone, and Asante Samuels probably will be at the end of this season.

The Igglez go local, grabbing a kid who ran a blazing 4.34 forty at the combine. He can spend a year learning to get ready for 2011.















25. Baltimore Ravens : Jared Odrick, Defensive Tackle



The Ravens just lost Dwan Edwards and Justin Bannen, so reinforcements is a must. They could go cornerback, but Odrick has shot up a lot of draft boards recently.



















26. Arizona Cardinals : Sean Weatherspoon, Linebacker



The Big Red lost do everything linebacker Karlos Dansby, and they luck out getting a replacement in Weatherspoon.

















27. Dallas Cowboys : Maurkice Pouncey, Center



Pouncey is such a nice prospect, it is conceivable Pro Bowler Andre Gurode could get shifted to guard. Some think that is his natural position, plus Gurode has been prone to mental errors the last few years.




















28. San Diego Chargers : Jahvid Best, Running Back



Best fits the Chargers scheme of a back who can do a bit of everything. Quarterback Philip Rivers would enjoy having this kid from nearby Vallejo, California, who also attended college at University of California, Berkeley, by his side.
















29. New York Jets : Golden Tate, Wide Receiver



Tate could push for a starting job right away by providing a deep threat and opening things up underneath. His ability to stretch the field is something the Jets desperately need on offense.




















30. Minnesota Vikings : Brian Price, Defensive Tackle



Pat Williams still has not committed to returning next year. Even if he does, it will most likely be his last.

Price is an intriguing talent that can end up being drafted much higher. He is excellent on the pass rush, and he could help Kevin Williams if Pat Williams decides to retire before training camp.

















31. Indianapolis Colts : Charles Brown, Offensive Tackle



Brown is a former tight end specializes in pass blocking, which is something that fits the Colts scheme. Protecting the franchise, named Peyton Manning, is really THE priority that the Colts have.

Brown represents an upgrade over current starter Charlie Johnson at left tackle.




















32. New Orleans Saints : Sergio Kindle, Defensive End



Kindle really fills two needs. He can be used much like his former college teammate Brian Orakpo.

The Saints recently dumped oft-injured defensive end Charles Grant, so Kindle can fill in here. He can also rush from the edge in a two point stance at strong side outside linebacker.

Carlos Dunlap surely could go here and provide those same abilities.