What's up people. I'm bored as hell right now so I am going to provide you with my FULL offseason predictions. I will list my thoughts in steps to make it easier to read. Please comment a lot and let me know your thoughts.
1. Eagles resign Leonard Weaver. The man is truly amazing. He can block, carry, and play on special teams. I love this guy and I am sure the rest of you Eagles fans agree. 
2. The Eagles will resign Jason Avant. He is a rather big and strong guy that doesn't mind catching balls in traffic. This guy is great! 
3. Eagles sign Center Casey Rabach to a two year deal. This guy is 32 years old and is a very good option at center. 
4. Eagles sign Ahman Green to a one year deal. There would be little risk and he is still good for some short yardage situations and possibly some third down situations (although he will have to earn it going against a rookie I have the Eagles drafting, see below)
5. Eagles trade Donovan McNabb to the Bills for their second and fifth round picks (41,136)
6. Eagles sign Chad Pennington to back up the new starter, Kevin Kolb. Probably to a 1 or 2 year deal.
7. Draft Day:
24. Sergio Kindle- 
During the season the Eagles used a patch work to fill in a LB, Chris Gocong the SLB was benched three quarter of the season in for his pathetic play. They need a versatile multi-position stop gap hard nose LB and Sergio Kindle can do it all. - Scott Mesquita (Drafttek Eagles Analyst)
41. Jerry Hughes would be a nice pick to play defensive end next to Trent Cole. Everywhere I look I read about how explosive this kid is and the incredible meanstreak that he plays with. This is definitely the guy I want with this pick. If he isn't ready to start by week 1 I am sure he will be ready to take over after the bye week (whenever that is). The only reason I think he may take longer to start is because he sometimes has trouble with his hand technique. 
55. Nate Allen   
HOF to be FS Brian Dawkins was the life blood, heart, and soul of the Eagles. Filling his void will be a difficult task, but they luck out here with the best all around cover FS Nate Allen falling to them. - Scott Mesquita (Drafttek Eagles Analyst)
70. Anthony Dixon   With the departure of Brian Westbrook the Eagles will definitely need to draft a runningback. Lesean McCoy is awesome but he would definitely benefit from the Eagles drafting this monster (6'1 235)
"He can be an effective short-yardage specialist in the NFL, but he does not appear to be an every-down back, especially not in this era in which NFL teams want to use multiple RBs more and more. Dixon did well to return to school for his senior year, and it could pay off in the form of a third-round selection in the 2010 draft." Thats a lil snip it from fftoolbox.com
87. Jarrett Brown  You may have never heard of this guy as he has only started at quarterback for one year for the West Virginia Mountaineers. He has impressive size and speed and is definitely a good quarterback prospect. He could become a superstar according to some scouts but it will definitely take a while. Hey we have Kolb so we can definitely wait and heck once he shows his stuff we could always make a Matt Schaub like trade when he was on the Falcons. We are talented enough and definitely afford to make this pick. Like I said the upside is amazing whether we trade him or keep him.
118. Micah Johnson    I'm sure some people here will be very happy to see that I have the Eagles drafting this guy. The more I look at him the more I see him having a shot at starting for the Eagles one day. He definitely brings intensity to the field like Jerry Hughes who I have the Eagles picking in Round 2 with the pick they got from the Bils.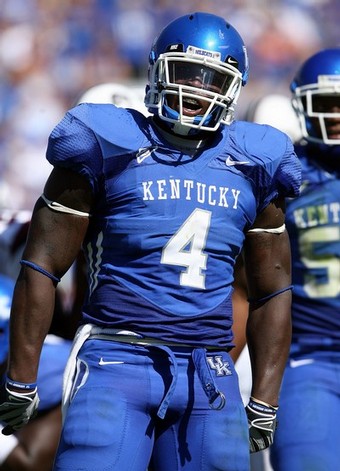 124. John Jerry    This guy is a load and will provide depth at the guard positions. Could start if needed (please Andrews brothers pull it together)
127. The Eagles will package their two fifth rounders to get the last pick of the fourth round. With this pick I think the Eagles will go for a CB. If Javier Arenas is still there I think the Eagles will gladly take him and let him take over both return spots and backup at the corner position. If he isn't there I think the Eagles will take a different corner named, Akwasi Owusu-Ansah from Indiana (PA). 
OR
190. Another corner here in the late late sixth round to provide some competition....Devin Ross from the University of Arizona. 
THAT CONCLUDES MY IN DEPTH PREDICTION ON THIS OFFSEASON. I HOPE YOU LIKED IT. COMMENT!