I made this Desean Jackson Wallpaper A Couple Weeks Ago.
Perfect Desktop To Have After A Remarkable Return & Remarkable Win Against The Giants!
Get this fullsize wallaper and more at
http://illpapers.blogspot.com/
Keep Checking Back To My Blog For The Micheal Vick, Shady McCoy Wallpapers & More
Enjoy!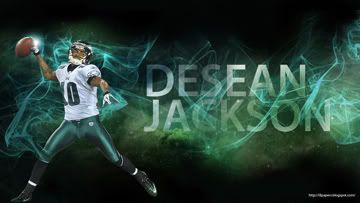 E-A-G-L-E-S EAGLES!!!
Also Check Out The Desean Jackson Punt Return, Micheal Vick Video And Other Sports Related Content On The Site.
I am also taking requests for new desktops! So Let Me Know What Players You Guys Would Like Me To Post Next!