While you'll find redundant articles on the Eagles' QB situation and the movement of Shawn Andrews to the IR on most other Philadelphia football sites, I decided to stay away from those topics (after all, I've already covered them)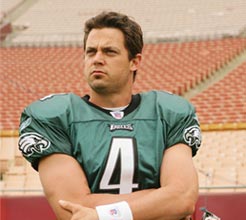 and discuss a more intriguing situation…why/how the Eagles might be a completely different team following the 2010 season. Although some of you may turn away from this story because of a lack of interest in "speculation"-type articles, I encourage you to stay put and take a look at how surprisingly different our beloved Birds could appear in about 2 years…
Right now, we hold perhaps one of the most talented rosters in the NFL. We've got Pro-Bowl players (and Pro-Bowl-quality players)at nearly every position, and have been fortunate enough to see our team reach the playoffs seven times in the last nine seasons. We have brought in and witnessed some of the most explosive and established players in the game as of late, such as FS Brian Dawkins, MLB Jeremiah Trotter, and WR Terrell Owens (despite his controversial figure, there is no doubting Owens was one of the stars when in Philly). We've had the privelege of harvesting young players out of the Draft, such as DE Trent Cole and DT Brodrick Bunkely, and we've also had one of the wisest leaders in the NFL as a coach–Andy Reid (I understand some will argue that, but know that Reid has been one of the Birds' most proficient coaches in team history).
However, despite this overwhelming amount of roster and staff talent, there is reason to believe that following the 2010 season, the Philadelphia Eagles will appear an entirely different team. Again I will state that this is not my personal predicition, but simply a look at what could potentially become reality in the future:
Not many of the average Eagles fanatics take notice of the players' contract details, and a large group of you would be surprised to know the amount of players considered "important" to the organization that have their deals expiring in the near future. Take a look at some notable members of the current roster that have the base of their contracts ending after the 2010 season:
QB Kevin Kolb
QB Michael Vick (*with contract option accepted after 1st season)
TE Brent Celek
DE Victor Abiamiri
MLB Stewart Bradley
SS Quintin Mikell
Of course it's highly unlikely that all of the players listed above will not return (as their contracts will likely be extended), there is certainly a shot that quite a few of them won't be in a midnight green uniform in 2011. Let's examine why:
There is an extreme likelihood that at least one of the three QBs listed will be gone, for this season and the 2010 season will determine the future of the position in Philly. If McNabb can grant the wishes of the fans and organization and successfully lead the Eagles to a Super Bowl win in the next 2 years, either Vick or Kolb (pictured) will surely be on their way out. Why can't they stay, you ask? Well, think about it for a minute…isn't there a pretty good chance there will be interest around the league for Vick or Kolb in 2 seasons? In the case that McNabb fails to win the big game in the next seasons, it's likely a completely new era will begin. Kevin Kolb could become the starter, or, if he has shown enough potential in the next 2 years, Vick may get that job.
Brian Westbrook may still have an enormous talent for the game with his explosiveness and agility, but with the presence of LeSean McCoy on the team and the Eagles' recent decision to decline an option year of his contract, there are reasons to opine that the starter will be elsewhere in 2 seasons. Of course, I am not in favor of that as of now, and I'm not saying it will definitely happen (as he could get a new deal anytime from now and 2011), but there is quite a possibility B-West will be let into the free agent market following the 2010 season. By then, McCoy may have established himself as "starter quality"…but then again, perhaps he'll turn out to be far less than expected.
It's probably not a great bet to say that Celek won't be here, but it all depends on he performs as the starter this season and next. The same can be said for Abiamiri.
David Akers may actually be the most likely to leave on that list following the '10 campaign, for he will then be finishing his 12th NFL season, and if he struggles to maintain a consistent performance as the team's starting Kicker, the Birds may opt for a younger leg. I'm completely in support of Akers at the moment, but in regards to this article's topic, he is a viable candidate to depart after 2010.
In addition to those listed with contracts expiring after 2010, there are also players like WR Jason Avant, OT Winston Justice, and MLB Omar Gaither, whose deals end after this season. Something else that should be taken into account are the contracts of veterans that last longer than 2010, but would be logically terminated with the release of the player (one that might fit into this category would be WR Kevin Curtis, who is due nearly 1.35 million dollars in incentives/bonuses in 2012, and will require 6 million dollars of team salary cap space).  We also can't leave out this team's coach, Andy Reid, who is set to reach the end of his respected contract after 2010.
Again I will reiterate that many of the "expiring" players named will likely be re-signed, but take into perspective the organization if a Super Bowl is not won in the next two seasons. That would be failure of both Donovan McNabb's "offseason contract restructurement goal" and the team's as a whole. If that indeed occurs, it could be the start of a completely new era in Philly, as mentioned before, and some of the players listed could be roster casualties that would seem ridiculous if suggested today.
We could be lining up in 2011 with a virtual "clean slate", so to speak: A new starting QB, RB, FB, OL, DE, CB, FS, and K (I left out certain positions like WR and DT because they seem to be stocked with "locked-in" young talent.
Once more I will remind you that is merely a look at what could be in the future should certain cirmcumstances become true. It is not my personal predicition, as I wrote it to provide an intriguing read as we wait for more regular season action to prevail. In the meantime, let's hope this possibilty is utterly incorrect, and the Eagles will be Super Bowl champions sooner than later.
Picture source: Online image. http://www3.allaroundphilly.com/blogs/delcotimes/bobg/uploaded_images/kolb-eagles-775214.jpg