i liked the post DSmith215 put up so I decided to follow up on who the Eagles could draft in 2010 draft even though I know that it is still very early.
First Candidate- Everson Griffen (DE)
This guy is 6-3 and weighs 280 pounds. He is a junior this year, but will be expected to enter next year's draft seeing that the NFL could enable a rookie cap. This guy is BLAZING FAST. His worst 40 time is a 4.76 but his best 40 time is a 4.54! When Trent Cole was in college, he ran a 4.7-4.9 40 time. The Eagles should definitely consider this guy. 
His stats- 
Picture from:http://www.trojanwire.com/images/ncf_g_griffen_400.jpg      Stats from:http://sports.espn.go.com/ncf/player/profile?playerId=236585
Here is a short 10 sec. clip of Everson Griffen getting a Cole-like sack: 
Second Candidate: Greg Hardy (DE)
Greg could be a reach, but you never know what could happen on draft day. He is a little faster than Everson Griffen with a 40 time of 4.5 and his highest 40 time being 4.72. He is a true DE and is rated by ESPN as the fourth best in his position. Greg will not play the rest of this year because of a left wrist injury he suffered this year. He has great pass-rushing skills, and his very quick. Greg could actually fall down the draft boards because of his injury. 
I couldn't find any stats on him on ESPN or any other sites so I couldn't post them up.
Highlight clip of Greg Hardy last year:(He's #86)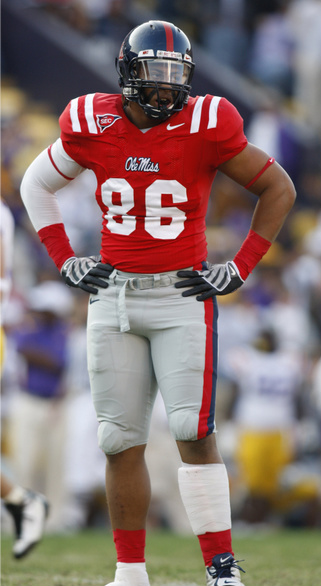 PIcture from:http://thematadorsports.com/blog/wp-content/uploads/2009/09/Greg-Hardy.bmp
Third Candidate: Bryan Bulaga (OT):
I don't know very much about his guy but he is ranked as the 4th best in his position at OT and plays for Iowa         He's 6-6 and weighs 311 pounds. 
Scouting Report copied from :http://www.fftoolbox.com/nfl_draft/profile_display.cfm?prospect_id=2088
Position:
T
School & Year/Status:
Iowa - Junior
Jersey Number:
#79
Height & Weight:
6'6 - 312 lbs.
Ranked #15 on our Top 100 Prospects Board
2010 NFL Draft Prospect Scouting Report:
Bryan Bulaga, T, Iowa
Bryan Bulaga is the latest in a long line of talented offensive linemen from the University of Iowa. Bulaga began his career at left guard where he started five of the seven games he played in as a freshmen. As a sophomore, he took over at left tackle, starting all 13 of Iowa's games last season. Bulaga has started all five games he's appeared in this season. He missed three games early in the year, but it shouldn't effect his draft status because he was ill, not injured. Bulaga has very quick feet for a big offensive lineman and uses his long arms to ride speed rushers right out of plays. He is not as strong as fellow Big ten linemen Joe Thomas or Jake Long, but he's still very young and has time to develop. Bulaga's run blocking has also improved steadily over the last two seasons. He is no longer satisfied just blocking the man in front of him, he moves on to the next level and tries to get a block on a linebacker as well. The best fit for Bulaga would be on a zone blocking team in the NFL, because of his familiarity with the system. If he has a strong finish to his junior year, he will likely declare for the 2010 draft. If he comes out, he is a lock to go in the first round, and a possible top ten selection.
Picture from:http://i.cdn.turner.com/si/multimedia/photo_gallery/0908/cfb.top.10.big.10.players/images/bryan-bulaga.jpg
Fourth Candidate: Patrick Robinson(CB)
Due to the Eagles lack of sudden depth at cornerback, they could take a chance at drafting one this year. Patrick Robinson plays at Florida State, is 5-11 and weighs 192 pounds. His 40 time is 4.4 
I couldn't find any decent highlight vids but he kinda looks/plays like Asante in this vid, but probably has better tackling skills than him.